Update as of 24/05/2019:
Update as of 18/05/2019:
Update as of 22/04/2019:
Update as of 30/12/2018:
Update as of 03/07/2018:
Update as of 02/07/2018:
Update as of 29/06/2018, 4:26 pm:
Update as of 29/06/2018, 10:30 am:
Update as of 31/05/2018:
Update as of 17/01/2018:
Update as of 26/12/2017:
Update as of 08/12/2017:
Update as of 06/12/2017:
Update as of 04/12/2017:
Update as of 29/11/2017:
Update as of 27/11/2017:
Update as of 26/11/2017:
Update as of 21/11/2017:
Update as of 30/10/2017:
Updates as of 16/10/2017:
Updates as of 09/10/2017:
Updates as of 04/10/2017:
Updates as of 03/10/2017:
Updates as of 02/10/2017:
Mount Agung – exploding or not? That is the Question.
Clickbait titles, online hoaxes, fake news and inaccurate articles make it extremely difficult to find out real, accurate, trustable information about the situation in Bali. In this article, we have gathered information from official sources – the government, the experts and research papers. While we are not an expert in volcanology; however, we care about the current situation as we are seeing it up close – 90 percent of our team are in Bali as well as many of our clients and partners. We are monitoring the situation closely and will update this article as the situation evolves.
Where is Mount Agung?
Mount Agung is an active volcano in Karangasem Regency in East Bali, 70 kilometres away from the airport and the touristic spots. The last time it erupted was in 1963, claiming 1,600 lives as at that time, evacuation did not take place until the very last minute (unlike this year where evacuation has already taken place, see below).

It's Bali's highest summit (3,031-metre high), and a popular tourist attraction with many sunrise treks organised there.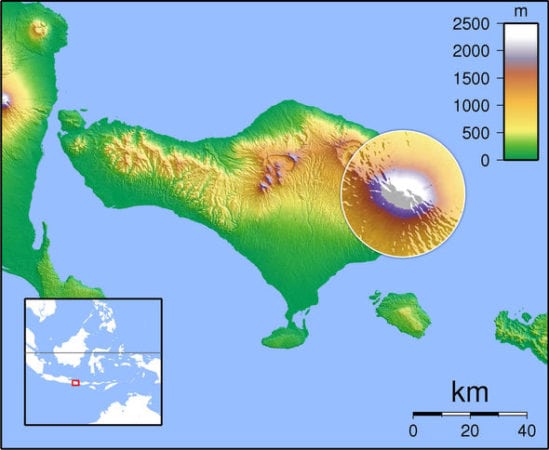 What is causing all this?
Mount Agung has shown recent increased volcanic activity. Visual and instrumental data from The Ministry of Energy and Mineral Resources indicate that an eruption could happen. There has been a significant increase in seismic activity, amplitude and other volcanic indicators. Between September 18th and 22nd, dark smoke emerging from the crater was observed (source). Volcanologists also noticed an increase in Harmonic tremor, an acoustic pattern in volcanic systems when magma is moving through a closed chamber (source). This rise was the reason why the alert level was raised to red as it usually indicates an imminent eruption.
As of September 29, 2017, no ash cloud is visible. A white plume of approximately 100 metres can be seen emerging continuously from the crater and moving to West (source).
Precautionary actions have been taken in order to ensure the safety of the people living in the immediate vicinity of the volcano and authorities set up a 12-kilometre exclusion zone around Mount Agung (source).
Which would be the affected areas in case of an eruption?
The Center for Volcanology and Geological Hazard Mitigation created a map indicating the affected areas and evacuation route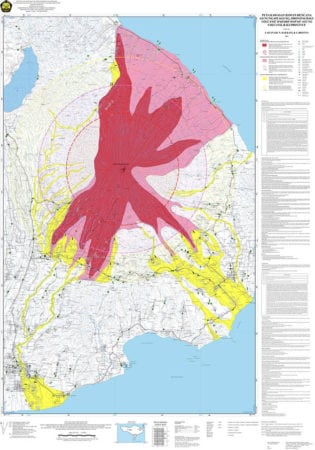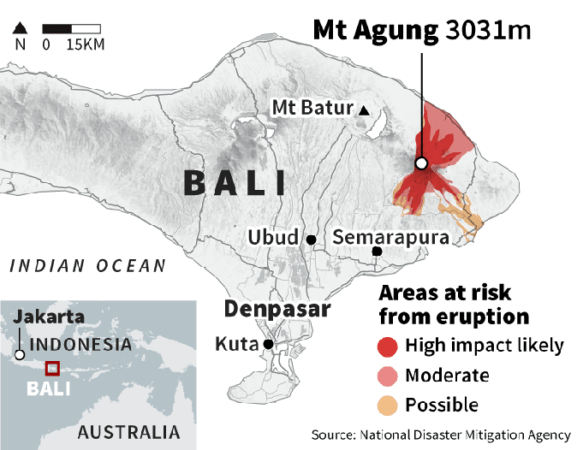 The only affected touristic areas are Amed and Sidemen and some attractions are closed like the famous temple of Besakih.
Candidasa, 23 km away from the volcano, is safe. We contacted the owners and staff of our Villa Stella in Candidasa who confirmed that life goes on as per normal in the area, although it indeed gets busier as some evacuees have taken refuge in the area.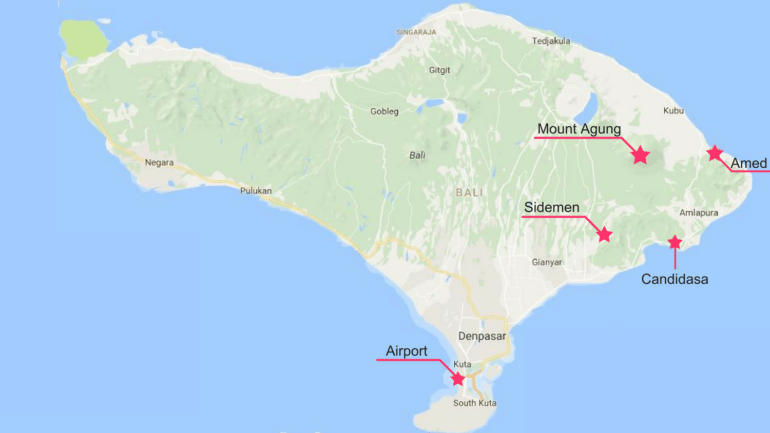 What do the local authorities say?
As of September 29th, Bali Ngurah Rai Airport remains open. Ferries and fast boats between Bali and neighbouring islands of Lombok, Gili and Java operate as normal. Touristic life in South Bali is unaffected, and there is no sight of volcanic ash.
On September 27th, Bali Tourism Office issued an official statement reassuring tourists that Bali is safe and urging tourists to continue visiting the island.
What do they mean by "safe"?
Touristic areas are far from Mount Agung. For instance, Ubud is 30 kilometres away from the volcano, while Kuta and the South are 55 kilometres away. Other than the areas immediately surrounding the volcano, the main touristic spots would remain completely unaffected in case of an eruption.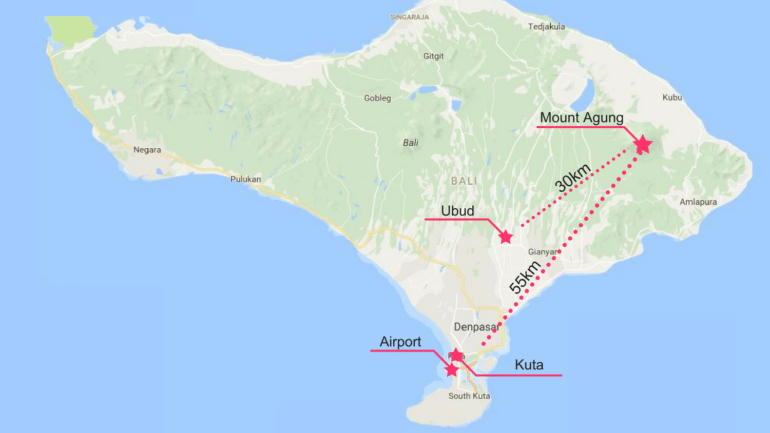 What if the volcano actually erupts?
In the event of an eruption, the direction of the winds will determine which areas will be affected by volcanic ashes. If it blows to the North, the ashes will spread northwards and will not reach Ngurah Rai Airport. If the wind blows southwards, it is likely that the airport will be closed, and tourists will need to take flights outside Bali.
Currently, the winds are blowing to the North/North East and are predicted to remain this way for the next few weeks. In general, the prevailing winds won't turn to the South before the monsoon of December-March.
What if the airport closes?
"No expert can predict accurately when Mount Agung will erupt. However, Bali is prepared. Passengers will be reconnected to their intended destination," said the Minister of Transportation.
Nine alternative airports outside Bali have been prepared for diverted flights, should the situation require it. The Ministry of Transportation has come up with two plans to transport passengers to Banyuwangi Airport and Praya Airport, or Surabaya Airport by land. (source)
The local authorities have also prepared 300 buses to transport affected travellers to ferry ports and bus stations.
The Immigration Department will support tourists with visa extension should a stayover be required. Similar services will also be provided by the Indonesian Customs. (source)
How is everyone in Bali?
The lives of people in the Karangasem regency and surrounding areas are hugely impacted by the current situation. They had to leave their homes, farms and seek shelter elsewhere.
It is in such times that we witness the warmth of the community, as people joined hands to help the evacuees. We see donations flowing in to provide them with food, clothes, blankets, medicine, etc. Many locals also open up their home to shelter the refugees (source).
There are 427 evacuation centres across the island, sheltering 146,797 evacuees (source).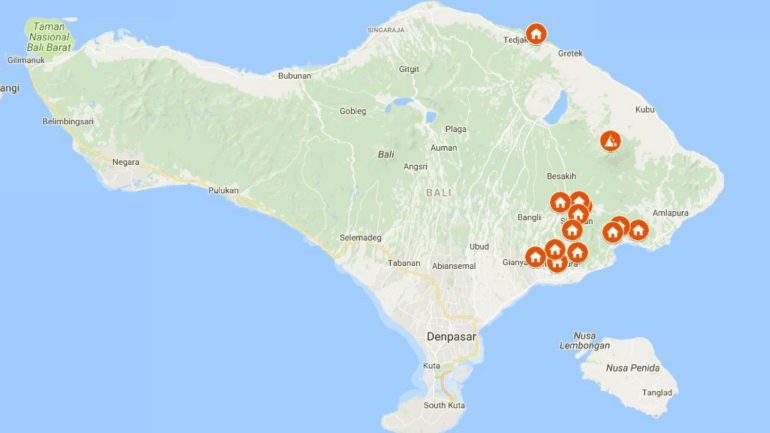 Source: Google
For our villa guests
The area in proximity to the crater is not popular for tourist accommodations, and we don't have any villa for rent in the evacuation area. More than 80% of our villas are in the Seminyak / Canggu neighbourhoods, 55kms away from the crater, in a safe zone. Moreover, the prevailing winds are at the moment blowing towards the North & North East, and as such should remain in this direction for the weeks to come.

We are at the airport every day picking up clients, the airport is busy, and customers are arriving for their holiday as planned. See the official airport statement here. Seminyak is as beautiful and busy as usual; the sky is blue and the beaches & restaurants are full.
However, if you stay at one of our villas in the East of Bali, we will help you change to a different villa or postpone your stay.
As always, we strongly recommend all our guests to get a travel insurance that covers natural disasters and acts of Gods.
For our dear Balinese friends
We know that our efforts alone won't amount to much. Yet we believe that together, we can help alleviate the suffering of others. We collected donations from our colleagues and raised funds to buy necessities such as rice, medicine, baby food, diapers and toiletries. We have dropped our donations at a collection point where they will be transported and distributed to the ones in need in the East of Bali.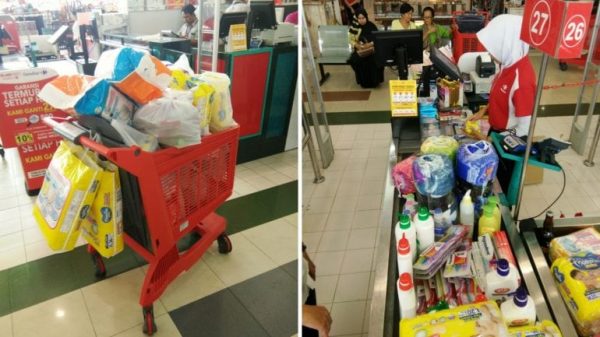 We will monitor the situation and update you with the latest information. Should you have any questions, please do not hesitate to contact us. And if possible, please join hands to help Balinese people too (there are many charities working on this situation).
List of Trusted Sources of Information
Bali Tourism Board: http://balitourismboard.or.id
The Ministry of Energy and Mineral Resources: https://magma.vsi.esdm.go.id/press/view.php?id=95
Volcano Observatory Notice for Aviation: https://magma.vsi.esdm.go.id/vona/
The official Facebook account of Indonesian Ministry of Tourism: http://balitourismboard.or.id/page/crisis-center/coordination-is-key.html
Interview with Dr. Surono, one of the leading experts on Indonesian volcanoes, former head of the Indonesian Center for Volcanology and Geological Hazard Mitigation (PVMBG): http://bali.tribunnews.com/2017/09/25/peringatan-awas-dr-surono-letusan-bisa-lebih-besar-atau-bisa-juga-tak-meletus-karena-ini (it's in Bahasa Indonesia, you can use Google Translate to get the gist of it)