Updated on 25/05/2018
Driving a motorbike can be scary, especially in Bali! But sometimes, you just don't have the choice.
Scooter is the best way to enjoy Bali, particularly in places with narrow streets such as Kuta or Seminyak. If you are a small group, without toddlers, and you want to discover the area without having to take a driver, renting scooters is ideal. Rental services are plenty, but it's safest to ask your villa manager to help you get a scooter. Check out selected villas in Seminyak here.
But beware! Bali's roads can be a bit chaotic, and if you don't take precautions, you may have bandage marks rather than tan lines when you return from your holiday!
Here are our tips to adapt yourself to driving a scooter "Balinese Style"! True stories!


The DO's
1. Put on a helmet
This is the first step! Well, just after the one of renting your scooter, of course!
Even if it's hot and your hairstyle does not pass, riding without a helmet is really taking an unnecessary risk. One fit specifically for your head size and with a visor is definitely optimal!
2. Check the scooter
In fact, this is rather the first step.
Before renting your scooter; make sure the brakes are breaking, the lights are lighting and the horn is… honking. Even if the rental guy says "Do not worry, you will not need the rear brake! "… Weeeellll… Better choose another one then!
3. "Follow the locals!"
The best advice given to me when I took the moto out for the first time (at night, during the rain on Sunset Road …)!
If you don't know where to turn, how to pass that car driving at 3km/h…
Just follow the flow of scooters driven by Indonesians: they are used to passing here, follow them!**

4. Use the horn
Do not fall into the popular Balinese trend of "honking before the light turns green". But still, it's a great way to make that truck understand that, yes, you're there, and he is about to cut off your route.
5. Also: Use the signals!
This habit is less trendy among locals, but it's still worth mentioning that you want to turn. If you have a passenger, he or she can also shake their hand to indicate your direction (known as the "limp wrist"), a little more visible in difficult situations!
6. Stay calm…
…when you will get stopped by the police. Yes, you will get stopped! Nothing to open a criminal record, but police check points are common here, looking for permits, helmets or headlights…
The police like to take care of tourists (and some of their wallets …)!
7. …Keep smiling when you get stopped 😀
Sometimes it works, especially for girls!

8. Have an international driver's license
This works for everyone, and it avoids the fine in case of "permits checks". You can ask for one in your country before coming to Bali.
9. Apply sunscreen!
For fair skin, a little sunscreen or a scarf on your shoulders is recommended! You may not feel it, but waiting 24 seconds at the red traffic light can turn you into a red traffic light yourself.
 Ready to rock? Check out A guide to scooter rental in Bali
The DON'Ts
1. Wear plastic helmets
Yes, they are stylish, but much less durable…
2. Wear your bag on your shoulder
Some bad spirits are tempted to snatch bags in plain sight, and may cause you to fall. Don't worry, this is not common, but like mom said: "Better Safe than Sorry ". So keep your small bag at your feet or under the seat, and everyone will be happy, especially Mom!
3. Drive too fast
Mom also says it all the time! And she is right: Bali is full of dogs, frogs, holes in the road … All of which do not necessarily leave you time to slow down before appearing.
4. Drink before taking the handlebars
In sync with the series "Mom said," I have to add the famous "Don't drink and drive "! Driving in Bali at night is already far from relaxing, so it's not going to help you by zig-zagging even more.
5. Forget the Raincoat…
Especially in the rainy season! You may experience an unwanted shower just driving down the street. So, if your rain poncho is always in the bike seat, no need to get your shirt drenched upon arrival!
6. Driving too near the edge of the roadway
This is where most of the holes, bumps, lots of sand, gravel, dogs, etc. lay hidden…
7. Wear your Batman cape!
Your scooter is not the Bat-cycle, so the cool effect may not work for you… In addition, you'll go down hot in black!
8. Forget that in Bali, we drive on the left!
The steering wheel (of the car) is on the right, you pass on the right …**
I promise, even for beginners, riding a scooter in Bali is less complicated than it sounds!
By holding on to these few points (I'm sure there are others), you will love your motorbike so much that you'll want to bring it back home with you!
All set? Check out a scenic motorbike ride!
Or you can get a taxi in Bali instead 😉
Travelling to Bali soon? Pin this article for your trip!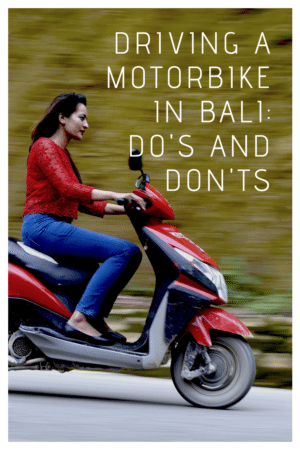 ---
See our villas in Bali. Inspected and selected by Villa-Finder.com.