Are you ready for a heartwarming Christmas? You can't wait for a splashing tropical New Year? Bali is your go-to destination in December 2022! No snow and freezing cold this year but sunshine, sea and sand. It'll be wonderful and the start of 2023 in Bali will be epic and unforgettable! The island has got amazing holiday packages to get you into the festive season mood: great food and buffets, music, entertainment, champagne and incredible countdown parties. We're here to help you decide where you are going to be spending the warmest holiday season of the year. Christmas in Bali 2022 is coming up and this is an overview of places to be and must-visit parties. Whether you are staying in Canggu, Seminyak, Ubud or Uluwatu, we know just what's happening where and when. Let's go!
Where to Celebrate Christmas in Bali 2022
Christmas is all about family time. A day full of incredible food, endless toasts, beautifully-wrapped gifts and special moments to cherish forever. Spending this special day in Bali is already amazing and these are the most spectacular buffets and Christmas dinners on the island:
Best Restaurants in Seminyak for Christmas 2022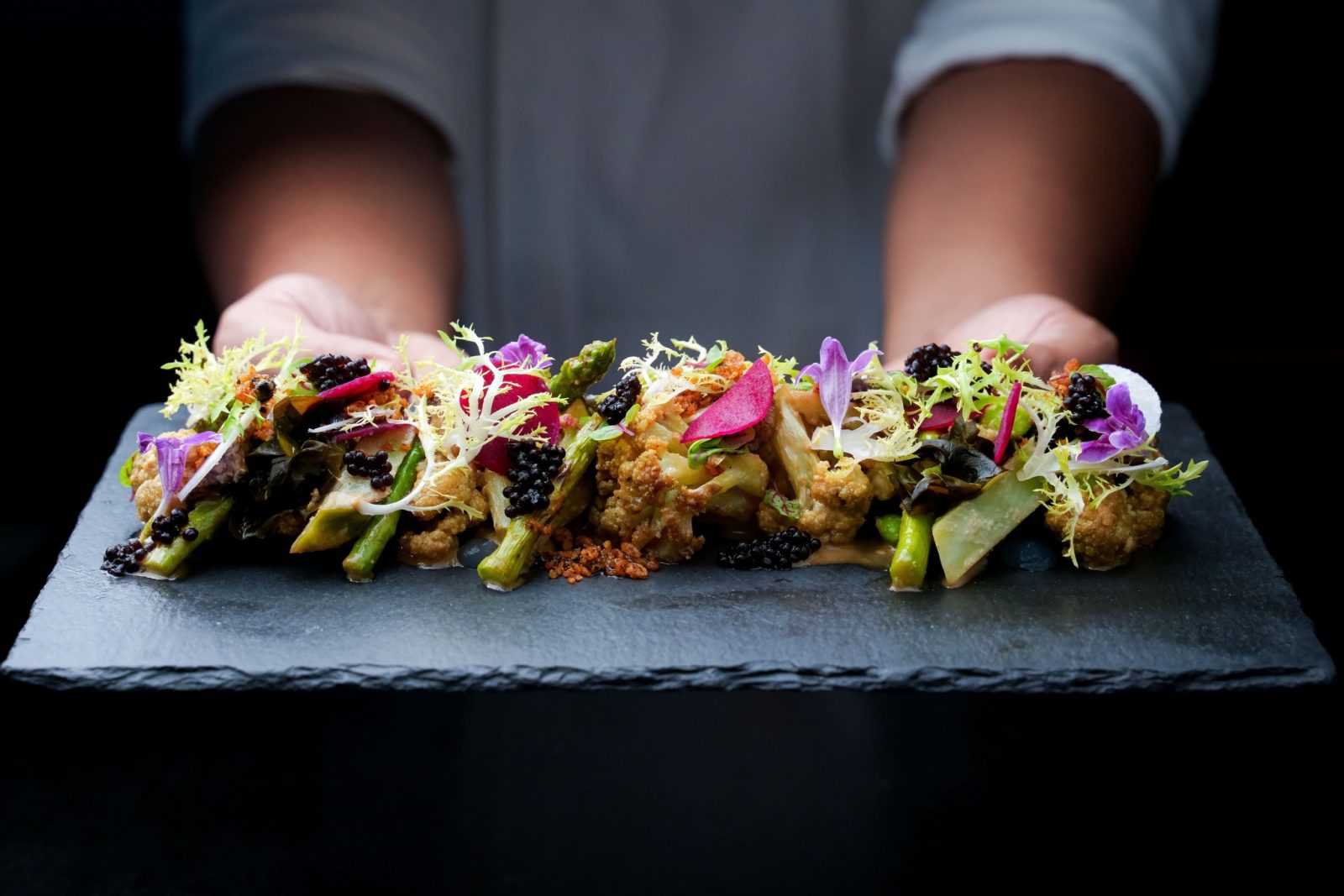 At Seasalt in Seminyak, you will get Christmas Day on the beach just the way you've always dreamt of. It'll be a big feast with traditional roast turkey and amazingly good trimmings. Santa will pay a visit, too, together with his Lady Elf and the kids will also love to work on decorating their Christmas sweets on this wonderful Christmas Day in Seminyak.
What: Christmas Day Brunch
When: 25 December 2022 from 12 pm – 4 pm
Where: Seasalt
Price IDR 875,000++. Drinking packages are available.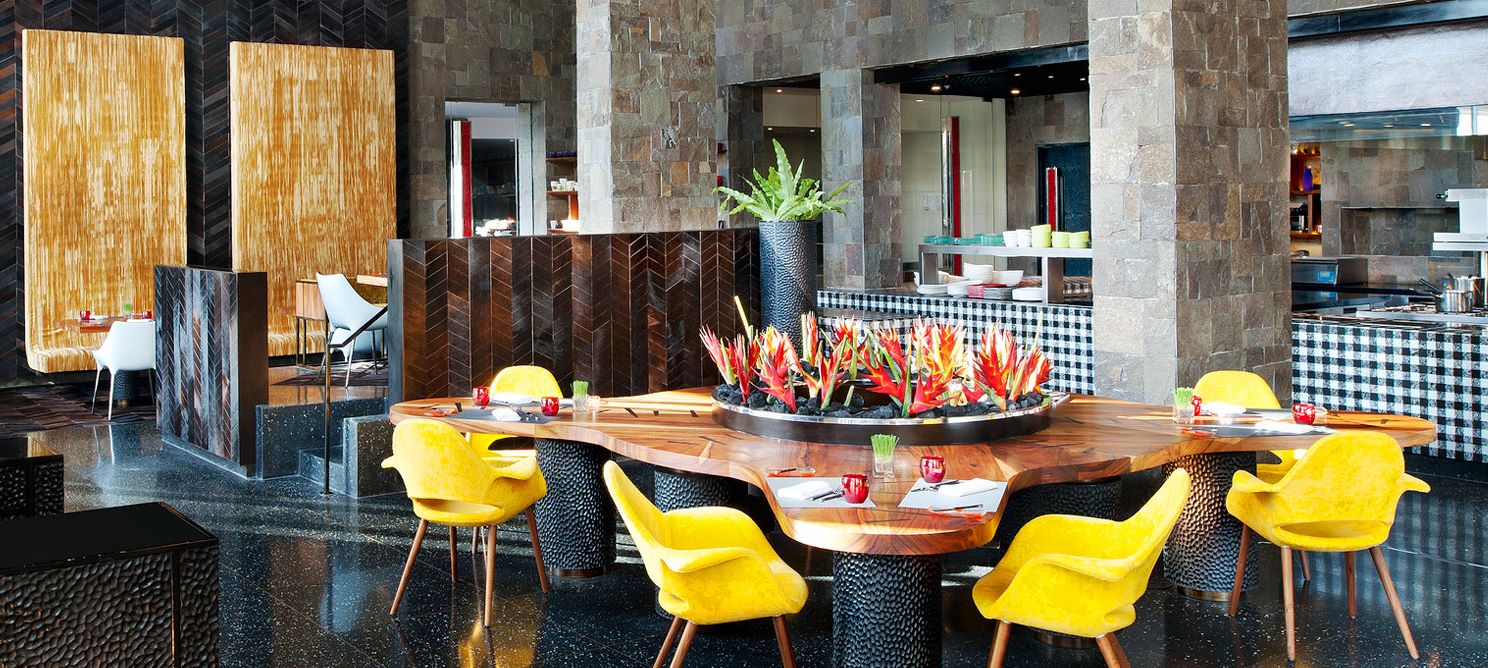 Amazing as W Bali is, this beachfront venue in Seminyak does not just 1 but 2 delightful Christmas brunches. One is at the on-site Starfish Blow and the other is at Fire Restaurant. Roast turkey, lamb, fresh seafood, Steak and a whole lot of festive desserts. These are super brunches you will never get enough of!
What: Super brunches on Christmas Day
When 25 December 2022 12 pm – 4 pm
Where W Bali: Fire & Starfish Blow
Price: IDR 1,700,000 including soft drinks and IDR 1,450,000 including free-flow bubbles. Kids eat and drink for IDR 600,000.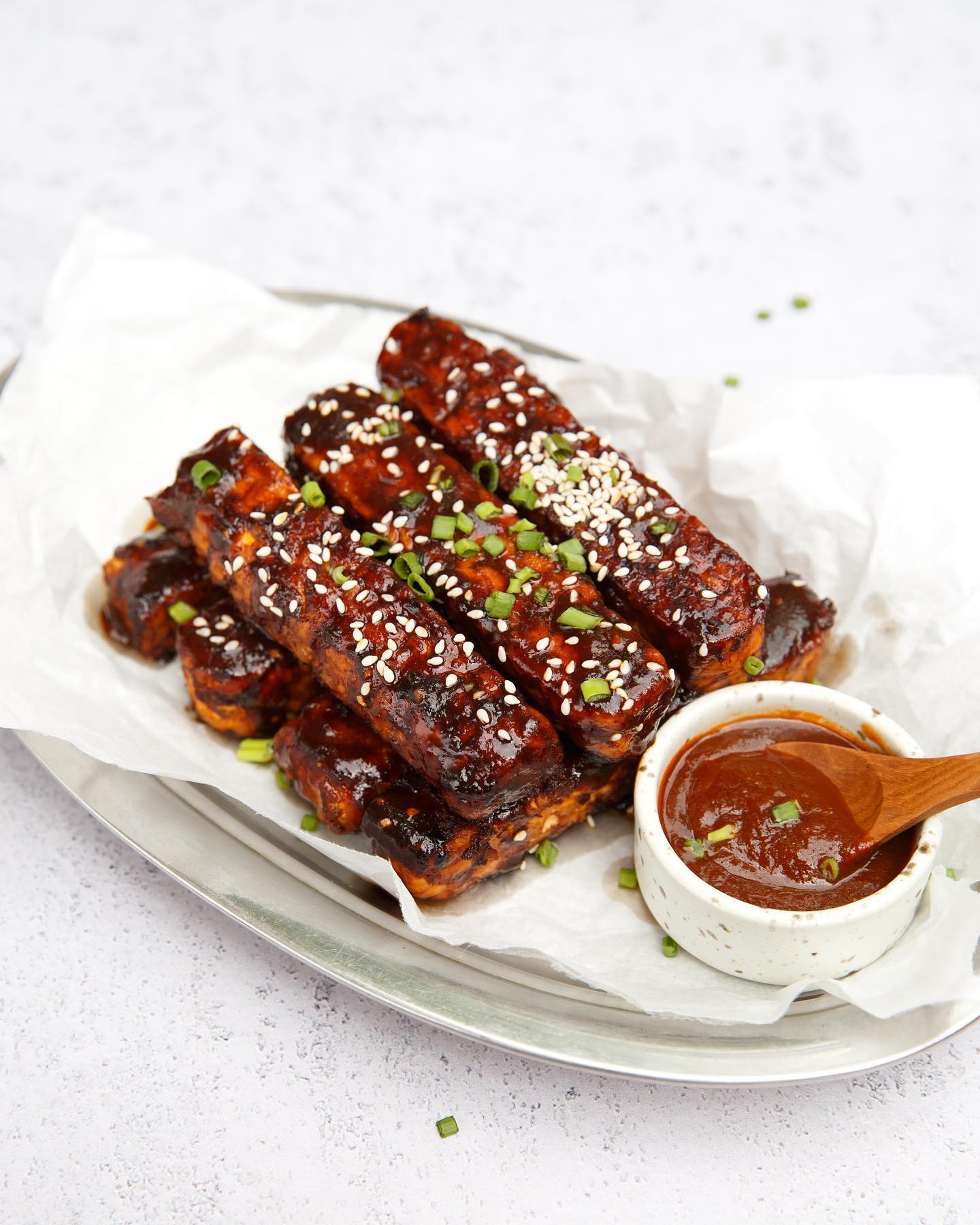 Are you ready for the most mouthwatering plant-based Christmas lunch of your life? KYND Cafe goes wild with vegan wild turkey, Wellington plant-based beef and more served with all kinds of delicious homemade trimmings. The perfect ambience is created with festive live music and traditional Christmas sweets. You'll love it!
What: 3-course plant-based Christmas Roast brunch
When: 25 December 2022 12 pm – 3 pm
Where: Kynd Cafe Seminyak
Price: IDR 450,000++ per person including a festive cocktail on arrival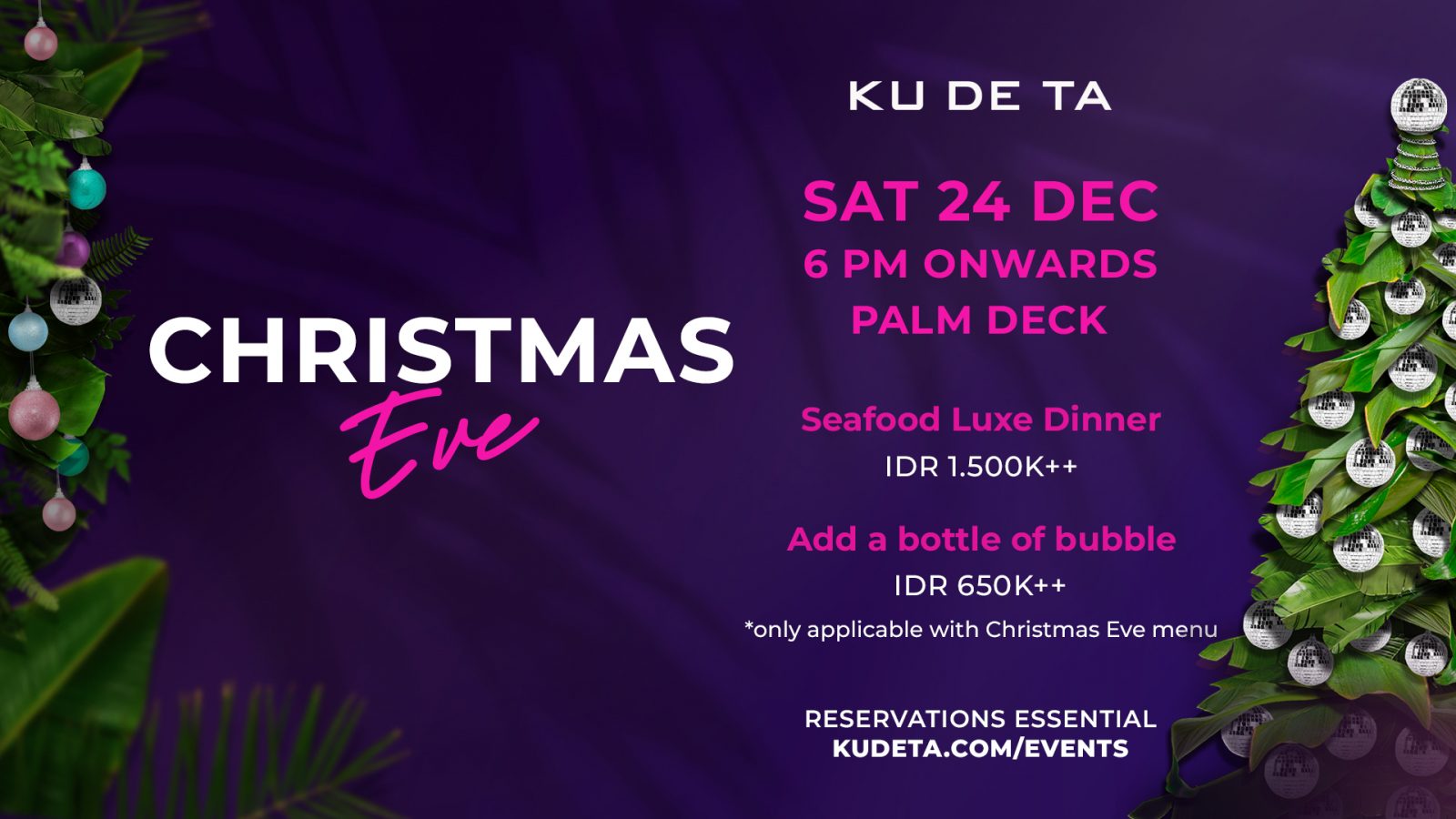 KU DE TA, the most iconic and original beach club in Bali, brings to you a wonderful family Christmas day in Seminyak. Wonderful ocean views, great food, kids activities and live entertainment to the backdrop of beautiful Seminyak Beach in Bali. You are in for a scrumptious 4-course Christmas lunch by head chef Jeremy Hunt. It'll be a total feast! Christmas Eve will thrill all seafood lovers at KU DE TA. The Seafood Luxe Dinner takes place on the Palm Deck right before sunset kicks in. Lobster, crab, caviar and more. Oh my goodness!
What: Seafood Dinner & 4-course Christmas lunch
When: 24 & 25 December 2022 from 11 am until after sunset
Where: KU DE TA
Price: 1.500,000++ for the Christmas Dinner & IDR 750,000++ per adult for lunch | IDR 300.000++ per kid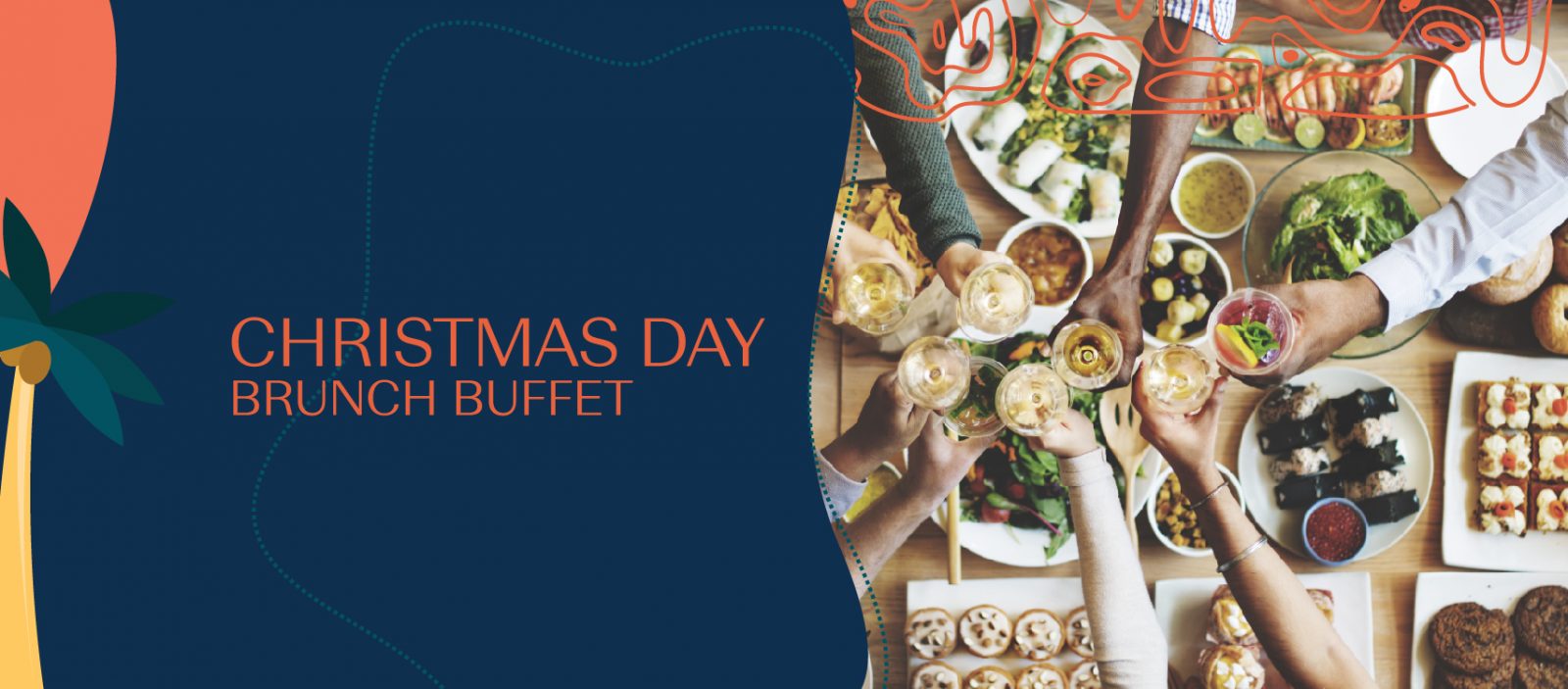 It'll be a gourmet feast the entire day at Hotel Indigo on 25 December this year. For lunch, head over to Makase Restaurant. There will be a big Christmas buffet with everything you could possibly wish for and more. Christmas Carols, live music and more are part of the package. Santa will be around for a meet & greet with the kids, mom & dad and there will be a magician show going on as well. Wow! Christmas dinner is held at Sugarsand Beach Club to the sound of the sea and the view of an enchanting sunburst sky. It'll be contemporary Japanese cuisine. Yummy!
What: Christmas Day buffet brunch & Christmas dinner
When: 25 December 2022 from 12:30 pm – 3:30 pm & 6 pm – 10 pm
Where: Makase Restaurant and SugarSand Beach Club at Hotel Indigo Seminyak
Price: IDR 850,000 for brunch including soft drinks and bubbles & 800,000 for dinner including soft drinks and bubbles.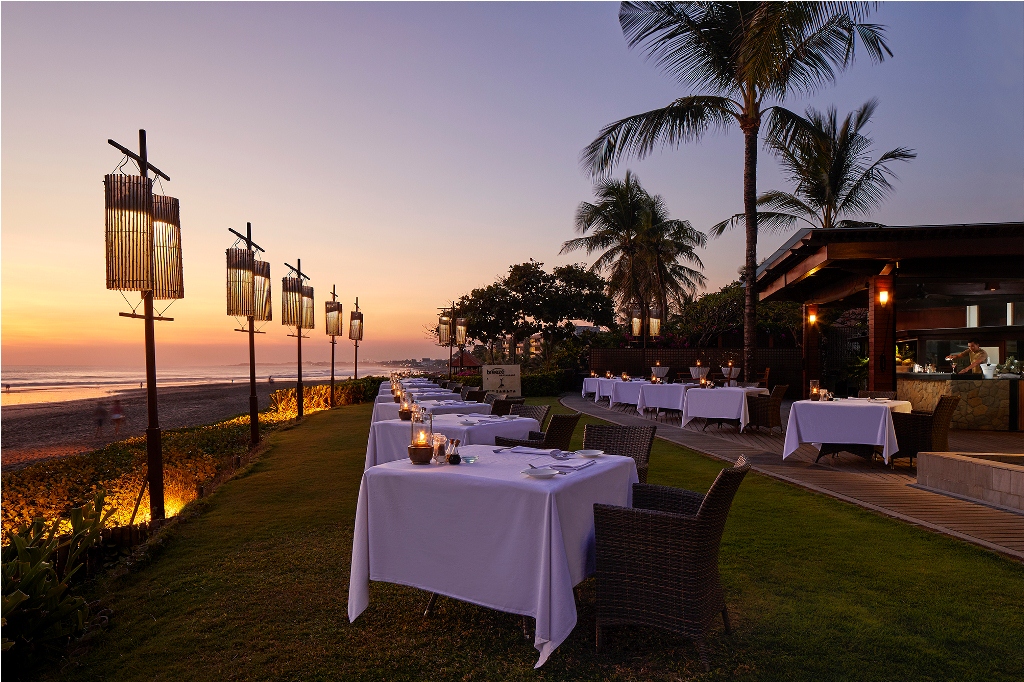 Samaya a tropical Christmas in Bali to the next level at their celebrated restaurant Breeze on Seminyak Beach. You can munch on a 4-course festive dinner on Christmas Eve and a scrumptious family-inspired lunch on Christmas Day.
What: Christmas Dinner & Christmas Lunch
When: 24 & 25 December 2022
Where: Breeze Restaurant at Samaya
Price: IDR 1.000,000++ per person for dinner and IDR 500,000++ per person for lunch
Christmas in Legian, Bali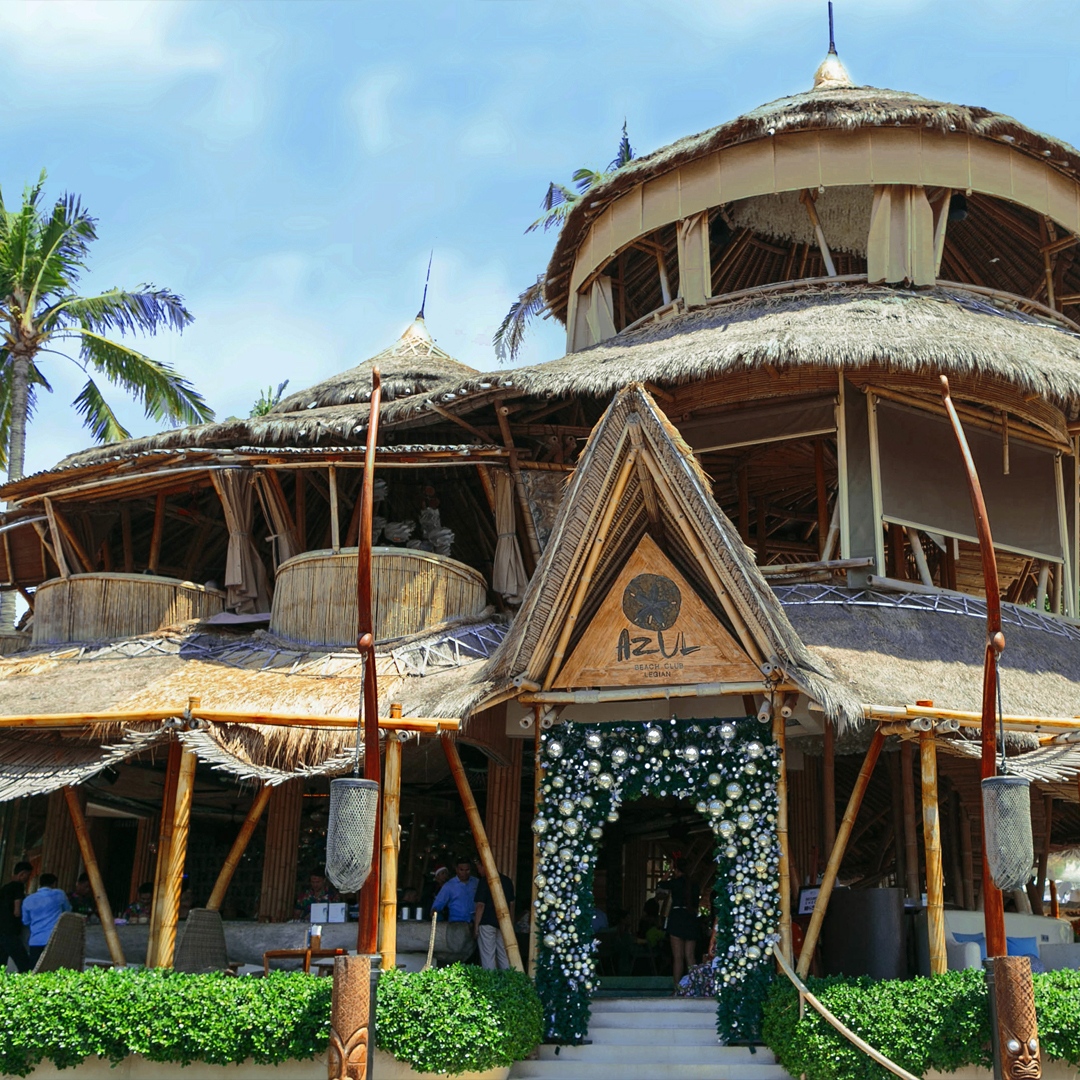 Azul Beach Club welcomes families with an incredible tropical Christmas Brunch. Enjoy a lavish BBQ by the pool with great cuts of meat, fresh seafood and a salad bar. Do keep some space for dessert because there will be lots and all will be mouthwateringly good! There will also be live music, activities and games for the entire family to enjoy.
What: Christmas poolside BBQ
When: 25 December 2022 from 12 pm – 4 pm
Where: Azul Beach Club
Price: IDR 600,000 per adult and IDR 300,000 per kid
Have a blast in Canggu during Christmas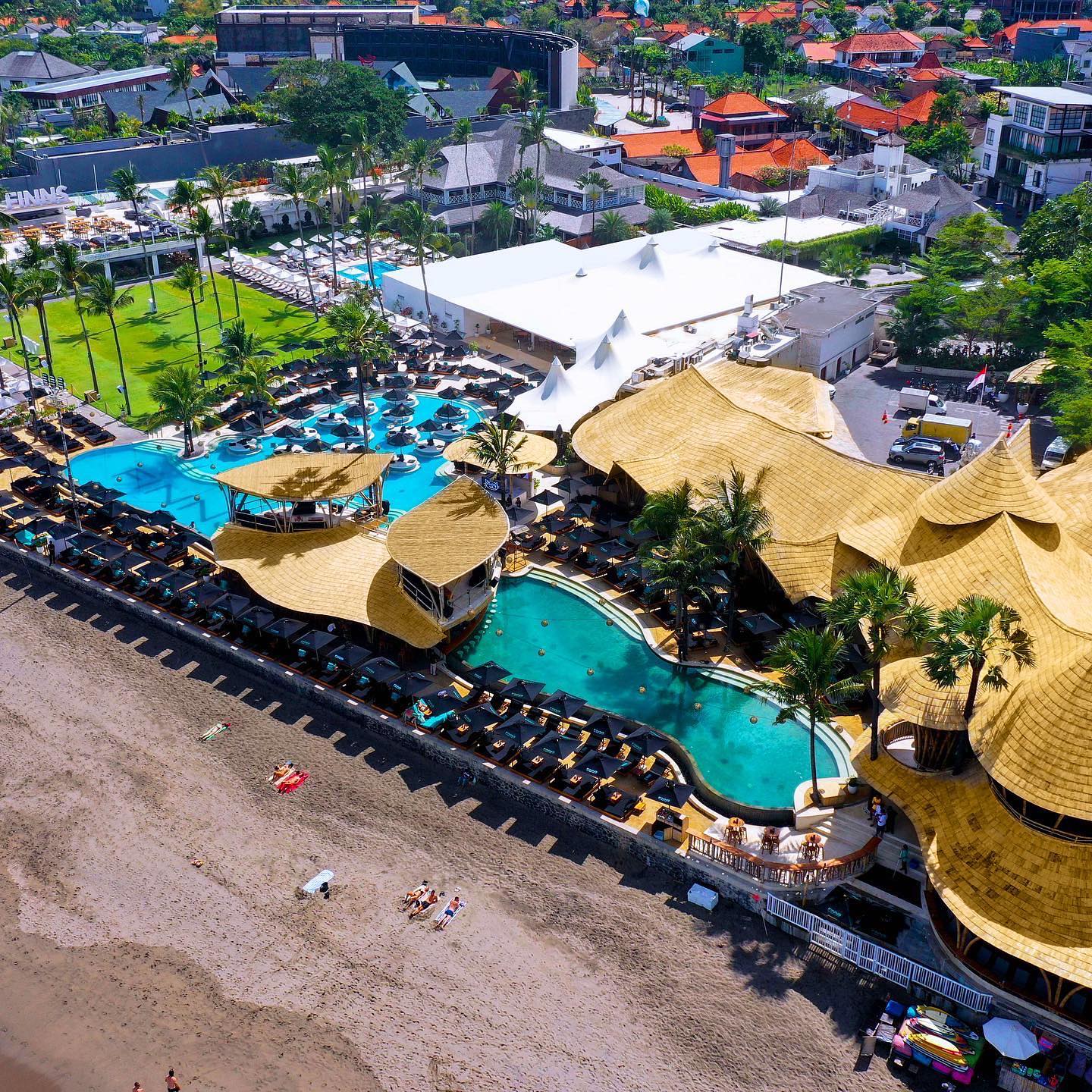 Christmas with the family and little kids is best celebrated at Finns Recreation Club in Bali! Kids activities, a surprise visit by Santa, live music and a whole lot of food. It's perfect!
What: Christmas Day family Buffet Lunch
When: 25 December 2022 from 11 am – 4 pm
Where: Finns Recreation Club
Price: 795,000++ per adult and 350,000 per kid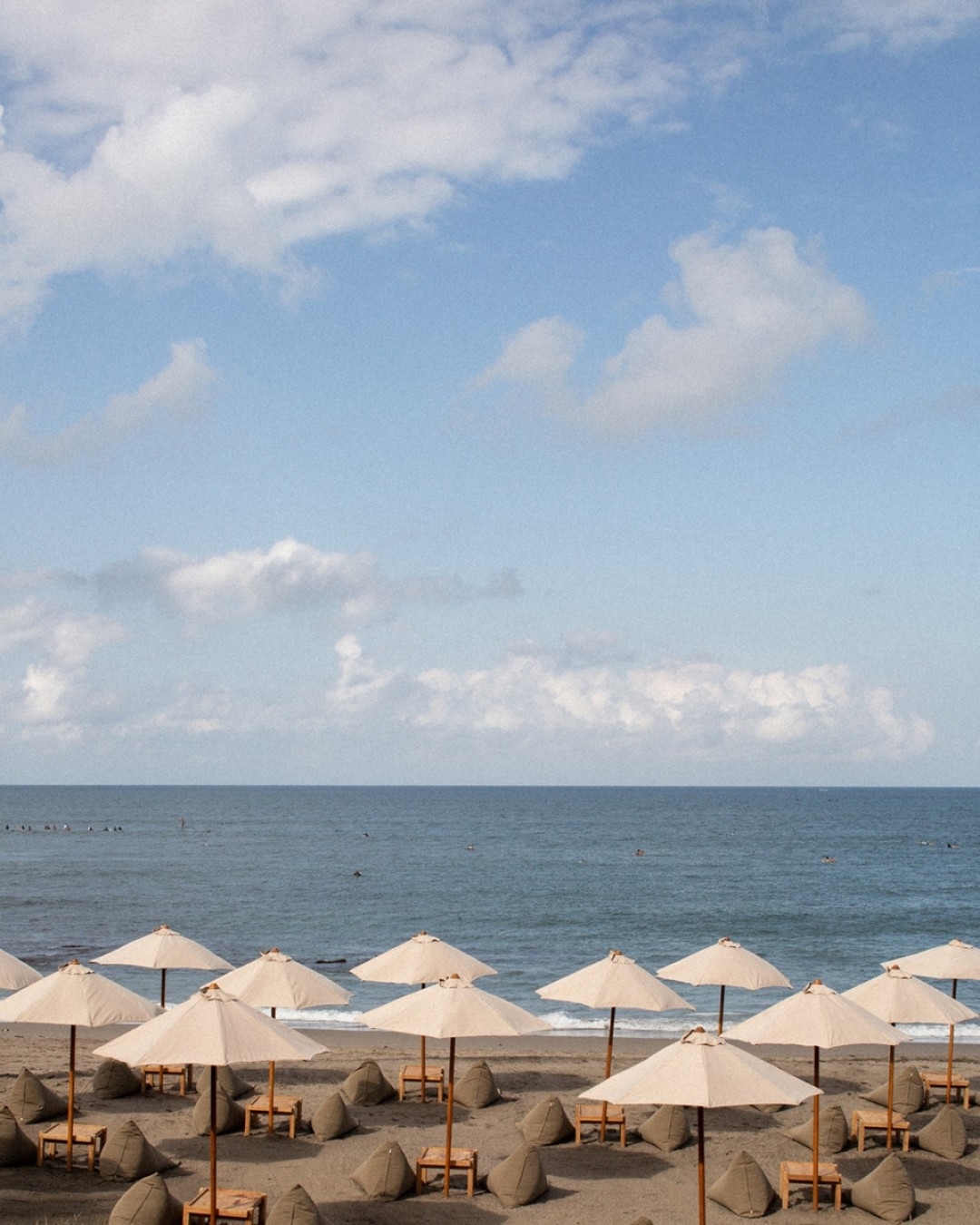 Sitting right by the beach in hipster Canggu, The Lawn welcomes Christmas 2022 with special gourmet sharing menus you'll love. Take your pick between lamb shank, salmon tartine and sea bass with roast veggies and potatoes or go for the vegetarian menu. All gourmet menus come with a bottle of sparkling wine to share under the sunburst and starlit skies.
What: Christmas Day gourmet dinner
When: 25 December 2022
Where: The Lawn Canggu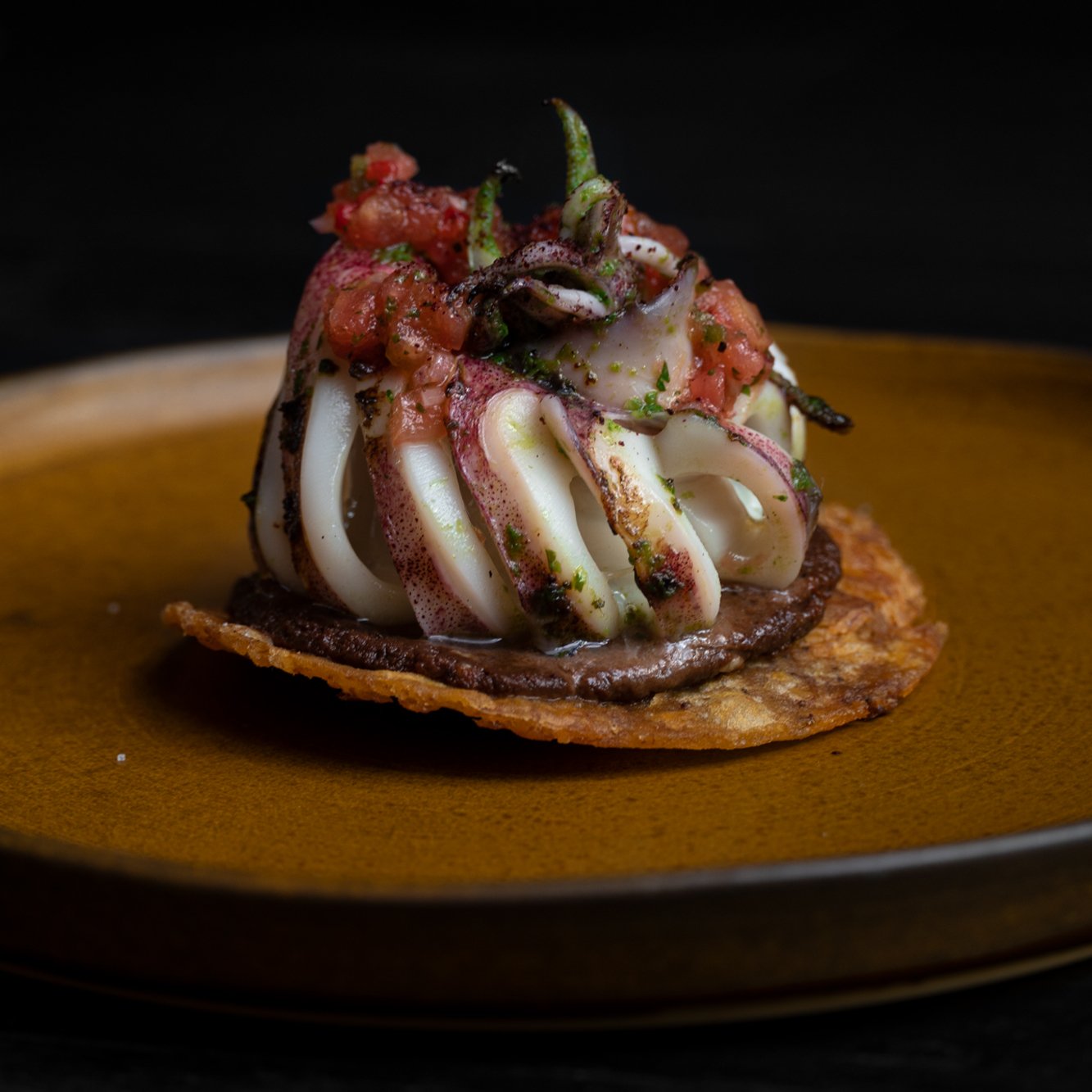 This exclusive and chic restaurant in Canggu celebrates Christmas 2022 in Bali with an impressive 9-course lunch to share with those you love the most.
What: Christmas lunch
When: 25 December 2022
Where: Santanera Restaurant
Christmas party in Uluwatu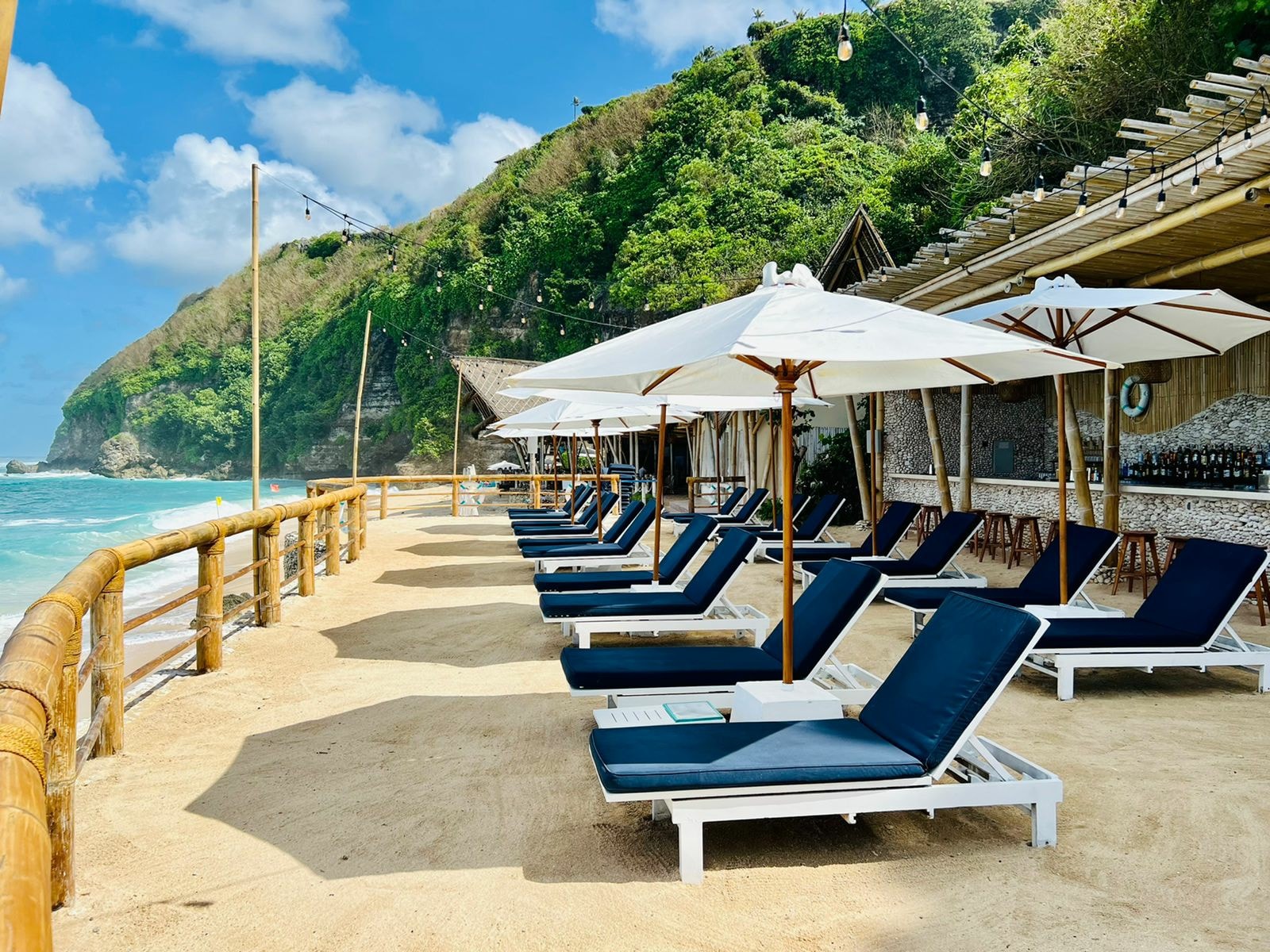 Down the limestone cliffs in the southern tip of Bali in Uluwatu, you can have the Christmas 2022 of your life at Sunday's Beach Club. This is the ultimate Christmas Day spent with your feet in the sand by the shimmering ocean. A big feast is presented on the table. Think oyster, roast beef, turkey and a lot more! Santa will pay a visit, too! You can rent a VIP bungalow or a VIP sunbed. That'll be total bliss – tropical and perfectly festive and merry!
What: Christmas brunch on the beach
When: 25 December 2022 from 10 am until 8 pm
Where: Sunday's Beach Club
Price: 500,000 for general admission including IDR 300,000 credit for food and drinks. Kids cost IDR 300,000 including IDR 200,000 credit for food and drinks.
Where to have your Christmas party if you stay in Ubud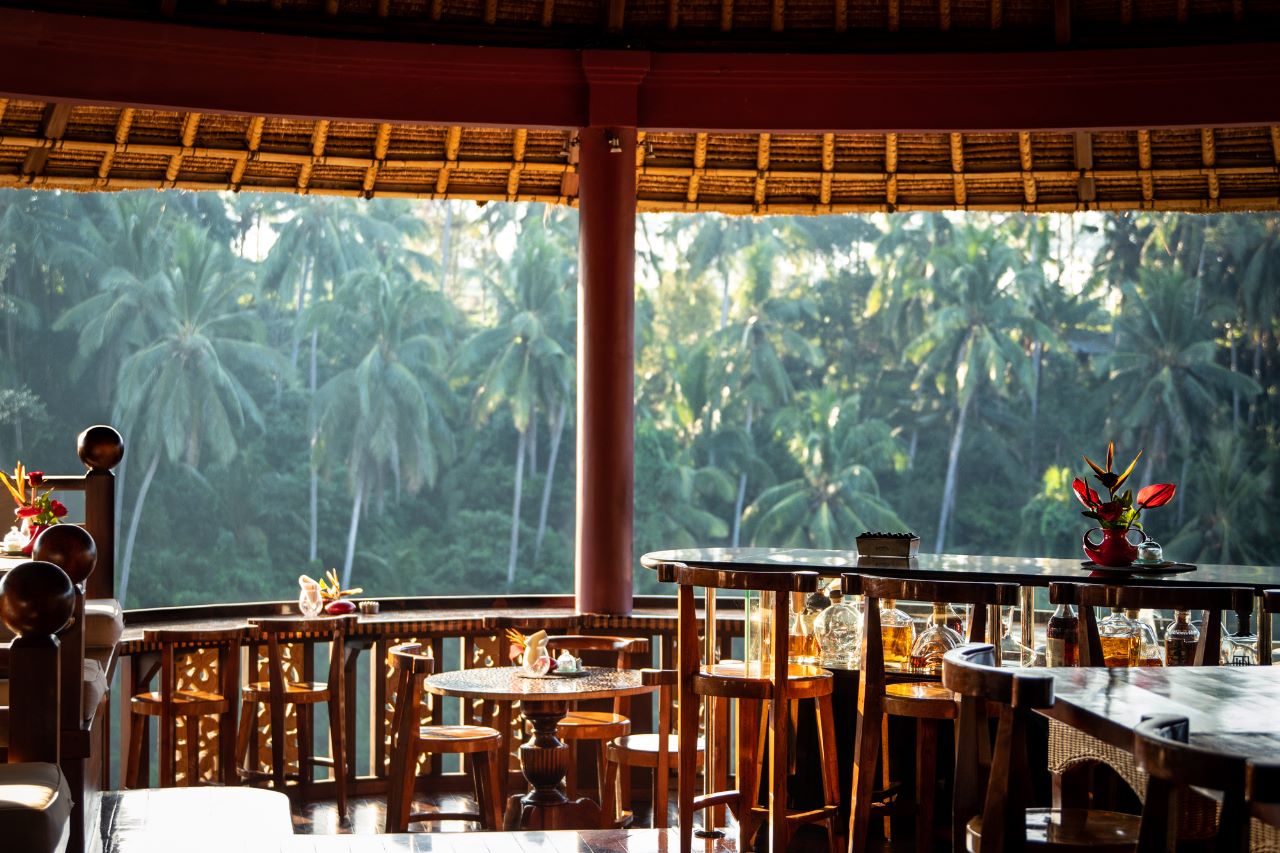 How about spending Christmas Day with spectacular views of the lush river valley in Ubud? You can at CasCades. It'll be a traditional festive roast dinner with Balinese live performances and music. Wonderful! You'll get a special Christmas gift, too!
What: Christmas lunch or dinner with river views
When: December 25 2022 from 12 pm – 2 pm & 6 pm – 8:30 pm
Where: CasCades Restaurant Ubud
Price: 1,200,000++ per adult and IDR 450,000 per kid below 12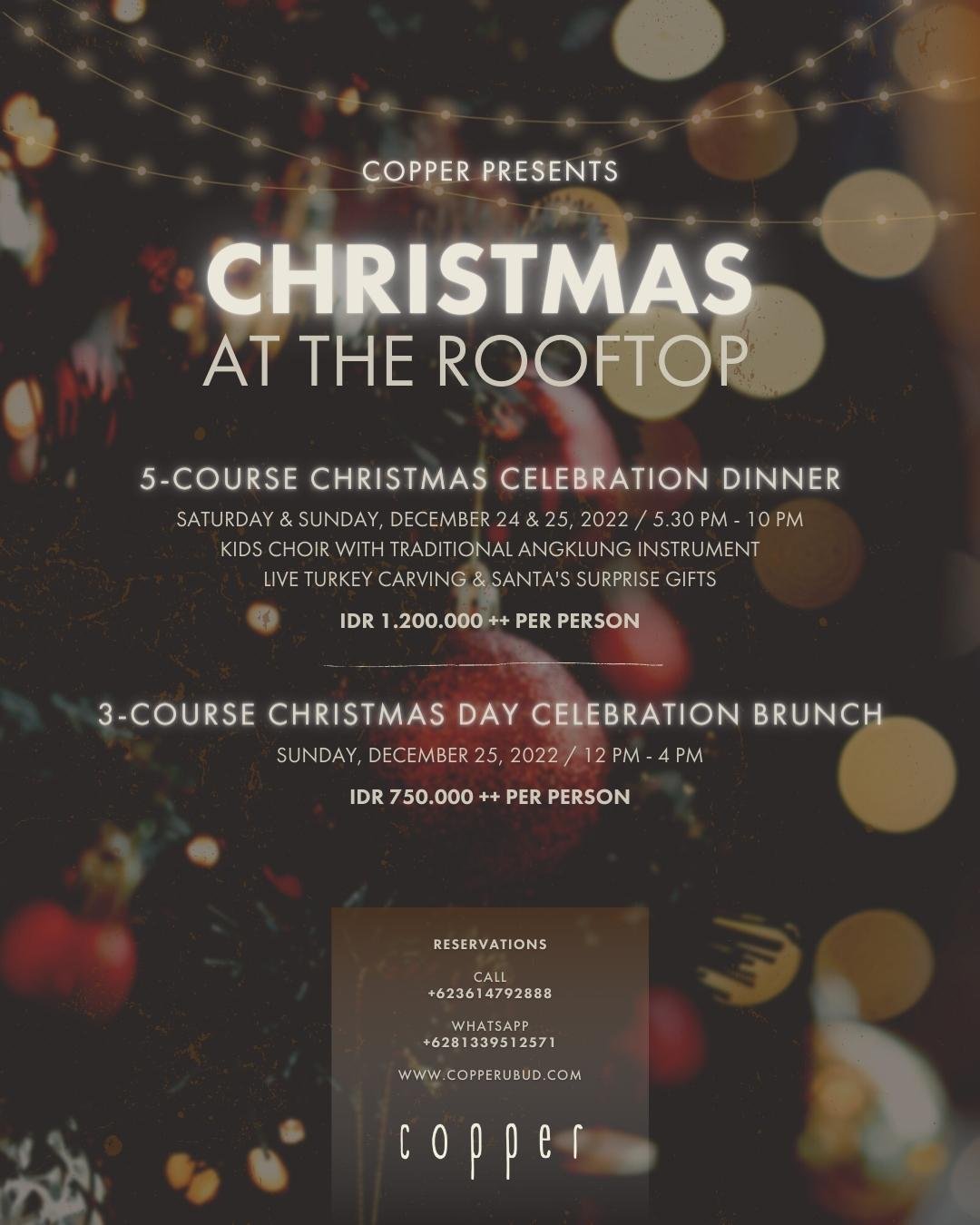 Come in for a 5-course Christmas Day dinner at Copper Kitchen & Bar in Ubud. It'll be a really special evening spent under the stars with a kids' choir and traditional Indonesian Angklung instruments. Kids get special gifts from Santa and everybody will munch on traditional Christmas classics such as roast turkey, roast beef and glazed ham.
What: 5-course Christmas dinner
When: 25 December 5:30 pm – 11 pm
Where: Copper Kitchen & Bar
Price: IDR 1.200,000++ per person
MERRY CHRISTMAS EVERYONE!
Enjoy the festive season in Bali. You are bound to have a blast! Cheers!
Related articles: