Seminyak is a lovely resort area in Bali where you may spend your vacation and get your taste of white sands, wonderful food, and relaxation time in the Island of the Gods. 
Influenced by expats who reside in the area and make Bali their home, Seminyak picked up an international taste of boutique shoppings, fancy dinings, awesome bars, and fist-pumping nightlife, creating its own scene that sets Seminyak apart from the rest of the island. Local and international shops, world-class restaurants, and magnificent beach clubs may all be found in the walkable center of the town that exude modernity, trendiness, and elegance, attracting young and chic travelers around the world.
When you visit Seminyak, you'll see why it's recognized as a luxury holiday base for many tourists, but everyone is welcome to enjoy the golden sand beaches, rolling waves, trendy hot spots, and wonderful food as Seminyak serves tourists of all budgets.
If this is your first time to Bali (and can't wait to be there) let's discover everything there is to do in Seminyak in this top and detailed Seminyak travel guide.
Life's a Beach in Seminyak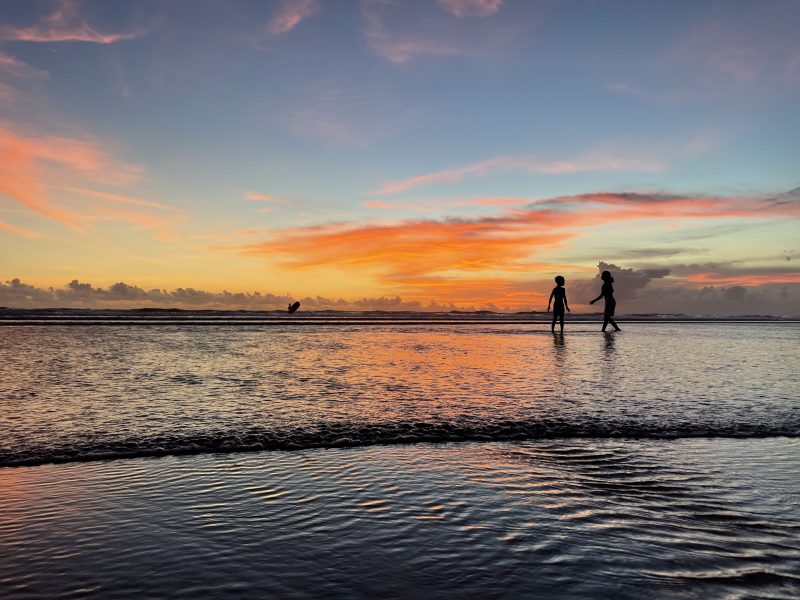 Blessed with a less crowded beach, while still a popular tourist destination, Seminyak Beach is known for its golden beaches and is a fantastic spot for sunset lovers. Double Six Beach and Legian Beach are two other Seminyak beaches you can visit while in the area.
During the day, you can enjoy fun water activities, simply relax on a lounge chair, or catch the waves when it's a good time to practice everything you learn from your surfing lessons. Swimming is also possible at the beach.
Surfing, windsurfing, wakeboarding, and kitesurfing are some of the water activities available in Seminyak. The ocean conditions are great for kite surfing because you can catch waves just off the shore. Even if the waves aren't as consistent as they are in other parts of Bali, you'll have a fair chance of catching some. There are tons of surf schools in Seminyak and you can rent your own equipment along the beach.
If surfing or kitesurfing aren't your style, Seminyak Beach offers a variety of other activities. From jet skiing, sea walking, parasailing, and banana boating are some of the less active and more leisurely water sports available.
If none of those fun activities excite you, spend the entire day on the beach simply sunbathing and people watching, because there are so many places to get a drink and eat along the line of the beach!
Beach Clubs Hopping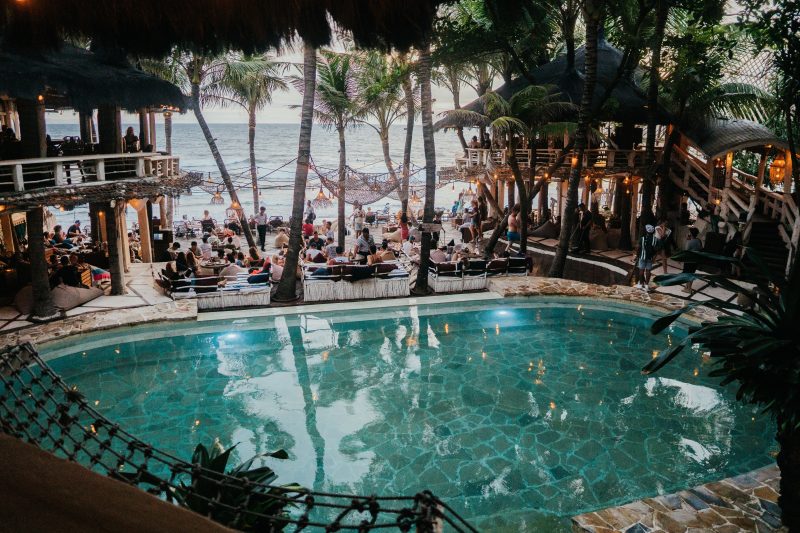 Known for its long, beautiful beach, Seminyak is lined with many chic beach clubs. All of them are offering fun under the sun activities complete with drinks, light meals, fun pools, and direct access to a private beach where you may spend the whole day enjoying Bali's tropical weather.
Let's check out the trendiest and cool beach clubs of Seminyak you need to visit while you are there.
Potato Head (also regarded as one of the finest places to see in Seminyak) is one of Bali's best beach clubs. It's ideal for a day of relaxing in the sand or by the pool. The beach is lined with umbrellas and bean bags, and there are cabanas all around the pool where you can lay and sip cocktails all day.
However, you need to check in early because most of the cabanas are taken by 10am. Tapas and huge meat and cheese platters are available for snacking to accompany your cocktails, or you may continue onto the beach club's Seminyak restaurants for a sit-down meal.
Cocoon on Double Six Beach, which has become renowned as Seminyak's premier nightlife beach, is another popular beach club. Cocoon Beach Club is a trendy cocktail bar with a pool in the middle that is open all day and night.
Ku De Ta. For world-class dining, designer cocktails, and one of the greatest sunsets, head to Ku De Ta beach club. It hosts numerous parties featuring foreign DJs, making it a leader in the beach club scene.
Tip: schedule beach club transports to avoid having to deal with taxis and not having to drive yourself if you've had too much to drink!
Get Fit
Coming to Bali to get fit? Definitely a must-do in our list! To balance out all of that stress from work, partying, food tours, and endless nights at the club sometimes aren't the best things to recharge yourself. Yes, they make you forget those piles of files waiting for you to be back… however, what your body really needs to rejuvenate is some good loving exercise and true relaxation. If you're up to getting fit while on your holiday in the Island of Gods, Seminyak offers a variety of ways to maintain (or start) a healthy lifestyle.
Register yourself for fun boot camps right on the beach, go for a sunrise or sunset run which will provide you with spectacular and colorful sights, sign up to that pilates and swing yoga class you secretly wish to try, or join a meditation class where you will be able to connect to your inner soul and love yourself better.
In Seminyak, there are a variety of yoga retreats that are the right length to add to your Bali vacation. Many are only a few days long, while others last a week. In either case, attending a yoga retreat could be the ideal way to relax and unwind before or after your trip. Your body will thank you later!
All For The 'Gram
Seminyak is a beachy region with lots of colorful, chic, and stylish eateries, making it a great place in Bali to have some amazing trip photos taken for your Instagram or TikTok.
Snap yourself while you are enjoying your ice cream at an Instagrammable ice cream store, having lunch at a local Balinese shop, dancing at Motel Mexicola dance floor, exploring rice paddies fields, or even while riding your moped to the beach!
Seminyak's nearby neighborhood like Canggu is also home to tons of chic and hippy stores, don't forget to snap yourself while you are there.
Learn to Cook!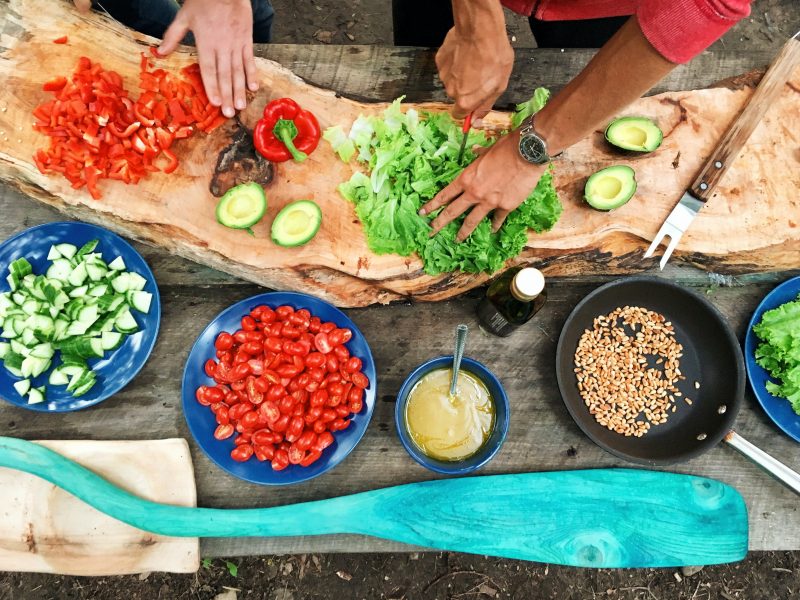 Cooking is the most basic survival skill one one needs to learn in life. And while you're holidaying in paradise why not try signing yourself to heavenly cooking classes?
Seminyak is one of the greatest places in Bali to take a culinary lesson as there are plenty of cooking classes you can register for. Balinese cuisine is distinct from that of the rest of Indonesia, with its own rich and exotic flavors. It's fascinating to learn (and taste) about, and you'll enjoy the cooking process from shopping in the local markets, learning a wide variety of local ingredients, cooking the meals, to enjoying the dishes yourself. It's going to be an amazing and memorable experience. Give it a try!
Related: Best Bali Cooking Classes
Spend Your Dollars at Seminyak Shopping Streets
Other than its popularity as the trendiest part of Bali, Seminyak is also dubbed as Bali's leading shopping destination. Because most expats have chosen to make their home here, they also run fancy boutique shops that sell everything from fine jewelry, clothing, chic eateries, to home furnishings, and many more.
The region is known for being more upscale, with fashionable products and the most up-to-date fashion. Big-name brands also open their stores here, such as surf shops and fashion boutiques. The majority of Seminyak's shopping can be found on Jalan Laksmana, one of Bali's most popular retail alleys.
Go On a Foodie Tour
Although there is no established gastronomic trail, Seminyak certainly does not disappoint when it comes to food adventure. Aside from visiting one of the many Instagram-worthy western-style cafes, a plethora of shops serving local menus to international cuisines can be found in this chic part of Bali.
Excite your taste buds and enjoy a combination of traditional Indonesian foods with modern twists.
Get Cultured
Seminyak is best recognized for being a high-end vacation destination in Bali, yet there are still local things to see and do in Seminyak because Balinese culture is still alive and well-cared for by the locals. The temples in Seminyak are typically hidden behind the stores and villas, but visiting one or two of them can give you an insight into Balinese culture.
Local farmers visit Pura Masceti, which is an agricultural temple. Pura Petitenget is a sea temple on the Indonesian island of Bali. Both are used to ward off evil spirits, and if you're lucky, you might catch a celebration at one of these Seminyak tourist attractions!
Me Time
Is it really a vacation if you don't take some time to pamper yourself? Allow yourself some time to genuinely unwind by booking a manicure, pedicure, massage, or hair appointment at a spa in Seminyak.
Beautiful spas in Seminyak make them true attractions for those who crave for a good me time moment! Traditional Balinese massages and treatments use natural oil and are not as harsh as Thai massages, but they still work the deep tissue.
Prices are varied, depending on the places and treatments you choose. In general massage treatments cost around Rp. 100.000 to Rp. 500.000. Luxury treatments can be found at fancy hotels and resorts, costing around Rp. 300.000 to Rp. 1.000.000 for a complete top to toe treatment.
Related: 18 Best Spas in Bali: where to get the most satisfying massage in Bali
Visit Art Galleries
Art aficionados should visit local art galleries in Seminyak, which feature work by talented, emerging Balinese and Indonesian artists. Check out one of the famed art galleries in Seminyak, Nyaman Gallery. This gallery is worth seeing because of the variety of work on display. Paintings take center stage, but there's also hand-blown glass, sculptures, pottery, and even wearable art. All of the works on show are for sale, so stop by if you're looking for a unique way to adorn your home while also supporting local artists.
Other art galleries you can tour to get your art fix in Seminyak are Reservoart, Masa Gallery, The Yellow Brick Road Art, The Snow Lion Art Gallery, Mahana, and many more.
Go to Cute Cafes for Your Caffeine Fix
Along with shopping boutiques, expats living in Seminyak have established a plethora of cafes where you can get your daily caffeine fix. These cafes are not only Instagrammable, but without a doubt, among the nicest locations to visit and socialize in Seminyak!
In any case, you won't be disappointed with Seminyak's cafe scene, as they're pretty much must-see Seminyak tourist attractions. Revolver, Cage Organic, and Grain Bali are three locations worth seeing in our list.
Experience Bali's Escape Room
If you want to get away from the beaches or if it's a particularly rainy day in Bali, Escape Room Bali is a great place to go for some indoor amusement. There are four immersive escape rooms in which groups of two to six people must solve puzzles and use clues to escape in a set period of time.
Dance Night at Seminyak's Clubs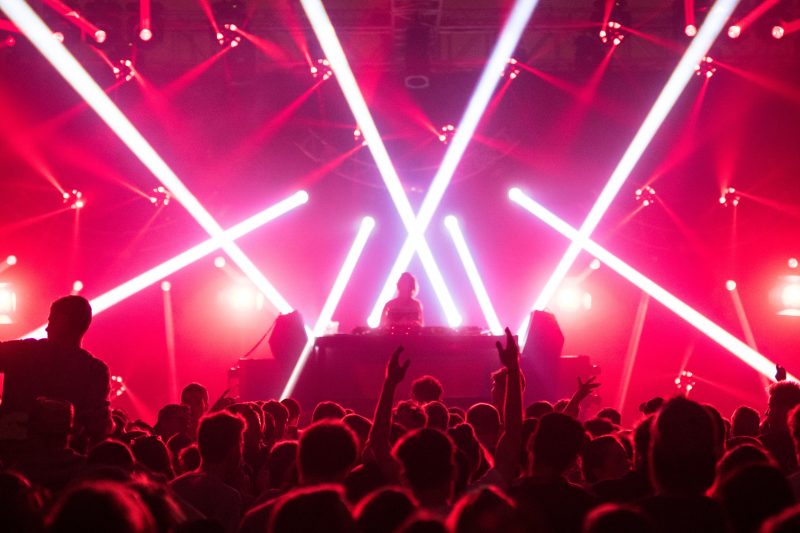 Seminyak's nightlife ranges from wild club celebrations to laid-back bars and fine dining establishments. Whatever your personality is, chances are there is one club that will suit your taste.
Clubs frequently bring in well-known DJs from around the world, so check out Ku De Ta Bali, Potato Head Beach Club, Red Ruby Club, OPIVM Bali Nightclub, Mirror Bali Lounge and Club, or Motel Mexicola for a sweaty night at the dancing floor.
If you prefer quieter and less crowded clubs, head to La Favela, Single Malt Bar, Sarong Bali, La Lucciola, or Barbacoa Bali for relaxing dining or lounge options.
Day Trip from Seminyak
Seminyak has a lot to offer, but due to its central location, it's also an excellent area to base yourself. A day excursion is a terrific way to see more of Bali, and numerous tours and trips depart from Seminyak, allowing you to see even more of the Island of the Gods!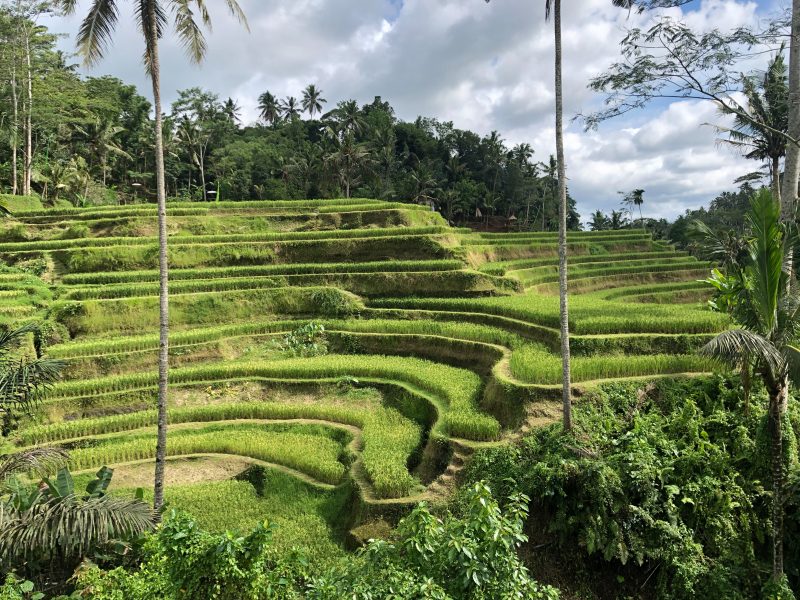 Ubud, Bali's cultural center that is also famed for its raw and natural beauty. While Nusa Penida, is an island you must visit during your holiday in Bali thanks to the island famed Kelingking Beach (T-Rex Cliff), its exceptionally blue waters, and giant manta rays.
Canggu, which is adjacent to Seminyak and boasts even more stylish cafés and beach clubs is also the area you'll want to visit as it offers fun and trendy vibes too.