2015 is just around the corner and before you set on your journey towards new beginnings and have a go at accomplishing the list of New Year's resolutions, there is nothing better than to properly wrap up the current year away from the hustle and bustle of our surroundings. The best place in our opinion is to be in a place that can rejuvenate your mind and souls and give your body a well-deserve rest while you freshen up to the start of another hectic new year. Here are 13 private villas we feel can give you a relaxing yet memorable experience:
Seminyak
Villa des Sens is a contemporary villa designed to evoke a comfortable environment for guests to feel truly 'at home' on their tropical holiday in Bali. It consists of two living pavilions housing 3 bedrooms, and one traditional Balinese 'Joglo' which looks out to the 20 meter swimming pool. Located just outside the city area, this villa will be perfect for those looking to enjoy the peace and serenity in their own private residence.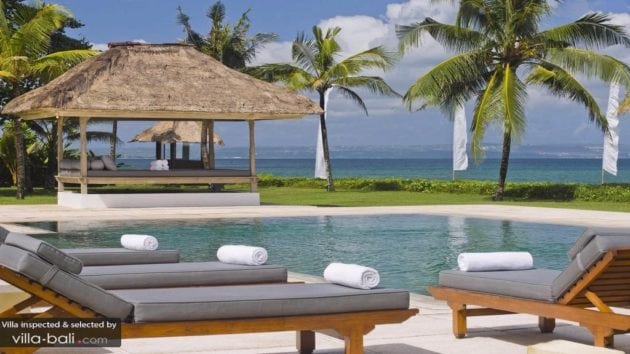 Located directly on the beach, overlooking a panoramic view of the vast Indian Ocean, what could be more impeccable than a getaway at this 5-bedroom Villa Atas Ombak.  Its luxurious design has even won features on worldwide magazines such as Marie Claire and Vogue.
Check out other Seminyak villas
Uluwatu
Villa Marie is a luxurious villa which offers a spacious interior, with mainly 6 bedrooms and a central living area. Outside, next to the swimming pool is a large bale which comes with a BBQ pit and dining table, great for holding a poolside BBQ party with family and friends, or enjoy a casual alfresco dinner. This is definitely a good location to celebrate the coming year!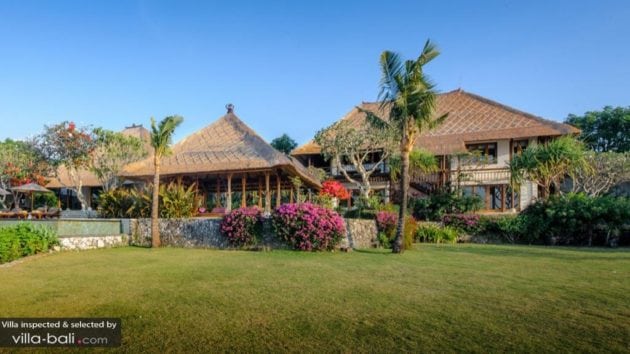 Villa Bayuh Sabbha is truly a magnificent 5-bedroom villa located near the dramatic coastline of Uluwatu, lending guests a spectacular cliff-top view of the beach and the sea. The villa also has two private pools where you can dip in at any time of the day. The relaxing and elegant atmosphere will please your body, soul and mind during your stay at the villa.
Canggu
Don't be fooled by the simple-looking exterior of Villa Nirwana because once you step into the villa, it has a very modern, cozy interior that will make you feel warm and welcomed. Its location is near the ocean's edge. Take a deep breathe from the daily sea breeze as you calm and relax your minds.
A hidden gem located close to the lively streets of Seminyak and just 10 minutes away from the beach and the famous Ku De Ta, Villa Arjuna is an affordable villa that houses three bedrooms in separate pavilions build around the landscaped garden and the humble swimming pool. This villa will provide you a comfortable and lovely stay in Bali.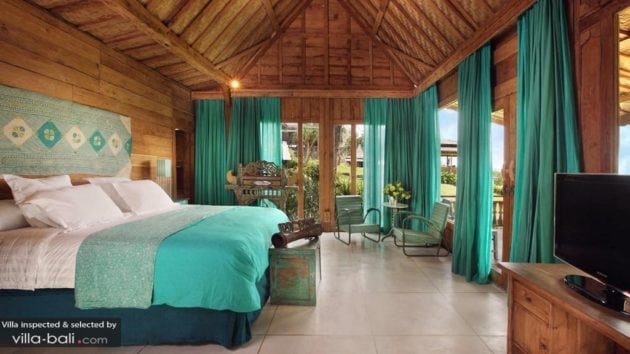 Villa Tangguntiti is a 5-bedroom villa that has a modern interior with an appreciation of traditional elements different from many other villas you find in Bali. Surrounded by the greeneries of the rice fields and an added bonus of yellow and orange hues from the beautiful sunset each evening, this villa will not only warm your hearts to the Balinese traditional culture, but also provide some peace and tranquility to your minds.
Located in the midst of lush green paddies, Villa Umah di Sawah boasts a 5-bedroom traditional wooden structure overlooking sceneries that will bring tranquility to your minds. It is also just 5 minutes away from Echo Beach where all the surf and sand await you arrival.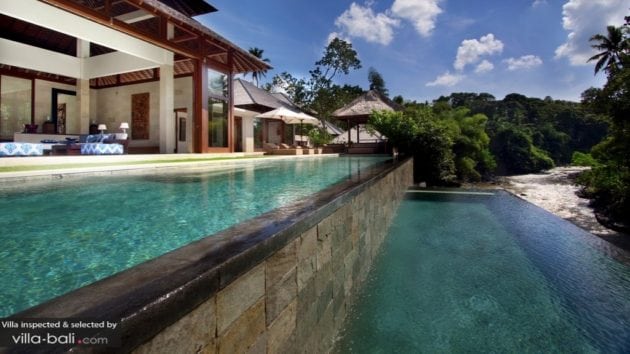 Villa Champuhan is a haven of secluded, tropical grandeur that sprawls along the Yeh Penyet River. As you enjoy the soothing sounds of the flowing river water, relax and laze around in the infinity pools or at the pool loungers. This beautiful 4-bedroom villa is bound to bring you wonderful memories and experiences you will never forget.
Set within the pretty village of Nyambu, Arsana Estate pours down two hectares of hillside, overlooking the Sungi River and is surrounded by a beautiful tropical jungle and endless rice fields. Taking advantage of its secluded location, the 4-bedroom villa was designed using spiritual, symbolic and Western special elements to provide a peaceful sanctuary.
Villa Zelie is a luxurious villa that houses 5 bedrooms and 25-metre long swimming pool. This villa enjoys the best of both worlds; it resides in a prime area close to restaurants and social hubs, yet is secluded in a private and tranquil garden surrounded by rice fields and the beach which is just a short walk away. Constructed out of antique Joglos and reclaimed wood, Villa Zelie brings guests back to Bali's roots in a modern twist.
East Bali
Situated just metres away from the beachfront, Villa Stella will reward you with a gorgeous scenic view of the ocean from all of its three bedrooms. It has a colonial themed architecture and décor and those who enjoy snorkeling and diving will be pleased to know that they can do so just in front of the villa!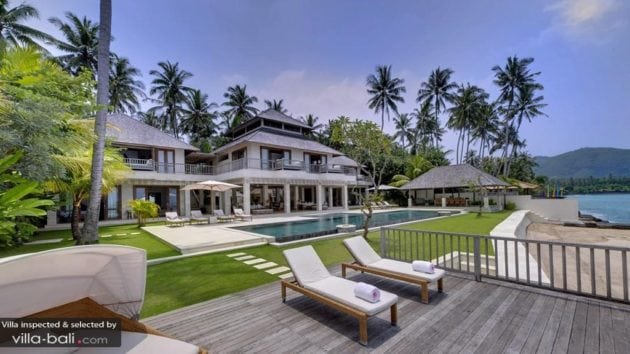 Villa Angsoka is another villa that enjoys a beachfront and a panoramic view of the sea, offering you a cooling fresh breeze each morning and night that can lighten your mood and rejuvenate you souls. This 6-bedroom villa will be a perfect location for large groups of family and friends to gather and enjoy a short getaway together.
Go ahead, take a breather and start your year right! Here's to new beginnings and endless new possibilities… 🙂
This article was written by Sahidah 🙂 Merci beaucoup !