The festive holidays are here and we want to recommend several affordable villas that will blow your mind away this Christmas. Luxurious bedrooms, spacious living area, large swimming pools, stunning views, you will be spoilt for choices here in Bali. Thus, we have sorted out the best villas by location to ease your search:
Seminyak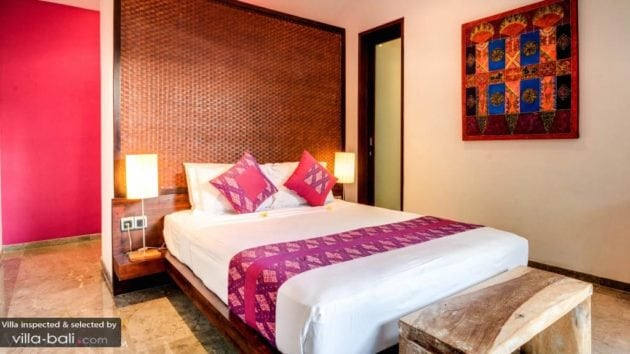 A one-bedroom villa located at the heart of Seminyak and close to the beachfront, Villa Anjali Purple's romantic and intimate setting will be a great option for a short getaway with your significant other.
Villa Chamade is a 3-bedroom Bali villa with an elegant interior, stylishly decorated with a tinge of traditional Balinese influence. It is located just 10 minutes away from the beach and also near to world-class restaurants and bars in Seminyak. Its relatively quiet location makes this villa a good option for a peaceful getaway.
A hidden sanctuary that opens up to the heart of the city, Villa Damai Lestari assures you of a peaceful retreat while you are in Bali. It consists of 3 bedrooms and a luxurious pool right outside the central living room.
Villa Bewa is located right in the heart of Seminyak's hustle and bustle, perfect for those who prefer to be within walking distance to the city's attractions. Each of the 3 bedrooms in this villa features king-sized canopy beds, flat screen TVs and en-suite bathrooms. An L-shaped swimming pool wraps around the sliding glass doors of the living room.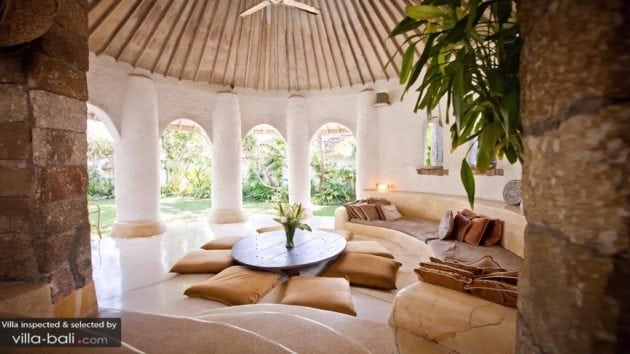 Villa Bulan's luxurious and unique interior has earned many features in interior design magazines worldwide. It consists of 5 beautifully designed bedrooms in 2 separate private villas and a large swimming pool surrounded by an overgrown tropical garden. This work-of-art villa is a must-go!
Villa Maju is a 3-bedroom villa located just about a 10-minute walking distance away from Seminyak's finest beaches, bars and restaurants. This enchanting villa incorporates greenery in many corners of the villa, providing a great setting for a good relaxing getaway.
Ubud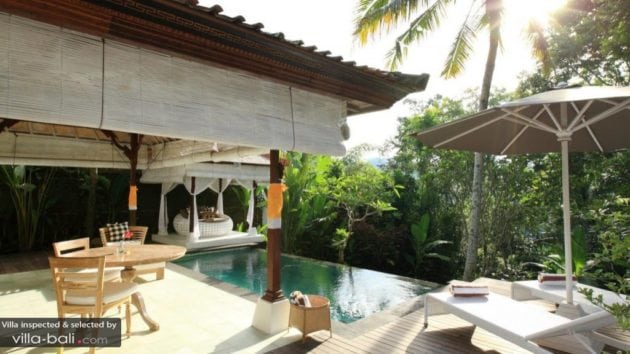 Villa Shamballa Moon has enticing views of the Wos River Valley and the sacred Mount Agung, and is a perfect location for honeymoon couples. This romantic hideaway consists of one bedroom and an infinity swimming pool and is located in a charming small traditional village that is blessed with gifts from Mother Nature.
Villa Rumah Lotus is a 2 bedroom, open-air villa situated around the 15-metre infinity pool facing a golden vista of rice fields and volcano peaks. This villa mixes modern with traditional decor in its interior and will be a perfect, relaxing getaway for families.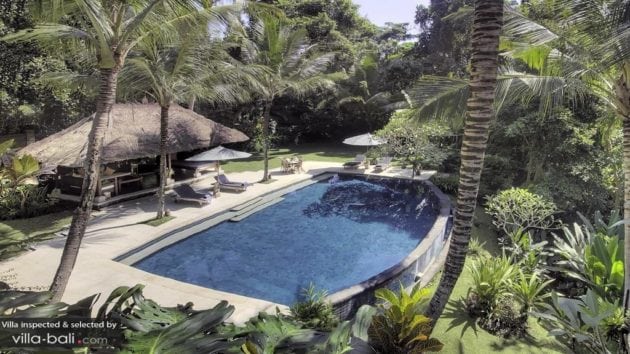 A rustic-style interior with wooden architecture, Villa Alamanda houses 4 bedrooms and a large swimming pool, well-suited for a gathering with families and friends. It is located in a quiet Balinese village in the countryside, perfect for those looking for a quiet and serene getaway.
Villa Vajra is another villa option that mixes modern designs with traditional, giving its architecture an interesting outlook. Consisting of 3 beautiful bedrooms, the villa also offers a panoramic view of the surrounding rice fields that can please not only your eyes, but also your body and soul.
Located 15 minutes north of central Ubud, Villa Bayad certainly is a world of its own. The main attractions of this 4-bedroom villa include the infinity pool, the stunning view of Mother Nature and last but certainly not the least, the relaxing climate.
Canggu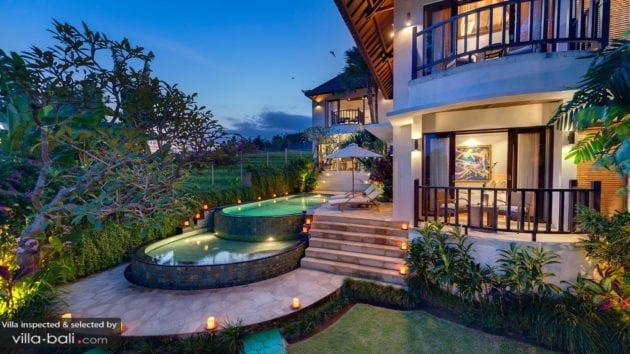 Canggu Terrace is a three villa complex in Canggu – Villa Penari, Villa Arza and Villa Damai Canggu. It is surrounded by stunning, luxuriant rice fields and is located close to the heart of Seminyak, where the best of Bali's shopping, dining and parties can be found.
Villa Penari consists of 2 bedrooms with dance-themed paintings on the walls of the villa, hence giving it its name. Villa Arza has 3 bedrooms designed with a more elegant touch featuring Asian inspired art pieces around the villa. Villa Damai Canggu is also a 3-bedroom villa which has a more contemporary touch. Each villa has its own living room for a more private bonding time.
This three-villa complex is well-suited for large groups of families or friends who are looking for a relaxing holiday away.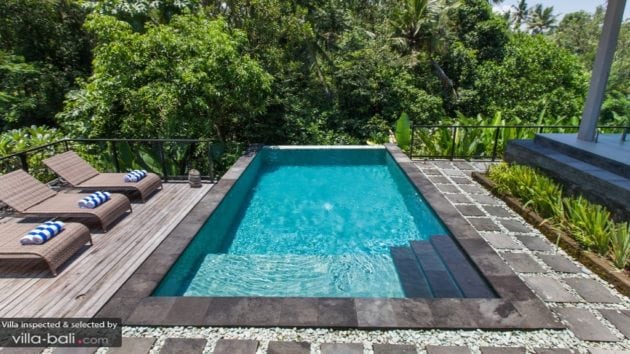 Villa Umah Wa Ke houses 3 bedrooms and enjoys a stunning location above the Sungai River, bordering Badung and Tabanan. It is conveniently located between world famous surf spot Echo Beach, and Bali's Iconic Tanah Lot and 25-minute drive away from the city of Seminyak.
Villa Songket incorporates traditional Balinese furnishings which makes the villa a warm and comfortable place to spend your holiday at. It comprises 3 bedrooms and is away from the hustle and bustle of the city areas.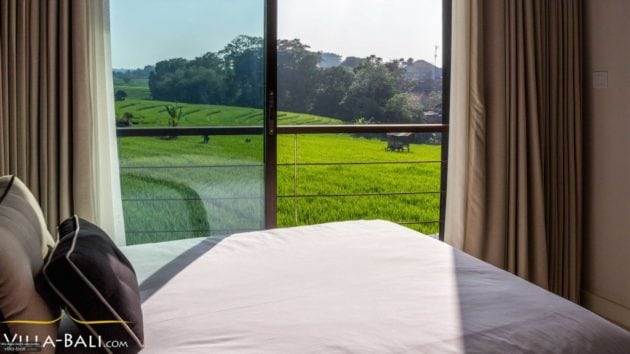 Housing 4 spacious bedrooms, Villa Isana is very much a minimalistic and modern villa that is located adjacent to the rice terraces below. The stunning view will leave you feeling peaceful and relaxed during your stay at the villa.
Mary's Beach Villa has 4 large bedrooms each fitted with sliding glass doors that allow sun rays to naturally fall into the villa's interior to provide a light and airy vibe. Located in the rural countryside, this villa will let your body, mind and soul relax to satisfaction.
Villa Da Vinci has a great location, tucked away in a quiet residential area and just minutes away from Berawa Beach, which is named as one of the best surfing spots in Bali. This magnificent three-storey villa consists of 4 beautiful bedrooms, a stunning swimming pool and a rooftop terrace that is designed to accommodate a big group of family or friends on holiday.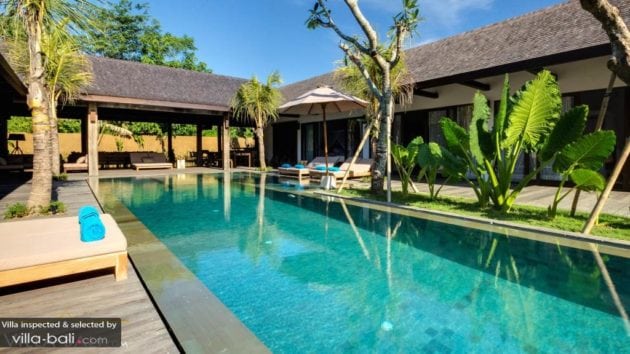 Uluwatu
In a contemporary blend of rustic stone and wooden design, Villa Emile is a brand new 5-bedroom villa that is a modern gem right next to Bingin Beach on Bali's Southern Peninsula. The villa even has a private walking path to the beach.
What are you waiting for? Make your reservations now!
This article was written by Sahidah 🙂