Updated on 26/07/2018
Beaches, temples, and rice terraces, Bali offers an exotic experience for almost every traveller. If you're eager to see what's beyond the beach clubs and boutique shops of South Bali, make sure to leave a few days to discover the natural countryside of the island. Weaving through national park, active volcanoes, waterfall ravines and strawberry plantations, we bring you the best hiking trails in Bali.
Difficulty Level: High
1. Mount Agung
Standing at 3,142 metres above sea level, Mount Agung is the highest mountain in Bali. There are two main trekking routes – one from Pasar Agung Temple, which is less difficult, and another one from Besakih. The sunrise from Mount Agung is stunning, and the satisfaction will melt all your fatigue away once you reach the summit. As an active volcano that erupts frequently, the mountain is sometimes not suitable for hiking. Do check with the local tours to get the latest status of Mount Agung.
Duration: 3-4 hours from Pasar Agung Temple and 6-7 hours from Besakih.
Tip: Mount Agung is prohibited for hiking during religious holidays.
You may be interested: 8 Rules to Surviving Mt. Agung
2. Mount Batukaru
This is an inactive volcano that is 2,275 meters above sea level, and the highest peak of it is in the Bedugul volcanic area. Unlike other mountains in Indonesia, this mountain is largely undiscovered which is why you will rarely see hikers on this route. Home to a wide variety of wildlife, you will get to see many interesting animals such as Kijang, Pangolin, Macaque and Luwak on your way up.
Duration: 9 hours
Tip: As this is a wildlife conservation area, the number of trekkers entering the mountain is limited. You should go with a tour for this hike.
3. Mount Batur
At 1,717m above sea level, Mount Batur is an active volcano and is the second highest point in Indonesia. The famous stunning sunrise view, overlooking the island has made it one of the most famous hikes among tourists. To do so, you have to depart at 4 am, and it is best to hire a guide for this. They are experienced with the routes and duration of the hike so having a guide with you will be of great help. They can also pick you up from your villa or hotel.
Duration: 2.5 hours
Tip: There are plenty of hot springs nearby for you to relax your tired body after the hike. Some are free and some comes with a fee.
Difficulty Level: Medium
4. Secret Gardens – Sambangan
Hidden within the Sambangan jungle in Northern Bali, the secret garden hike is not easy but offers stunning views of three majestic waterfalls – Pucuk, Kroya and Kembar. You can take a dip near the waterfall and try out cliff-jumping (this is best if you follow a tour, as the guides will know the safest place to jump). After the waterfall, the trek will bring you through some local villages where you can witness how the locals process coffee and prepare medicines from their own plantations. It will be an eye-opening experience!
Duration: 3-4 hours
Tip: Bring along a swimsuit for swimming and cliff diving!
5. Camping at West Bali National Park

Located on the most north-westerly point of Bali, the West Bali National Park is a favourite destination amongst locals for wild, outdoor exploration. Dense conservation forests, mangroves, beaches, dive sites and hundreds of bird species reside in the 190 square kilometres of the official park, most of which can be witnessed via official footpaths. There are hiking routes with various difficulty levels. The routes can range from one hour long to over seven.
Upon arrival, you can hire a guide to help you through the national park. The rate is about $40. Looking for a nightlife scene that is the direct opposite of Kuta? Try camping out in the park's designated zones and fall asleep to the noise of the rainforest!
Duration: 3-7 hours, depending on the route
Tip: Bring along your camera and swimsuit as there is a chance to snorkel at the nearby marine park!
6. Traditional villages and rice paddies near the Tirtagangga Water Palace

There are numerous trailheads near the Tirtagangga Water Palace in Eastern Bali. As you wander through small villages, rolling rice fields and Bali's famous Subak irrigation waterways, the stunning views of mountains and ocean adorn your way. Strong traditions of arts and crafts are prominent in this region, giving you a unique glimpse into the Balinese way of life.
If you aim for a more challenging route, it's better to have a guide with you. At the entrance, you will find informal guides with expertise about the local landscape. One of the longer hikes in the area lasts about six hours. You will begin at Tirtagangga and through the Balinese villages of Lempuyang, Bukit Kusambi and Budakaling.
Tip: It is best to start your hike from Tenganan Village, as you get to witness unique village layout and Balinese architectures.
7. Tegallalang Rice Terrace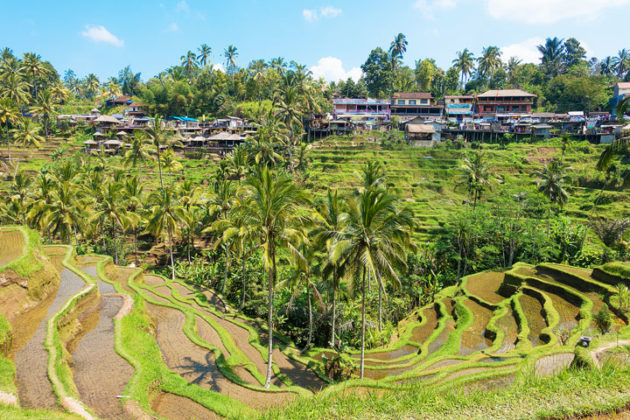 If you'd like to feed your camera with stunning photos, Tegallalang Rice Terrace is the place to go to. It is one of the most scenic rice field spots in Bali. Take a stroll through the rice paddies and enjoy the view across the lush green valley. There are also wood carvings, small shops and cafes selling traditional Balinese ornaments and food. Tegallalang Rice Field is also popular for its subak; a conventional Balinese cooperative irrigation system passed down by a revered holy man in the eighth century.
Duration: 1-2 hours
Tip: Make a trip to Bali Pulina where you can find organic plantations and learn how Luwak (a famous Balinese coffee) is made.
8. Waterfall trekking around Munduk

You will find some of the best hiking trails in Bali in the central rainforest bordering Lake Tamblingan and Lake Buyan. Here in the lush area of Munduk, official trails exist in the dozens to show off the dramatic river gorges, hidden waterfalls, Bali's largest and oldest Banyan tree, and crop plantations of all kinds, such as coffee and strawberry. The weather is cooler in this part of the island and makes for a refreshing atmosphere to break a sweat. Afterwards, treat yourself to a fresh cup of kopi luwak and a coconut cake with palm sugar. Sounds great, isn't it?
Avid hikers will appreciate the ability to explore without a guide. However, similar to the other trails, it is always possible to hire someone for more detailed directions. Do note that trailheads aren't always marked so clearly in Bali. A good departure point for discovering waterfalls is just after the Taman Ayu homestay in Munduk, which is situated on the main road's left-hand side when you're heading towards Bedugul.
Difficulty Level: Low
9. Campuhan Ridge Walk
This is a short and easy Ubud hike with a paved road that brings you the charming view of the jungle landscape. This hike will begin near Ibah Hotel and take note of the road signs that lead you towards the village. About an hour later, you'll find Karsa Kafe, where you can enjoy some juice or simple breakfast before heading back to your villa.
Duration: 1.5 hours
Tip: It is best to go in the morning to avoid the heat and enjoy the morning breeze.
Check out: Things you can do in Ubud
10. Jl. Kajeng Rice Fields Walk
This path is lesser known and not made for tourists. However, it is worth a visit as you get to enjoy the stunning view of the rice fields, and observe the farmers at work. There are shops, villas, temples and restaurants along the walk so you can take a break when you get too tired. Since this is the locals' workplace and home, remember to respect their space, and you can have a chat with them to understand a little more about the local life.
Duration: 1.5 hours
Tip: It may be difficult to find this place depending on where you start your route. The most common start point is the main entrance of Jalan Kajeng, and keep following the path.
Related: Bali Waterfalls Guide
---
See our villas in Bali. Inspected and selected by Villa-Finder.com.