It's almost the weekend and that means it's time to get outside and explore the great unknown! Or in our case, the less developed, unpopulated side of Bali. Come along and follow the Bali Reporter as she goes where no Bali Reporter has gone before…
Our wanderlust adventures were on a serious roll this weekend. Literally. A two-wheeled, cycling roll that is. After a half day spent peddling through the lush, green landscape of Ubud, we can happily recommend one of Bali's guided bicycle tours to travellers of all ages and athletic abilities. The hardest part for us wasn't the cycling ride itself, but rather the process in deciding which company to go with, as when you Google "Ubud bicycle tours", about 80 results pop up and you are instantly overwhelmed with the list of options. To make the planning process a bit easier on your end, we did some dutiful research, picked the company with the best overall reviews and landed upon Banyan Bike Tree Tours. Just to make sure they were really all they're cracked up to be, we decided to join them on one of their famous cycling tours through Ubud…
Itinerary:
Upon contacting the email address listed on Banyan's website, we were pleasantly surprised to receive such a welcoming response from the owner, Bagi, just minutes later. He let us know we were welcome to come any time and that his team would be happy to pick us up wherever we lived (or were staying temporarily) in Bali and bring us to the tour's departure point in Ubud. With that, we opted to join the Saturday morning tour beginning at 9:00am.
The official ride begins at Bagi's Balinese compound just next to the Sayan Ridge and Ayung River. After asking us what our cycling skill level was beforehand, it was decided that we and another couple would be on the moderate course (thank god), while a third pair would take on the 'Challenger' path. In total, there were four of us amateur riders and one guide. Once we were each handed a helmet, water bottle, and mountain bike, the guide gave us some formal instructions: "Downhill: high gear. Uphill: low gear. Always brake with both hands, or else you'll flip over the front handle bars. OK? Ayo, let's go!" And just like that, he rides off and we're expected to follow.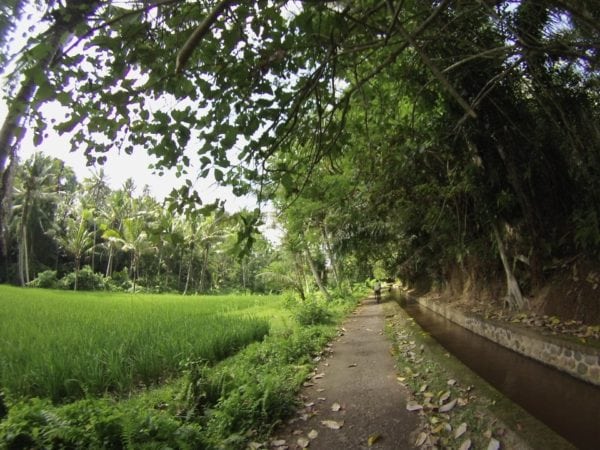 Since I rode a cruiser all throughout my university years, I like to think I'm a pretty skilled bike rider. But in truth, I had absolutely zero experience when the time came to switch gears and climb up a short but steep 45 degree angle incline. Luckily, everyone else behind me had the same lack of experience and we all were forced to get off and shamelessly walk our bikes up that first hill. To our credit, it wasn't long before we were all mastering the timing of when and how to switch our gears.
Cycling + Cultural Tour:
The coolest part for me was the fact that the tour combined a cycling workout with a cultural lesson through the small villages and rice fields of Ubud. The hybrid itinerary started off with a stop through a traditional Balinese family compound, where we all learned in greater detail about Hindu mythology, kinship and even the political landscape of Indonesia. Afterwards we got to stop at the edge of the rice paddies and ask an expert about how the Subak waterways work, followed by a pause at a Balinese Hindu temple and more rice fields. In total, the cycling ride lasted about two and a half hours, intermingling villages and main roads with large, wide open fields filled with crops and produce of all kinds. The morning fragrances were something you can only experience for yourself, just like the sun that beat down on us relentlessly as we sweat our way back to Bagi's house.

As athletic as we all seemed to think we were, the cold washcloths awaiting us when we were finished were probably the highlight of the morning, other than the delicious, homemade lunch prepared by Bagi's wife.

Plan Ahead:
Eat breakfast before they pick you up
Put on sunscreen! And bring it along with you!!
You can bring your own water but they provide you with bottles upon arrival
Wear appropriate closed-toe shoes and athletic clothing
Book your massage for afterwards!
---
Contact: banyantreecyclingtours@gmail.com for more info and reservations. Tell them Villa-Bali.com sent you and receive a 10% discount off of your cycling tour 🙂