Updated 13 June 2018
This post was written in 2015, but it is still one of our favourite restaurants to go to today.
If an establishment is so audacious as to have the word 'Naughty' in its name, one can only assume one of two things about that place: it is an underground swinger's club or it is a restaurant that serves a stiff, stiff drink.
Luckily for the sake of this article, we are talking about the latter of those two options — Naughty Nuri's and their famous ice cold martinis and BBQ pork ribs. Martinis and ribs might sound like an odd pairing at first, but after one visit to this favorite locale, you'll understand why the duo are basically as normal as an American peanut butter and jelly sandwich. Basically.
If you've ever looked up must-visit restaurants in Bali, or in Ubud in particular, you've probably stumbled upon some sort of saintly scripture proclaiming the Naughty Nuri's Warung & Grill to be the best thing that's ever happened to humanity, or something to that degree. Once only confined to the streets of Ubud, Nuri's became so popular with tourists and regulars that they were obligated to open up a location in Seminyak's neighbouring Batubelig too.  What's all the hype about you ask? Let us explain.
The Ribs
First, the ribs are boiled in this ultra-mega-bombtastic BBQ sauce until they are nice and tender. Then they are thrown over fire and cooked to perfection on the street front grill. For spice lovers out there, there is a secret sauce present on every table that will just bombard your ribs with flavor. One tablespoon routinely induces hiccups in me, so lather lightly my friends, and enjoy.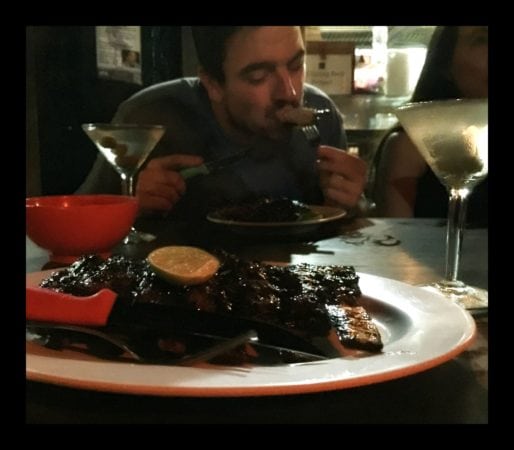 Insider's tip: To get the juiciest ribs possible, ask for the small bones. This might seem counterintuitive, but the bigger boned pork ribs tend to be a bit fattier, whereas the small boned kind are succulent and meaty. 
Also read: Villa Finder's Favourite Restaurants in Bali
The Martini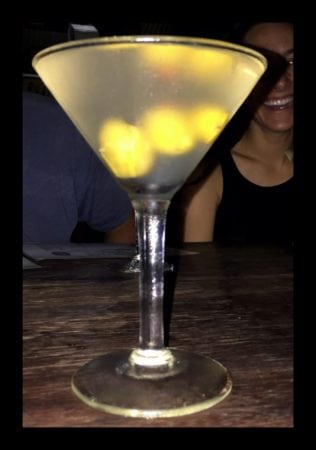 A lot of people might say, "But I don't drink martinis, blah blah blah". Let me stop you right there — this is not your average martini. This is a Bali icon that puts all other martinis to shame. The menu offers two types of 'tinis, either vodka or gin, which subsequently get shaken at your table and served ice cold. Just when the waitress has poured the drink to the tippy top, it is your duty to sip off a margin of the liquid so she can finish your glass off with the remainder of martini that's still in the shaker.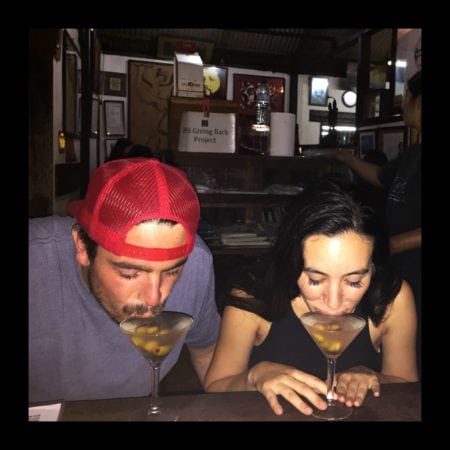 Remember at the beginning when we said 'Naughty' must refer to a stiff, stiff drink? Well, let's just say that the first time I tried a martini here I had to take bites of my side of mashed potatoes afterwards to serve as a chaser.
To sum up, one martini = a good time, two martinis = this sign below: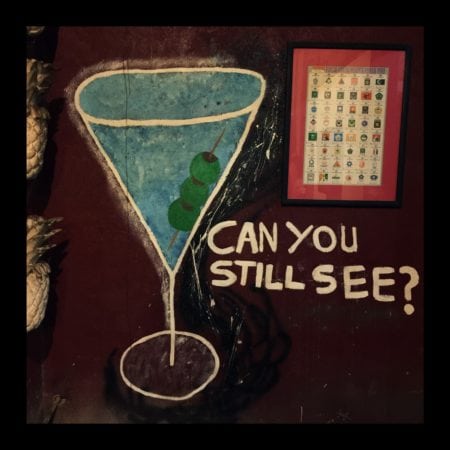 Insider's tip: Ask for it dirty if you're into that sort of thing. If you're truly a martini-naysayer, they have a delicious margarita and cold Bintang on tap as alternate adult beverages. 
Locations:
Ubud — Jalan Raya Sanggingan, Ubud, Bali 80571, Indonesia
Batubelig — Jalan Batubelig No 41, Kuta Utara, Bali, Indonesia
It's very easy to visit Naughty Nuri's when you stay in Seminyak.
Hours:
Ubud — Monday-Sunday from 11:00 am – 10:00 pm
Batubelig — Monday-Sunday from 10:30 am – 10:30 pm   
*Reservations are not accepted so come early and be prepared to share a table with a fellow martini-mate! 
Related: The Best Burger in Bali
---
See our villas in Bali. Inspected and selected by Villa-Finder.com