So you've never stayed in a villa before? So glad you made it to this blog because we know you are in for a dream holiday in Bali. A villa holiday gives you a private paradise on Paradise Island, and you will soon find out it doesn't have to be crazy expensive at all. Once you've made it to Bali, you will want to come back. Once you've stayed in a villa, you will want nothing else. Here are 13 things you wish you knew before staying in a villa in Bali: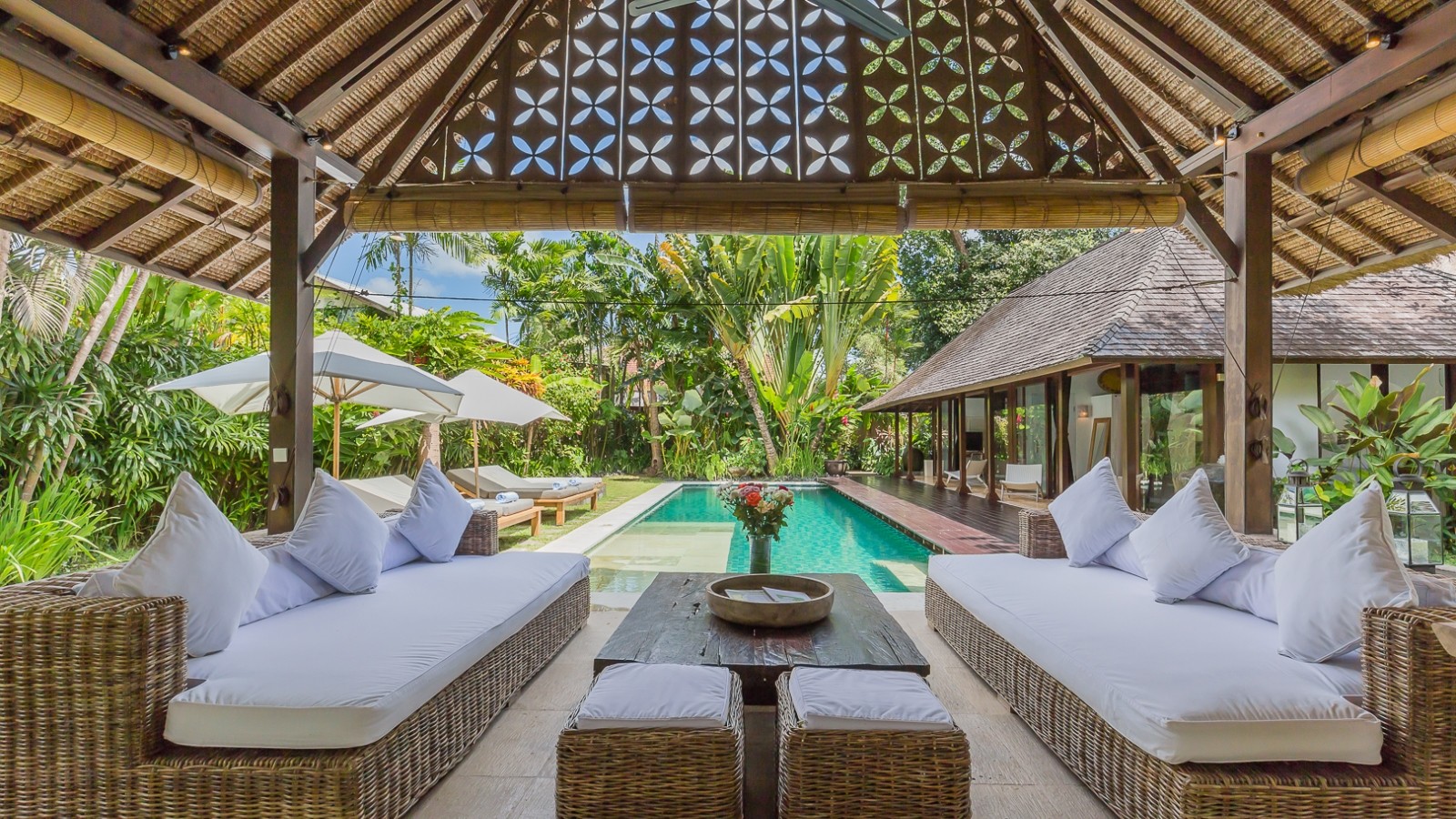 1. Staying in a villa = privacy and exclusivity
There is no place like having a home in Bali! Your holiday will be one unforgettable dream when staying in a villa. You have the whole property exclusively for you and your travel party. There are no shared facilities whatsoever, your villa is your home, and you decide how you want to live and spend your holiday and that is why nothing compares to staying in a private villa in Bali.
2. You get a private pool that never closes
Your pool is yours; there is no closing time. If you come home late, you can jump right in if you feel like it. Early birds who like to wake up with the sunrise don't have to wait for the pool to open. In fact, you can roll out of bed and into the pool (literally at some villas!). Every villa has maintenance staff ensuring the pool is always clean and clear.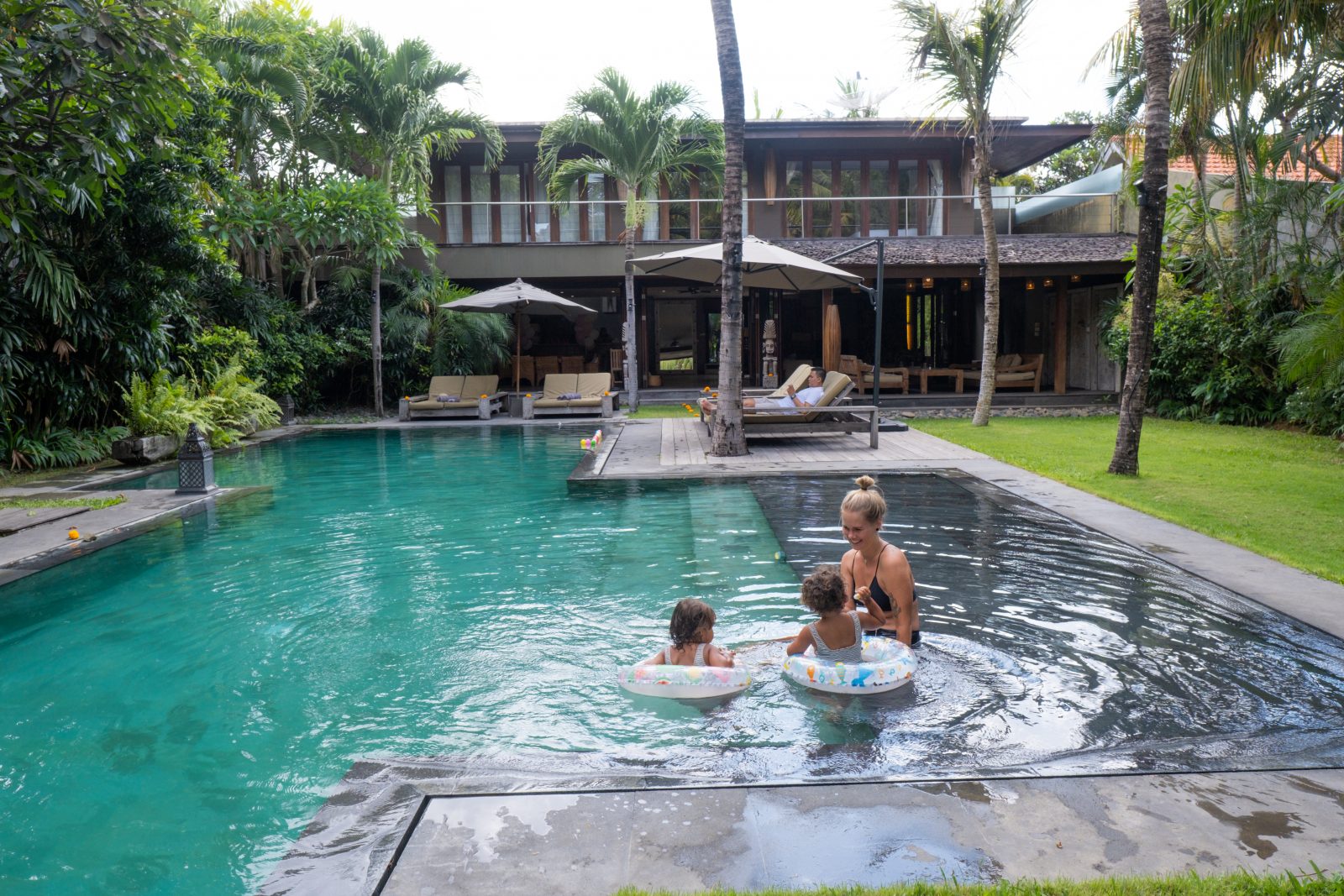 3. A personal approach
Another reason why you'd never go back to staying anywhere else but a private villa is the staff. At your Bali Villa, you are welcomed with heartwarming smiles by a team of local Balinese staff. The people in Bali are so sincerely kind and welcoming. They will make you feel right at home, and after a few days, they will start to feel like close friends or family. You can really get to know them if you like and build a bond. People often return to the same villa year after year and meet their Bali family again.
4. Comes with a kitchen
When travelling with kids, you need a kitchen! It just makes everything easier and a lot cheaper. You can cook up something fast and familiar whenever they're hungry. Kids didn't eat at the restaurant? You can prepare something at home. The fridge in your private kitchen is easily stocked with fresh grocery supplies and drinks. Especially for families, this is a deal breaker!
5. You can get a private chef!
If you really want a break from all daily life tasks, you can also get a private chef at the villa. Breakfast, lunch and dinner + snacks can be taken care of. All you need to do is sit back, share your preferences and munch. Western, Asian, vegan, you name it. It can all be arranged.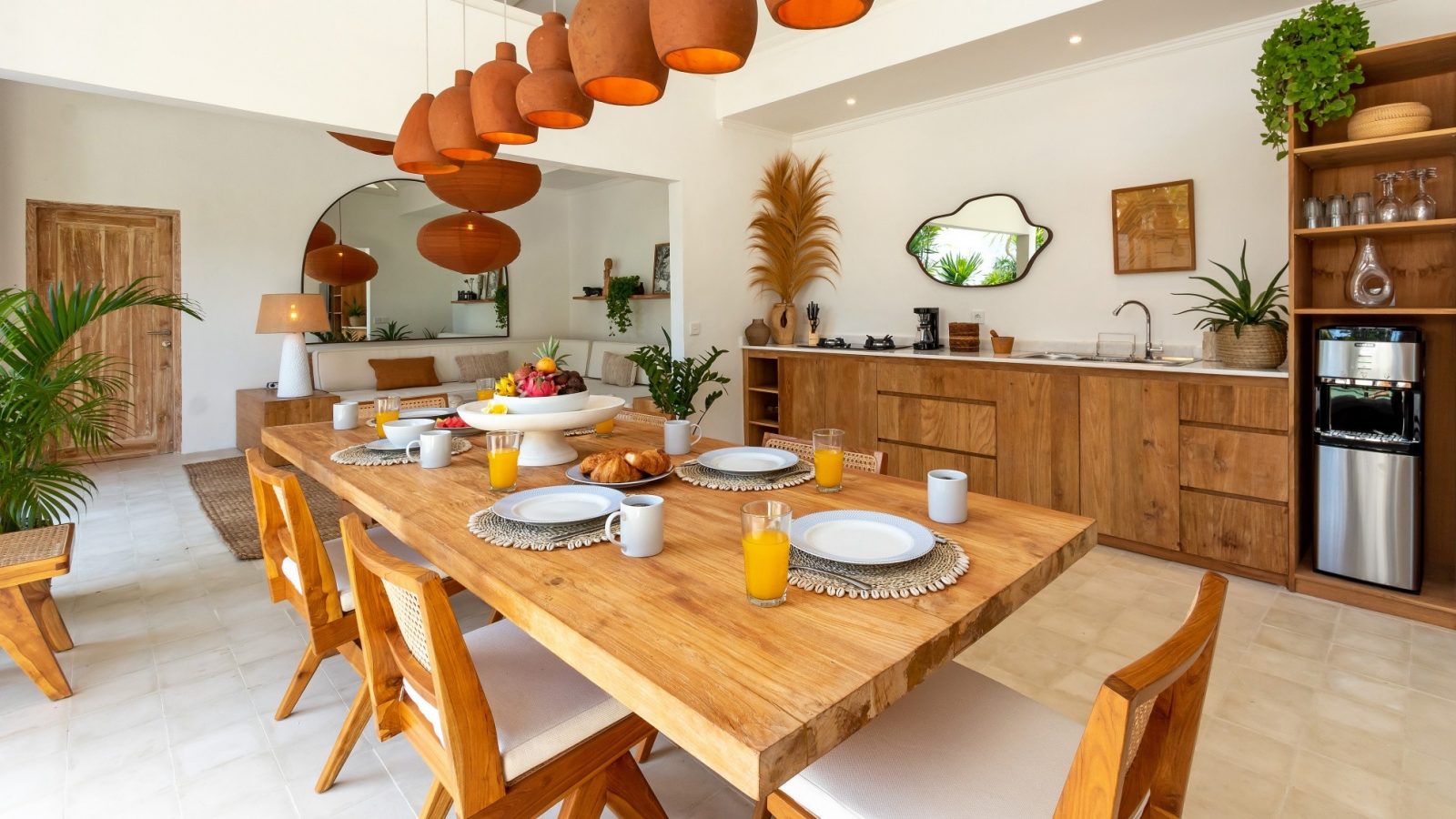 6. Extra services you only dreamt of
As if living the dream, you can even get a skilled spa therapist to come to your private villa in Bali for a Balinse massage, facial, manicure and pedicure. You can hire a nanny to out after the little ones. You can even get a private driver to take you on tours and day trips.
7. Modern vs traditional villas: what matches your style?
It's an entirely different experience! There are sleek modern villas with AC in the living room and full-length glass windows sliding open to the garden and pool areas. There are also traditional wooden villas exuding a rustic, soulful ambience. Do you prefer a lush tropical garden with flowers, ponds, waterfalls and swaying palm trees? Prefer a big pool with a pool deck where you can dine alfresco-style and have a BBQ? It's all possible. There are so many different types of villas to choose from. Some are built on the edge of a river gorge, others on towering clifftops or tucked away in the centre of a booming beach town. If you tell us your preferences, we can find you the perfect match!
Related:
8. Villa in nature vs villa with a central location
There are villas located in the centre of popular towns such as Seminyak, Canggu, Ubud and Uluwatu. These are great if you love entertainment, crowds, beach clubs and liveliness. For those seeking a nature retreat, we recommend heading to the outskirts of Ubud or Sidemen, Amed, Lovina or Pemuteran. There is less noise from motorbikes and more sounds of nature which can be, mind you, very loud too. Nature villas are great if you want to recharge and relax your entire being.
Check out this blog to find out more about nature villas vs villas in the center of Bali
9. Villas are more affordable than hotels and resort
You probably don't believe this if you've always stayed at hotels your entire life thinking villas are a bridge too far for your holiday budget, but villa rentals can really be cheaper than hotels and resorts in Bali. In fact, they can be a lot cheaper! Especially if you travel with a big group or a large family you get amazing value for your money, and it doesn't break the bank.
10. You can stay with a big group
Something that is just not possible at a hotel or a resort. At a villa it's easy. There are villas with 7, 8, 9 or 10 bedrooms and the entire property is just for your travel group.
11. Throw a party or have your wedding in a villa in Bali
There are many perfect 'event villas' in Bali. Weddings, birthday parties, retreats, you can throw your party at a villa in Bali!
12. Perfect family villas
For families, there are villas with playgrounds on-site, wading pools, bunk rooms and playrooms. You can always hire a pool fence, baby cots, high chairs and whatever you need for your little ones to be happy and safe. Nannies are also available at additional charges.
13. Impeccable customer services
Safe, reliable and personal, you are in for impeccable customer services for your entire Bali holiday. All the villas on our website are hand-picked and inspected by our team. The concierge team is always available to assist and answer all your questions. Our services don't stop after your booking is made, we are available 24/7 to make you feel secure and looked-after.
Ready to find the perfect villa for you? We are here to help 🙂
Related articles: