In popular places such as Kuta, Seminyak and Kerobokan, excellent restaurants are found in abundance everywhere, serving all kinds of delicious food from all over the planet. But high-end dining every night is not very friendly for the holiday budget and actually, the best places to go for tasting authentic Indonesian home-cooking, is at the local little warungs found on the side roads.
We selected 5 great cheap eats at charming little warungs, serving fresh, homemade and absolutely delicious food with a price ranging from as little as 10.000 to 50.000 rupiah for a happy belly full of yummy food. To give some variety, the warungs are not only Indonesian…
Warung Murah
Warung Murah is found in the heart of Seminyak on Double Six street that leads to the beach. After gazing at Bali's breathtaking sunset and strolling back towards you holiday home, this warung makes a real tasty and cheap place to stop for dinner. Warung Murah serves authentic Balinese food and the place is usually packed with tourists ordering the traditional 'nasi campur'. This is how it works; after choosing between white, yellow or brown rice, you can simply take your pick from the wide selection of local dishes presented in the display. Warung Murah serves real delicious chicken, fish and also lots and lots of tasty vegetables, making it also a perfect place to eat for vegetarians.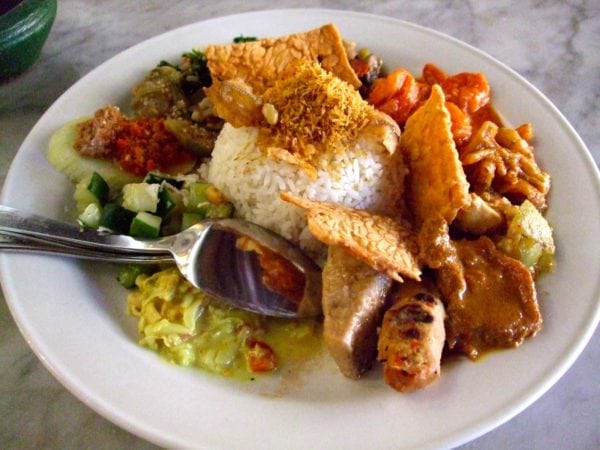 Warung Xich Lo
Another one of our favourites is Warung Xich Lo, nestled in the emerald rice paddies of Kerobokan. This place is slightly more expensive and it takes a bit more effort to get there but it is definitely worth it! This charming Vietnamese Warung, owned by a Vietnamese lady, serves mouthwatering bowls of steaming hot Pho, which is a traditional Vietnamese noodle soup, soaked in a richly flavoured stock and topped off with beef, chicken, prawns or shiitake mushrooms. They also serve fresh spring rolls, traditional salads and the original Vietnamese drip coffee. You can enjoy all of these delights while sitting comfortably on one of the floor cushions, gazing at the enchanting rice paddy view.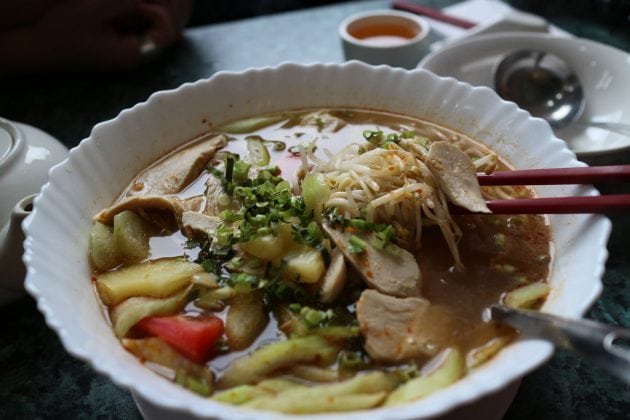 Warung Nikmat
Nikmat means 'delicious' in the Indonesian language, and true to its name, this authentic Indonesian Warung, run by a Javanese family, serves delicious home-cooked food, prepared freshly every morning by the friendly Javanese ladies. Warung Nikmat is located in the Tuban area of Kuta, tucked on the corner of a back street and we can assure you, it doesn't get more local and authentic than this. You can really tell the quality of the food, as the place is always busy with locals, getting their daily 'nasi campur'. The ladies will welcome you with warm Indonesian smiles and they speak good English, advising you about the dishes that might be too spicy for Western standards. Warung Nikmat is a great place to go for breakfast if you dare to do it the Indonesian way or maybe better for lunch. Don't try going here for dinner, because the warung closes after all the food is 'habis' or 'finished'.
Related: Villa Finder's Favourite restaurants in Bali
Warung Souvlaki
Indulge yourself with authentic Greek delights in charming Mediterranean atmospheres at Warung Souvlaki, found in a small alley of Kuta as well as on Double Six street in Seminyak. These tiny but utterly charming little restaurants owned by a Greek, serves freshly grilled souvlaki, home-baked moussaka, traditional Greek salads and yummy Greek deserts. It really is something different from all the other eating places found in Bali and with Mediterranean charm and friendly service, Warung Souvlaki really is a nice alternative to eating rice. You may not expect it, but warung Souvlaki also serves a great big Greek breakfast for a small price, complete with a feta omelette, Bali coffee, lime or orange juice and a large bowl of fruits with Greek yoghurt, your belly will be happy and ready for another great day of holidaying on the island of the Gods.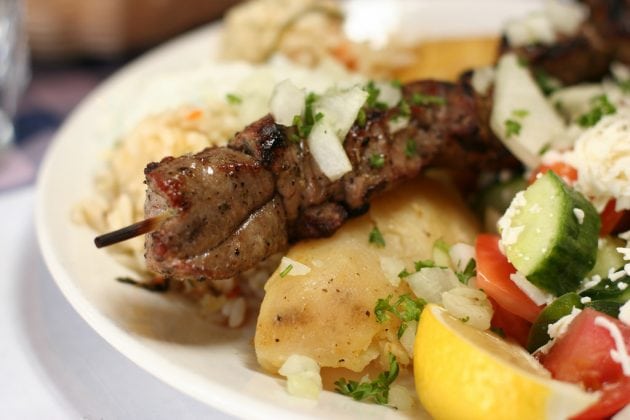 Warung Bunana
Located one the side of a busy road in the centre of Seminyak, sits Warung Bunana. This charming and always busy little eating place, famous for its delicious Roti Canai and richly flavoured Teh Tarik, is definitely a must try if you ask us. Warung Bunana serves small bowls of curries to go with your favourite freshly baked Roti Canai. In fact, Warung Bunana has an open kitchen, so while waiting for your meal to arrive, you can actually watch it being made by the hardworking staff who master the art of authentic Malaysian cooking with real craftsmanship.
---
See our villas in Seminyak and Kuta. Selected and inspected by Villa-Finder.com