We love our nasi campur, mie goreng and sates, but there will be days when you feel like you've had one too many nasi gorengs. Your palate is screaming for a change, and the only way to pacify it is to savour some exotic eats.
Thankfully cuisines and dining options are aplenty in Ubud. Japanese, Thai, Italian, French or fusion – you'll find them all during your Ubud villa stay:
---
Japanese: Toro Sushi
Ubud isn't quite the place that comes to mind when one thinks of Japanese fare, but if you've got a sudden craving for sushi during your vacation, Toro Sushi's the place to head to. The plates of sushi dished out of the kitchen of Toro Sushi is best described as 'fusion sushi' – the flavours are not quite like traditional sushi, as different fruits and vegetables are used to give a unique twist to the items.
Apart from sushi, the menu also lists other Japanese fare like salmon teriyaki, chicken teriyaki, tempura, gyoza and Japanese pizza. A selection of daily specials keeps things interesting for regular diners.
Location: Jl. Goutama no. 3
Hours: 11:00am – 10:30pm
Contact: +62 361 971832
---
Italian: Restaurant Buonasera
When cravings for a plate of good ol' pasta or classic margherita pizza kick in, one of the best places to satisfy your tastebuds is Restaurant Buonasera. This cosy eatery, furnished with white wooden furniture and images of Italy, offers a charming setting for intimate meals. Apart from wood fired pizzas, the menu also lists an extensive array of Italian fare like pastas, gnocchi and calzone, as well as Italian spirits and digestivo.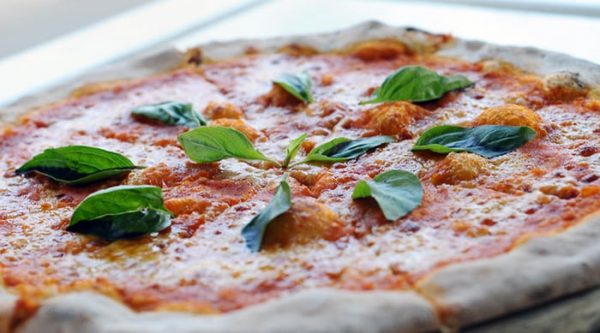 Location: Jl. Goutama no.12
Hours: 11:00am – 11:00pm
---
Middle Eastern: Yasmin Middle Eastern Cafe
There are days when you feel like you've had one too many nasi goreng, and can't stomach the thought of having yet another rice or noodle dish. When this happens it's time to perk up your tastebuds with exotic Middle Eastern flavours. How about some falafel, hummus, tagine and rosewater lassi?
If you're dining in a pair or group consider ordering the set meals to share; Yasmin offers both vegetarian and non-vegetarian set meals. Portions here are on the small side, so it may not satisfy diners with large appetites. The immaculately-decorated setting, with its beautiful glass lanterns and wall ornaments, adds on to the charm of the cafe.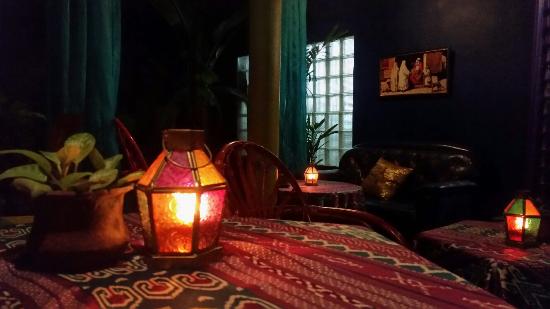 Location: Jl. Raya Pengosekan Ubud no.108
Hours: 9:00am – 11:00pm
Contact: 0811-3851-110
---
Vietnamese: Buddha Bowl
Along the winding roads of Jalan Raya Pengosekan lies Buddha Bowl, a casual open-air eatery dishing out bowls of Thai and Vietnamese fare. If you're in the mood for comfort food slurp up a bowl of pho noodles topped off with fresh herbs – the warm and flavourful broth will satiate your tummy. Or tantalise your tastebuds with a serving of Northern Thai-style curry noodles – the shallots, chili paste and fresh lime will tease and tingle your palate.
Meat lovers won't be able to resist the ka na moo krob – who can say no to crispy pork tossed with kale leaves, chili and garlic, and dished out with omelette and steamed rice? The portions here at Buddha Bowl aren't huge, so if you're still hungry for a light snack fill up your tummy with a plate of tangy Thai salad or Vietnames spring roll.
Location: Jl. Raya Pengosekan Ubud no.108, Ubud
Hours: 7:30am – 11:00pm
Contact: 0813-3933-9928
---
Thai: Arma Thai Restaurant
Prices at the upscale Arma Thai Restaurant are higher than the average restaurant in Ubud, but the tasty fare, beautiful setting and excellent service make it well worth the price paid. Set within the scenic grounds of the Arma Museum and Resort, the restaurant overlooks a serene pond and vast expanse of verdant greenery. If you're here for a meal with a special someone, consider making a reservation for one of the three romantic dining gazebos within the compound.
You'll find plenty of Thai fare listed on the menu, but that's not all – the restaurant also dishes out a selection of international items. Families looking for a picturesque spot for lazy Sunday mornings will be glad to note that Arma Thai offers a delicious Sunday brunch with ample finger food options and wines.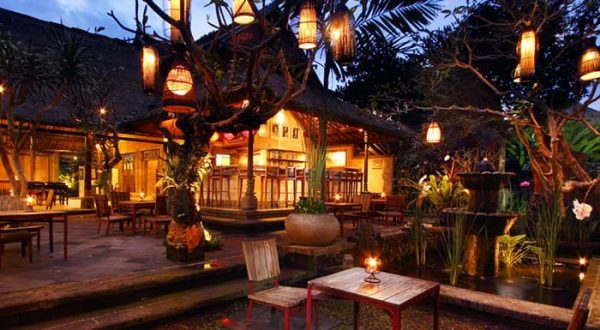 Location: Jalan Bima Pengosekan, Ubud
Hours: 7:00am – 11:00pm
Contact: (0361) 976659
---
Mexican: Taco Casa
No one in their right minds would say no to a serving of guacamole and chips!  Creamy and crispy, this dish offers a delightful contrast of flavours that will leave your tastebuds dancing in joy. Once you've polished off your chips, it's time to decide on your mains – will it be the cheesy quesadilla, generously stuffed burrito or spicy enchilada? Portions are filling, and the food is served fairly quickly so Taco Casa's a good bet when you're hungry for a quick bite.
Location: Jalan Raya Pengosekan, Ubud
Hours: 11:00am – 10:00pm
Contact: 0812-2422-2357
---
French: Le Moulin Crêperie
French travellers looking for a taste of home in Ubud will find what they seek at the charming Le Moulin Crêperie. Indoor and outdoor seats are available here, and there is a lovely dining section at the back of the restaurant with views out to the garden.
Apart from a selection of sweet and savoury crepes, the menu also lists a selection of breakfasts, salads and sandwiches. If you're looking for a spot ideal for accommodating groups for pre-dinner drinks, Le Moulin's a good bet. Pitchers of sangria and charcuterie make a good combination for an enjoyable evening.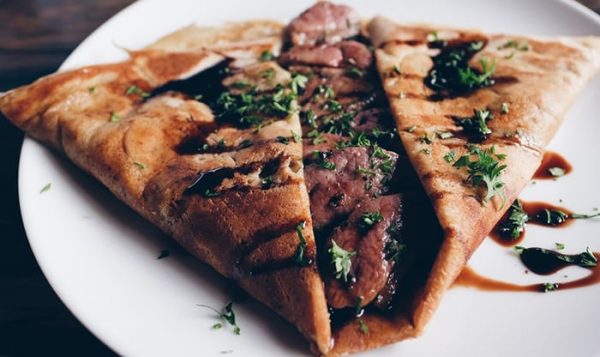 Location: Jalan Raya Pengosekan Ubud No.108
Hours: 8:00am – 10:30pm (closed on Mondays)
Contact: 0812-3676-0012
---
French: Kebun Bistro
Travellers yearning for a taste of France have a second option – the finely appointed Kebun Bistro – to satisfy their tastebuds.
Set along Jalan Hanoman, this cosy French bistro catches your eye with its decorative setting. The interiors boast a semi-open design, and the style is distinctly Provençal. The outdoor seating area faces out the street, and there's also an enclosed area for guests who prefer dining in air conditioned comfort.
The menu is extensive, and offers plenty of options whether you're there for brunch, lunch, dinner, dessert, tapas or late night drinks (unlike most restaurants in Ubud, Kebun Bistro remains open till 11:00pm). If you're into classic French fare you won't go wrong ordering the Classic Escargot, Farmer's Board, Duck Confit or Herb Roasted Lamb Chops. Just remember to leave sufficient space for savouring a dessert or two.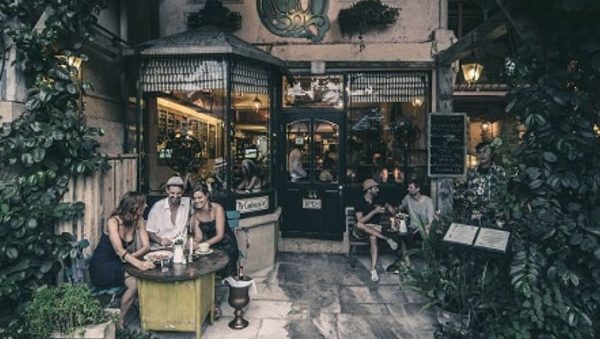 Location: Jalan Hanoman No.44
Hours: 11:00am – 11:00pm (Monday – Friday), 9:00am – 11:00pm (Weekends)
Contact: (0361) 4792077
---
Fusion: Spice by Chris Salans
Located along the main road of Jalan Raya Ubud, just right across the Starbucks outlet, Spice by Chris Salans is hard to miss – this fancy gastropub boasts an eye-catching exterior made up of an illuminated signboard and sleek glass walls.
Step inside and you'll find the interiors to be furnished with a contemporary flair. The compact setting features six dining tables, as well as a bar counter top that allows for comfortable dining. The bar counter overlooks the open kitchen and bar area, so you'll be able to catch the chef and bartender in action as they conjure up culinary magic.
The dishes here are a fusion of European and Asian flavours. Local and Asian ingredients are added to typically Western dishes to give the dish an innovative twist. The menu is not extensive, but lists a good selection of intriguing mains like the laksa, pearl barley risotto and tender pork belly. Beverage choices include a jackfruit bourbon or passionfruit mojito cocktail.
The ambience is lively; the music is energetic, and an ongoing flow of diners create a vibe that's vibrant and bustling. Excellent hospitality from Chef Reynaldo and the team help round out a delicious dining experience.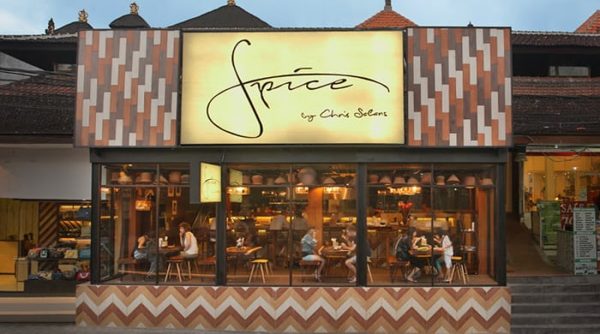 Location: Jalan Raya Ubud, across the road from Starbucks
Hours: 12:00pm – 11:00pm
Contact: (0361) 4792420
---
See our villas in Bali. Selected and inspected by Villa-Bali.com