The right villa, the perfect holiday, the dream destination… it's all very personal. So how to find the right Bali villas for you? There are things you need to consider before you book a villa. No need to stress, let's have a look at it step by step and we are sure you will find the right villa for you on the island of Bali.
For first-timers: What are Bali villas?
If you have always stayed in hotels and have never tried a villa before, you will have a pleasant surprise. Unlike hotels where you book a room for the night and have access to shared facilities, you will get an entire private villa for yourself. Because of that, a villa is more than just a room and board, it's a holiday experience.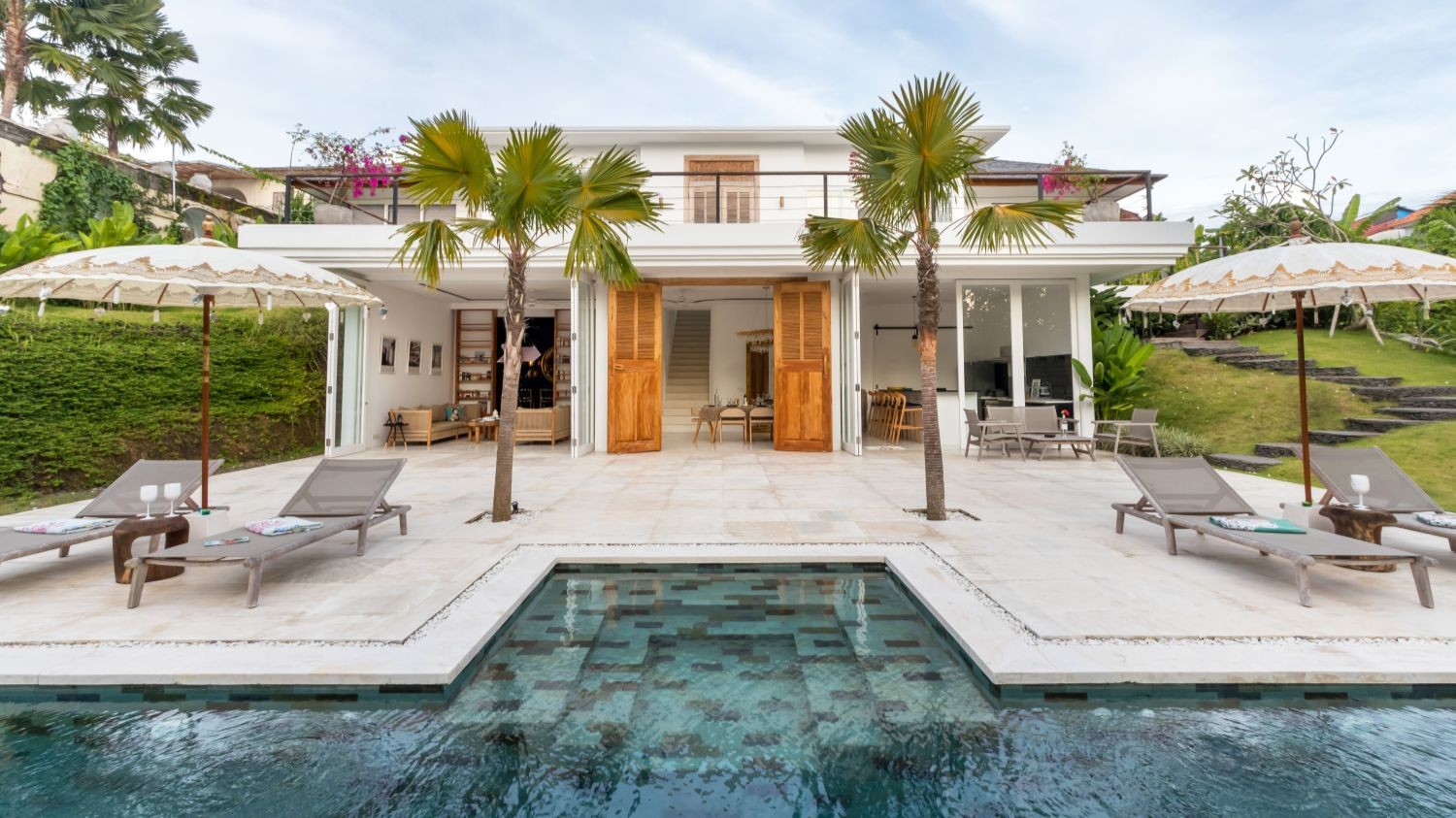 Where is the best place to stay in a Bali villa?
Bali is one of the major villa destinations. You can find villas all around the island. Many are in tourist hot spots like Seminyak, Canggu, Ubud, Uluwatu. However, you can find stunning villas in other parts, like Ketewel, Candidasa, Sanur and Lovina. Check out this article for more information on where to stay in Bali: Where to stay in Bali – Find out which area is best for your style
What services do you get in a Bali villa?
All of the villas listed on our website comes with personalised concierge service. The Villa Finder Concierge team will be there to help you with anything you need, for example:
Airport pickup
Car Rental
Fridge stocking
Party arrangement
Activity booking
Yoga, zumba class
Massage at the villa
Pool-fence, baby cot, high-chair
And more!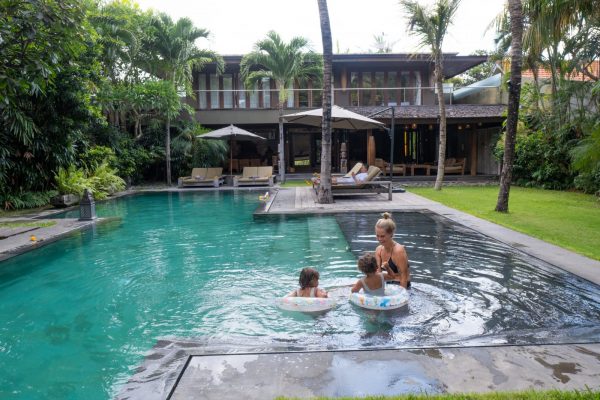 That's why we say every villa stay is different, as it's catered to each of the guests' need.
How to find the right Bali villas for your holiday
Well, the first thing to ask is what type of holiday are you after? What kind of villa and holiday style match your personal preferences? Do you want a quiet place where you can sniff up the local culture or do you want to be in the tourist centre of action near clubs, restaurants and shopping malls? 
1. What type of holiday do you want?
Travelling with your lover? Are you newlyweds on your honeymoon? Is it a family holiday with the kids or a week away with your besties?
Bali has beautiful 1-bedroom villas with private swimming pools. Villas designed especially for couples. There are also family-oriented villas with kids' pools, playgrounds and bunk rooms. Friends on a getaway to Bali may want to look for a villa with a poolside bar and state-of-the-art entertainment facilities and of course, it needs to be located to bars and epic beach clubs. Perhaps you're looking for a place to practise yoga or reconnect with nature, then you'll need a villa with a big garden, like Villa Mannao, or a dedicated yoga bale like Villa Yoga: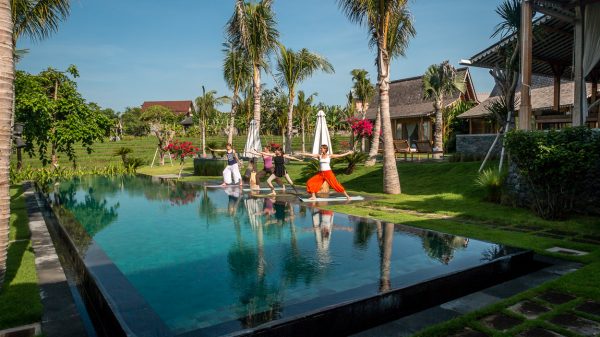 Take some time to define what it is you're looking for. Do you want to climb volcanoes, explore nature sites and see temples? Do you want to surf or go diving? Are you after a mix of everything? You may want to book a villa in the south for the first part of your holiday and another villa up in the north or east of Bali. It's all possible.
Related: 12 Bali villas with gorgeous views you've never heard of
2. What is your dream design?
This may not a consideration when you book a hotel room. But trust us when we say a villa design has a big impact on your experience. Are you into tropical chic, colonial or sleek contemporary? Do you like your villa to have a traditional or modern design?
Traditional villas often have open-plan living rooms where you can really experience the tropical lifestyle. Think "alang alang" thatched rooftops, teak wood furniture and ethnic art. Bedrooms with en-suite open-air bathrooms where you can shower under the starry night sky surrounded by natural stones and tropical plants. Here's what a Bali villa with a traditional design looks like: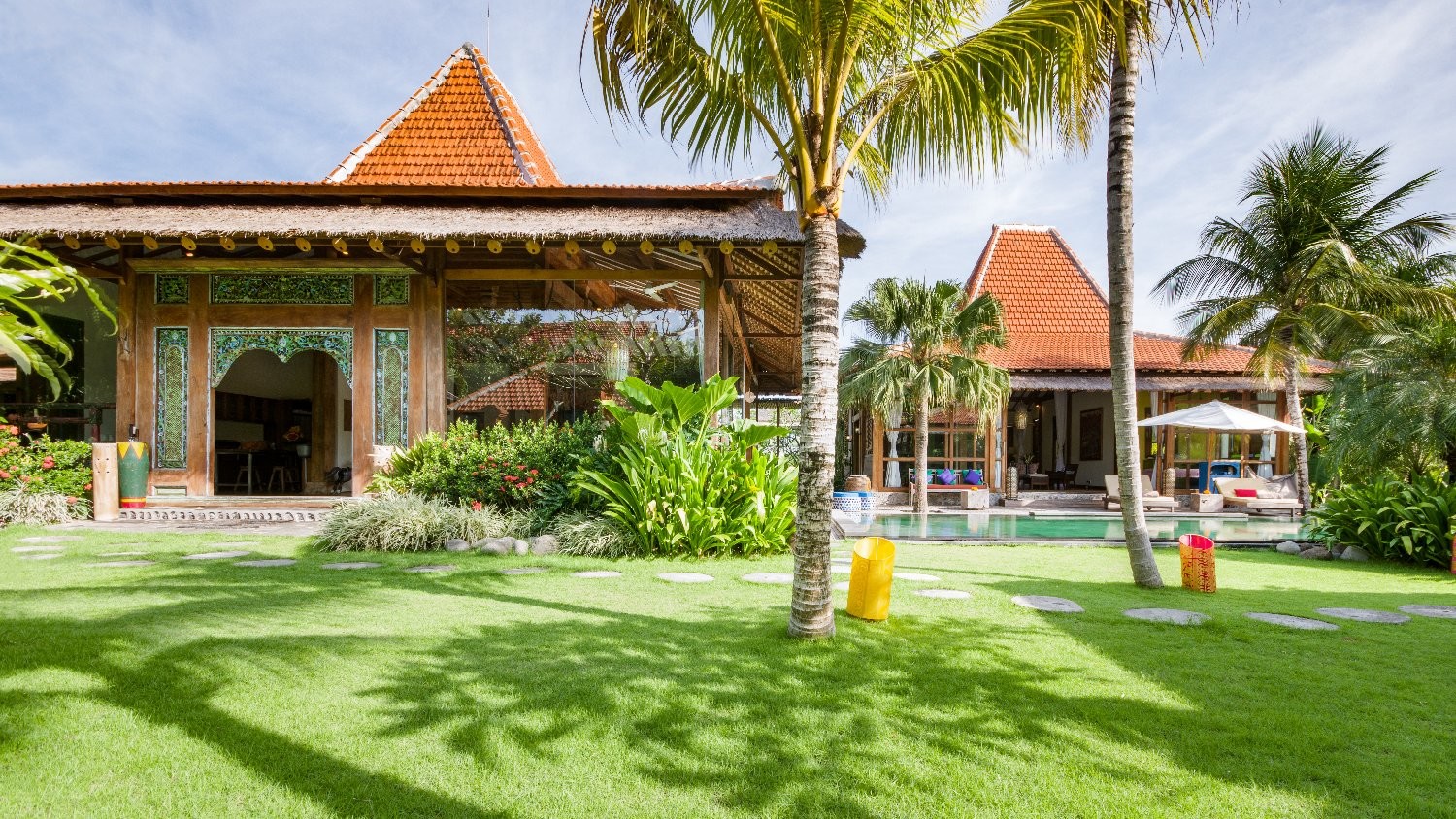 Modern villas have air-conditioned living spaces with floor-to-ceiling glass windows and doors opening up to the garden and pool. The interiors may have an industrial design or they furnished with plush sofas and big flat-screen televisions. Here's an example: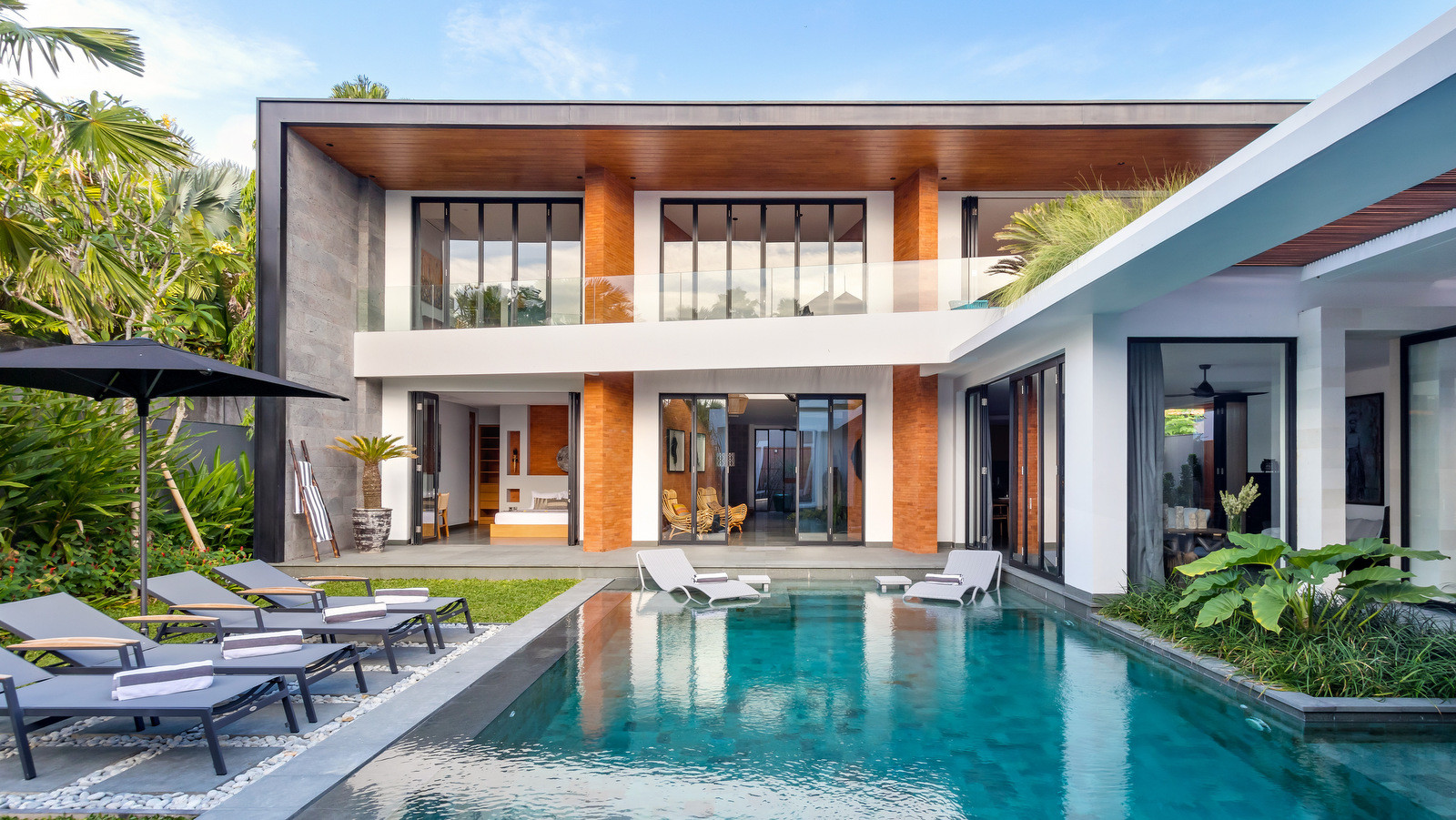 There is nothing absolute here. Some villas boast a stunning eclectic style but thinking about your personal preferences can really help to narrow down your search for the perfect villa.
3. Where in Bali do you want to stay?
The location is one of the key things to consider to find the right Bali villas. You may already have some ideas as you thought about the type of holiday you are after but let's take a closer look at the hot spots in Bali.
Seminyak is the all-time favourite tourist destination in the south of Bali, famous for its beach clubs (KU DE TA, Potato Head, W Bali), shopping streets and fine dining restaurants. Seminyak Beach is perfect for surfing and swimming and it's got the best sunsets! Here are some great villas in Seminyak.
Canggu quickly grew into the next best place to visit in Bali. Located right next to Seminyak, Canggu is hip and laid-back at the same time, attracting surfers, yogis, partygoers and families. You can find some Canggu villas we love here.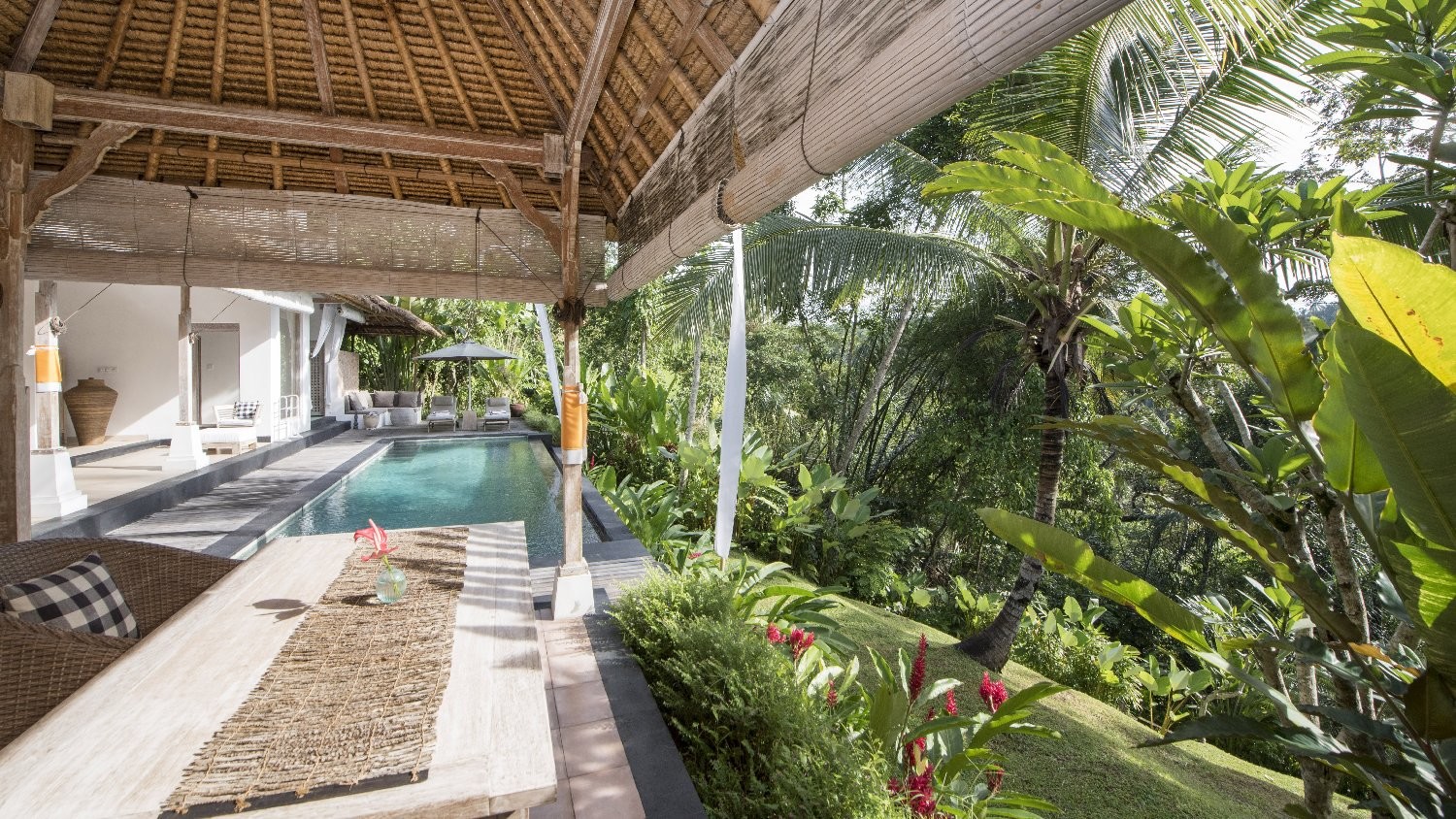 Ubud is the spiritual and cultural heart of the island with surrounding craftsman villages, numerous sacred temples, museums, yoga studios and a vibrant health food scene. There are villas located in the centre of town, near bars and restaurants but there are also many villas with dreamy locations surrounded by nature where you feel far away from everywhere and everything making it possible to experience the local life away from tourists.
Related: 16 Best Villas in Ubud
Uluwatu is the place to be for surfers and those who want to see a different beach every day. Rent a scooter and drive around the beautiful Bukit Peninsula, exploring clifftops, hidden beaches, temples, clifftop bars and more.
Sanur is a peaceful and charming tourist town, ideal for families. North, East and West Bali are much quieter and very beautiful. Perfect for snorkelling, diving, dolphin watching and sightseeing.
Related: 8 Best villas in Sanur for the perfect Bali trip
4. Do-it-yourself vs getting pampered
Every villa has a basic team of staff at your service. Usually, there is housekeeping staff, a villa manager and security guards. Every villa has a kitchen where you can prepare meals when you don't go out for dinner.
However, if you feel like getting completely pampered, you can also get 24-hour butler services, a private chef and a driver depending on the villa you pick. Nannies and massage therapists are also available. Be creative and craft the dream holiday experience for yourself!
5. Define a budget for your stay
Depending on the villa, the rates can vary from a few hundred per night to a few thousands. When you book a villa, you will have access to not only the bedrooms but also the gardens, the kitchen, media rooms, lounge, swimming pool and everything the villa has to offer.
So, what's it gonna be? At Bali Villa Finder we are keen to help you in your search for the perfect island home based on your personal preferences and dreams so do not hesitate to contact us. Find out 3 Reasons To Find Your Bali Vacation Villa On Villa Finder