Updated on 11/01/2018 by Stephanie
Looking for that perfect accommodation to spend days on end with your newly bonded special someone? We know just the spots! Around the island, you will find the most amazing stays. Think of villas near the beach, surrounded by rice paddies, perched on the edge of a river valley or located right in the heart of a popular beach town. Lovers get ready! Here are our top Bali villa picks to escape to for your honeymoon getaway: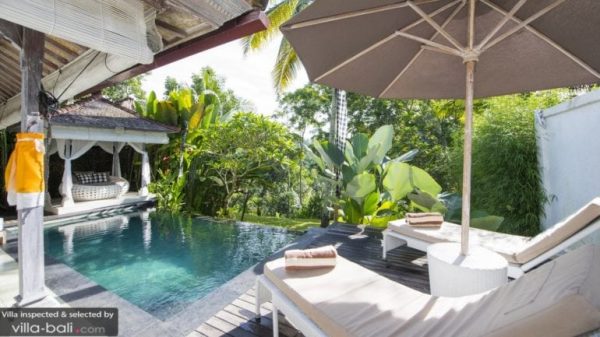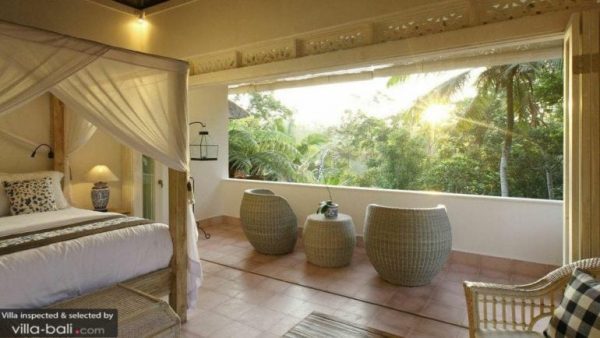 Wake up to views of the Wos River Valley and the towering peaks of Mount Agung at Villa Shamballa Moon. Perfectly secluded for honeymoon romance, this villa is an all-inclusive luxury residence, offering you daily homemade breakfast, an infinity pool overlooking the rainforest, an outdoor bathtub and a plush, king-size bed. If you like this one, you should also check out its one-bedroom neighbours Villa Shamballa Residence and Villa Shamballa.
Around Villa Shamballa Moon
Only a 10-minute drive from the city centre of Ubud, there is never a shortage of dining or entertainment options when staying at Villa Shamballa Moon. This villa's location is perfectly quiet and yet surprisingly strategic. Best of both!

Prices start at US$185 (low season) and US$215 (peak season).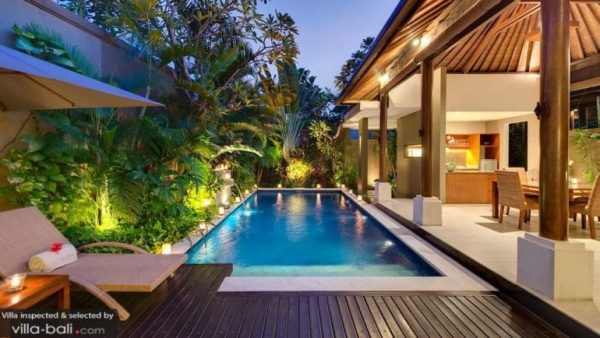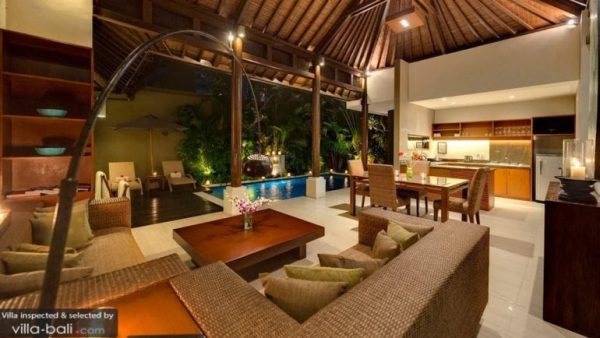 Just steps from Seminyak Beach, this one-bedroom haven is just the place for a couple to spend their holiday away. A stay at Lakshmi Villa Solo guarantees a 5-star experience. The villa complex boasts excellent service, modern conveniences and a central location to the famous Oberoi Road, aka 'Eat Street'. Well-maintained and in great condition, Lakshmi Villa Solo is an unbeatable choice for the price value.
Around Lakshmi Villa Solo
Tucked away in a villa complex, it is perfectly safe and quiet. It comes as a wonderful surprise, therefore, that the buzzing centre of Seminyak awaits just steps away from your front door. Villa Lakshmi Solo is located in the chicest and trendiest part of town, close to Seminyak Village Shopping Mall, Seminyak Square, KU DE TA Beach Club and La Lucciola.
Prices start at US$357 (low season), US$387 (mid-high season), US$423 (high season) and US$508 (peak season).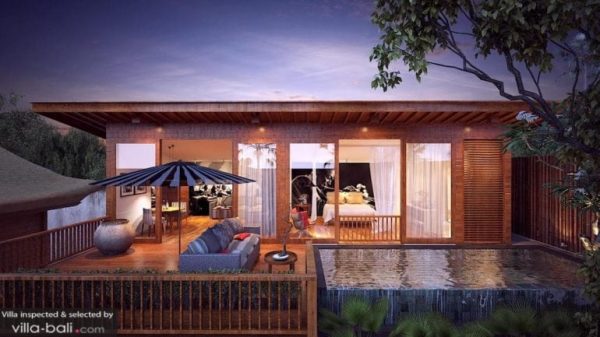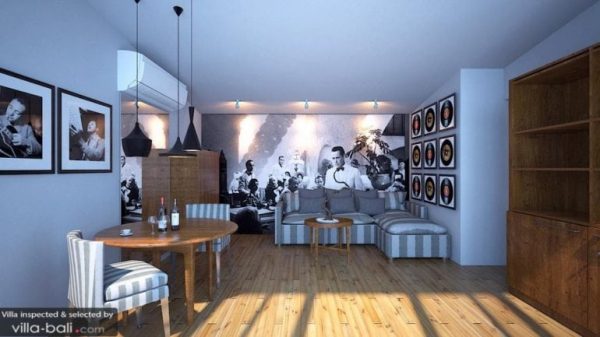 In the Creole language, Damou translates literally to 'love', which is more than appropriate for this cozy lover's studio. A part of the Four@Drupadi villa collection, Villa Damou offers you full access to its spa, gym and 800 square meters of lush garden space. Accessible via a private timber staircase, this stylish loft is decorated with memorabilia and framed records from musical legends, along with a king-size bed and open-plan living room. The solo bed looks out to the lap pool verandah, where a sunbed and umbrella invite you to share a glass of wine as the day turns to dusk.
Around Villa Damou
The location of Villa Damou is superb, just steps away from the famous Oberoi Road aka Eat Street. Get ready to do some high-end shopping and dining only to end up at KU DE TA Beach Club or Potato Head at the end of the day for some snacks, cocktails and sunset gazing.
Prices start at US$154(low season), US$167 (high season) and US$220 (peak season).
Related: The Best Romantic Activities in Bali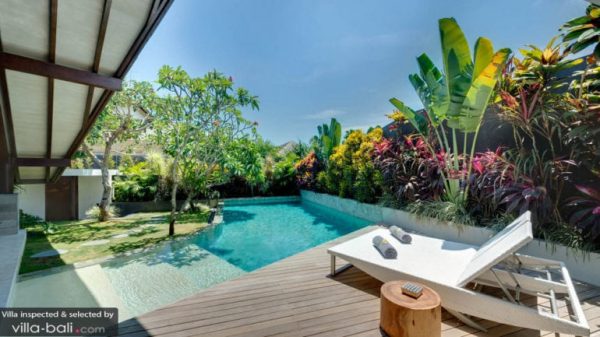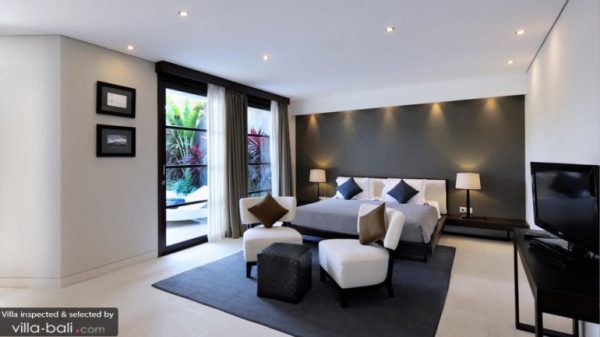 Situated one kilometre from Petitenget Beach, The Layar Villa is a contemporary fusion of modern aesthetics and quintessential Balinese living. A sloping, ironwood roof houses an open-plan entertainment lounge, dining room and spacious master suite appointed in chic black and white. Sliding glass doors open up the room to the angular deck and swimming pool, while a stone jacuzzi bathtub sits in the outdoor garden adjacent to the living space. BBQ and spa treatments are available on request.
Around Layar Villa
The Layar villa is a complex of luxury accommodation where you will feel far away from everywhere but actually, this villa's location in the centre of Bali's cosmopolitan town: Seminyak. Boutique shops, fashion stores, luxury spas, exquisite restaurants and beach clubs are all within a short walking distance of this holiday home in Bali. On top of that, there is a free buggy to shuttle you to the beach and other hotspots of central Seminyak.
Prices start at US$356 (low season), US$445 (mid-high season), US$508 (high season) and US$547 (peak season).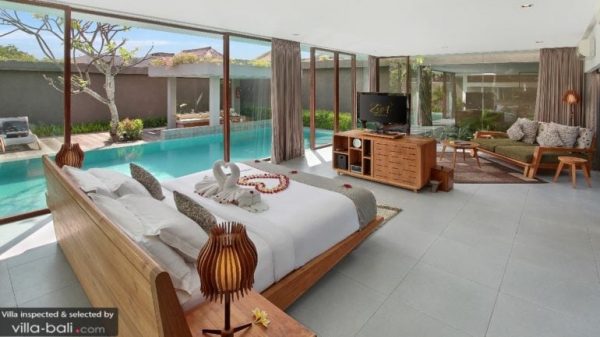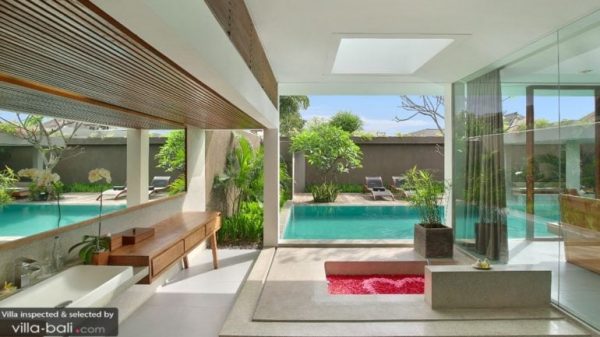 Villa Ziva is a boutique villa located in the heart of Seminyak. A self-proclaimed 'love nest' just awaiting a pair of newlyweds. Modern and sleek in design, this intimate hideaway boasts a spacious bedroom with floor-to-ceiling glass walls looking out to the 12-meter swimming pool. Enjoy your precious alone-time getting a couples massage in the garden, sipping on champagne paired with a home-cooked meal. Or, go soak and relax in the outdoor bathroom's luxurious sunken jacuzzi tub. Only a 10-minute walk to Seminyak Beach and the surrounding shops and restaurants, Villa Ziva is sure to exceed all of your wildest honeymoon expectations.
Around Villa Ziva
Villa Ziva is located in between Oberoi and Petitenget, meaning you are surrounded by the trendiest and most popular cafes, restaurants and beach clubs of South Bali. Seminyak is all about leisure, luxury and fashion and all of this is awaiting you just a short walk away from this hyper-chic and ultra-modern private pool villa.
Prices start at US$355 (low season), US$405 (high season) and US$435 (peak season).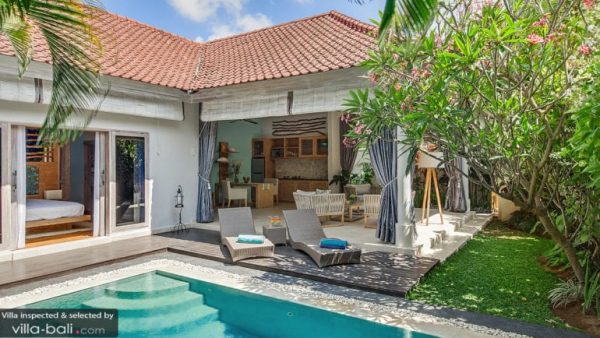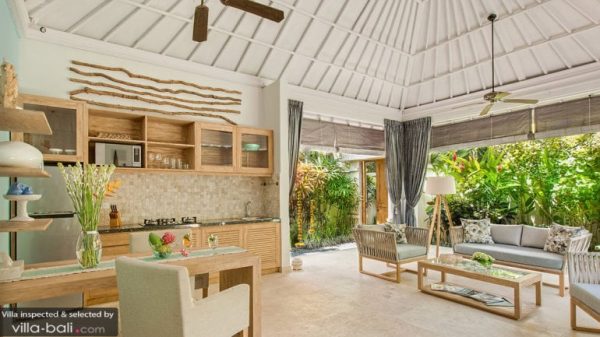 Designed in a dreamy blend of whites and blues, this Seminyak retreat is brand new and full of natural light. Located only a few steps from the beach and central Seminyak Square, Villa Sky features one bedroom and a comfy, open-air living space next to the pool. The epitome of a modern beach shack, guests will love the chic beechwood, whitewashed furniture and terrazzo flooring this villa is styled with.
Around Villa Sky
Villa Sky is located in the heart of action and fashion and style. The best of Seminyak is found just around the corner, so put on your sandals and go explore. There is the beach with its waves and its gorgeous sunsets, there are the happening beach clubs, the famous restaurants and endless shopping boutiques. Hallelujah!
Prices start at US$295 (low season), US$340 (mid-high season), US$346 (high season) and US$375 (peak season).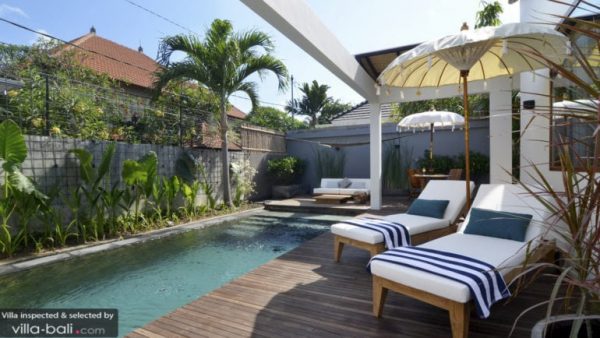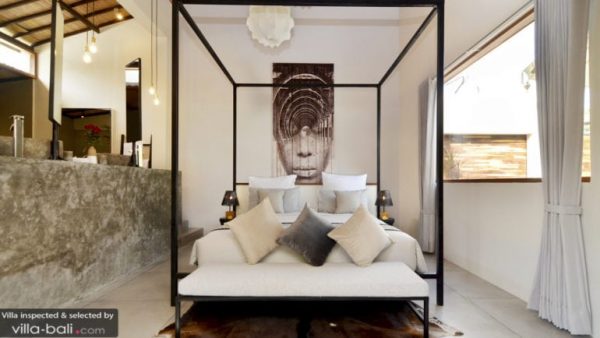 Situated in the heart of Petitenget – the chicest neighborhood of Seminyak – Villa Beyond is where you lovebirds can relax and enjoy each other's company without any disturbance. Featuring a lovely private garden with a swimming pool, most of the living is done outdoors, the tropical way at this villa. The pool is fringed by greenery and flanked by a timber deck where you can sunbathe on the comfy reclining chairs or lounge on the sofa shaded by a triangle-shaped flag. Breakfast and other meals are also enjoyed alfresco style at the timber circular table for two while the modern kitchen is indoors and super spacious. Upon nightfall, retreat in the air-conditioned bedroom suite boasting a four-poster bed and a deluxe en-suite fitted with a large circular bathtub where you two can bathe together before cuddling up together in beneath the blanket.
Around Villa Beyond
You can easily explore Petitenget on foot. The beach with Potato Head Beach Club is nearby and on the way, you will pass excellent restaurants, spas and shops. Head over to Eat Street after sunset for a delightful meal at Ultimo or the beachfront La Lucciola.
Prices start at US$143 (low season), US$165 (mid-high season), US$209(high season) and US$231 (peak season).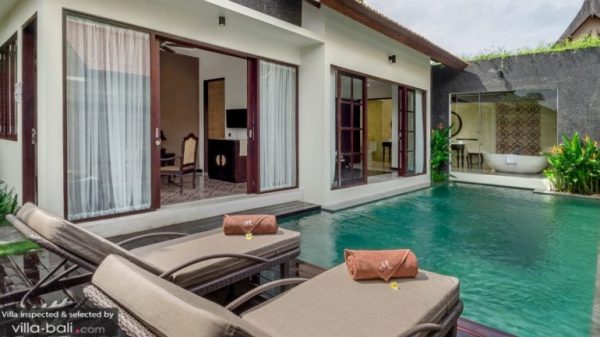 Villa M Umalas is a traditional Balinese boutique retreat housing a collection of beautiful 1 and 2 bedroom villas. The 1-bedroom villas, 6 in total, are just perfect for romantic couples and honeymooners alike. Each villa features a private glistening private swimming pool, directly accessible from the living room, bedroom and bathroom, only separated by floor-to-ceiling glass sliding doors. The interior designs are ruled by warm natural timbers, rattan and traditional aartefacts Each villa comes with an air-conditioned living room furnished with a table, a comfy sofa and a satellite-TV for entertainment. Bathrooms are all fitted with large soaking tubs to bathe to the view of the pool.
Around Villa M Bali Umalas
Villa M Bali Umalas is encompassed by verdant rice paddies as if hidden away in paradise. Go dine at the onsite Kubera Lounge for the best rice paddy views. Hustling and bustling Seminyak is just minutes away and so is the Berawa area of Canggu where you can lounge, splash and play at Finn's Recreation Club.
Prices start at US$145 (low season), US$160 (mid-high season), US$190 (high season) and US$205 (peak season).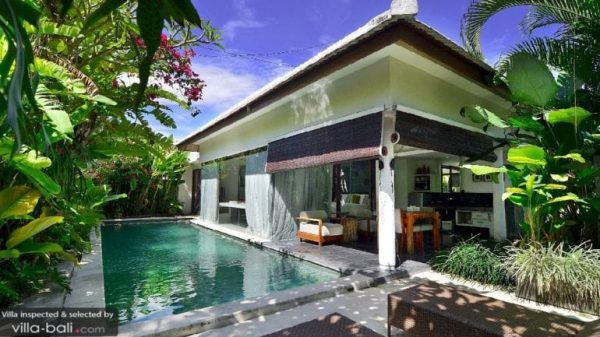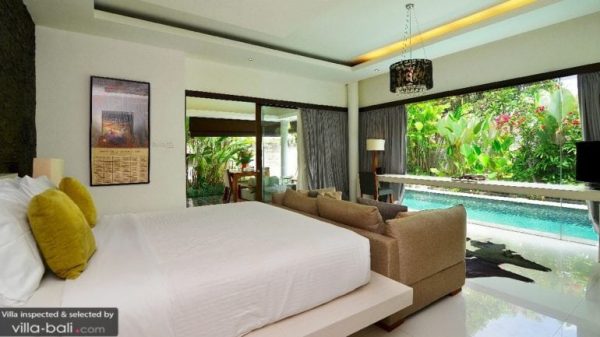 This contemporary luxury private villa for two is a hidden gem of Canggu. Tall green plants and trees grow lushly in the garden of this intimate 1-bedroom retreat. The pool couldn't look any more inviting and the living room features an open-plan concept, embracing the tropical lifestyle. The bedroom suite is spacious and soaked in natural sunlight. Slide open those full-length glass doors to jump straight into the swimming pool. Before tucking yourselves into sleep on the super comfy king-size bed, enjoy a warm bath together in the en-suite.
Around Villa Rosalia Tiga
Villa Rosalia Tiga is hidden away from the crowds and the noise, yet Echo Beach and Batu Bolong are just a short drive away. Visit Love Anchor Bazaar in the weekend, practice yoga at Samadi and go surf at the beach. Plenty of entertainment nearby!
Prices start at US$160 (low season), US$175 (mid-high season), US$190 (high season) and US$220 (peak season).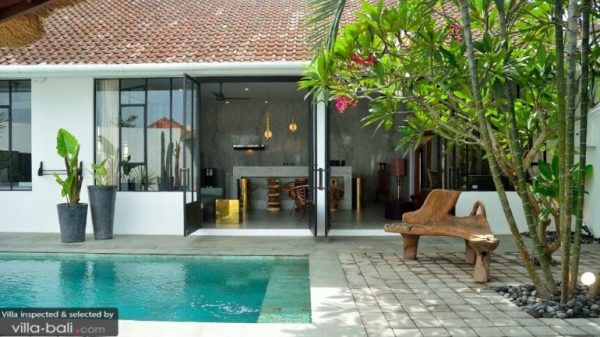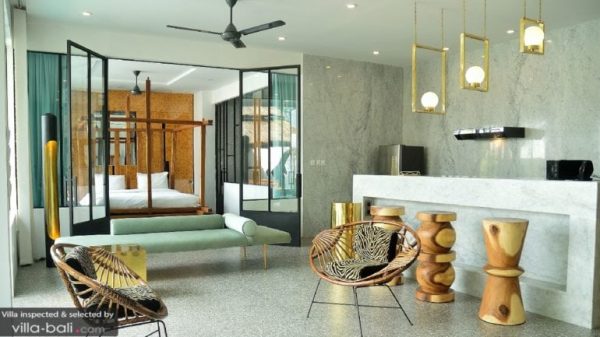 Modern, stylish and perfectly located in peaceful Umalas, Villa Ruku Ruku features a cool, industrial design. Everything is unique about this 1-bedroom villa. From the kitchen-bar with handcrafted wooden and golden stools to the teak daybed in the living room, the iron-lined folding doors and the custom-made 4-poster bed in the master suite. In the garden, you lovebirds can swim and sunbathe and dine in the poolside gazebo. Seminyak is just minutes away by motorbike.
Around Villa Ruku Ruku
The location of Villa Ruku Ruku is as strategic as can be. The direct surroundings are rice paddies and quiet roads with some cafes. Travel further and you can reach Seminyak, Canggu and Kerobokan in just minutes.
Prices start at US$180 (low season), US$225 (high season) and US$250 (peak season).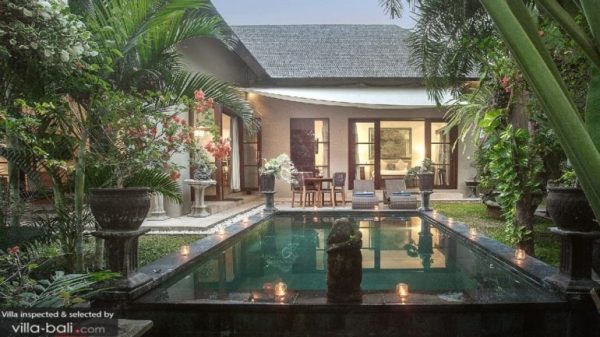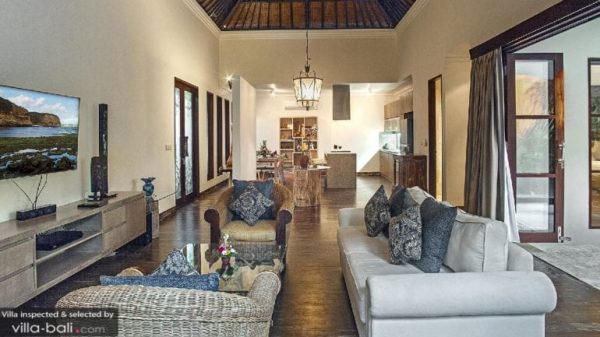 This sophisticated 1-bedroom villa exudes intimacy and luxury. Part of the Avalon Villa Complex, this would make a perfect haven for a beautiful white wedding. Villa Avalon Tiga would be the honeymoon suite while friends and family stay nearby in the other Avalon Villas. Featuring a pretty garden with a free-form overflowing swimming pool and lots of colourful flowers, this could be a little private Garden of Eden. The living room is spacious and decorated elegantly with eye for detail. There is a TV sofa lounge, a dining wing, a fully equipped kitchen and a deluxe bedroom suite to cuddle up at night. The staff and services of the Avalon Villa Complex are also outstanding.
Around Villa Avalon Tiga
The Avalon Villa Complex is located just meters away from Berawa Beach in Canggu. Closeby you will find some of Canggu's most popular tourist places such as Finn's Recreation Club and the Bohemian-styled La Laguna Beach Club. Seminyak is 2 km away.
Prices start at US$231 (low season), US$260 (mid-high season), US$289 (high season) and US$346 (peak season).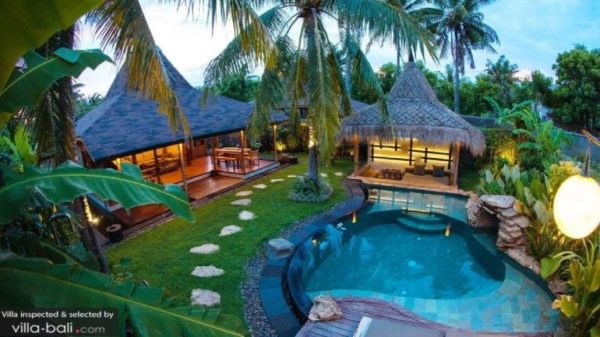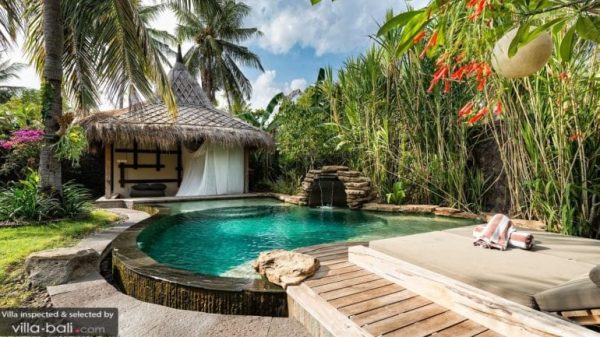 Beware! In seconds this stunning, utterly tropical luxury retreat of the Gili Islands steals your heart with its charm and beauty. Hear the sound of cascading water when swimming in the curvy pool or sunbathing by the poolside. A tropical oasis of luxury is here just for you and your loved one to enjoy. Traditional Joglo-inspired pavilions as well as bungalows with alang-alang thatched rooftops, Villa Bhuvana makes your tropical dreams come true. Ancient teak timbers, high swaying palm trees, a private chef and all modern comforts. Embrace this bliss while you can!
Around Villa Bhuvana
Out of the 3 Gili Islands, Villa Bhuvana is located on Gili Trawangan. The island features bars, restaurants and shops but there are also plenty of quiet places. There is no traffic on the Gili's, only bicycles and horse cards so get yourself a bike, circle the island and bring along your bathers and snorkeling gear as you might want to stop for a dip in these azure, crystal clear waters. You may even spot turtles while snorkeling.
Prices start at US$250 (low season) and US$350 (peak season).
---
See our villa collection in Bali. Selected and inspected by Villa-Finder