It's Wednesday and I am hanging upside down like a Cirque du Soleil aerialist. My feet are wrapped around the hanging yoga belt attached to the ceiling of the yoga studio and my body gently swings back and forth. Welcome to Fly High Yoga classes at Desa Seni!
Fly High Yoga is a form of aerial yoga taking the same yoga poses you would normally practice on the ground but you are now suspended about a meter above the ground while your hands are on the mat below. The yoga belt fully supports the weight of your body making it easier to hold the poses in the correct alignment, with less pressure on your neck and back. It also improves your posture (check if you're sitting with your shoulders hunched in front of a computer screen all day), lengthens the spine (check if you practice running, surfing or mountain-biking) and increases strength and flexibility.
For most people, myself included, the thought of hanging upside down takes you out of your comfort zone. But once you've surrendered (it is yoga after all) to the unique feeling of being suspended in the air, it's not only a fun way to unwind, but it might also be exactly what you need to kick your yoga practice up a notch.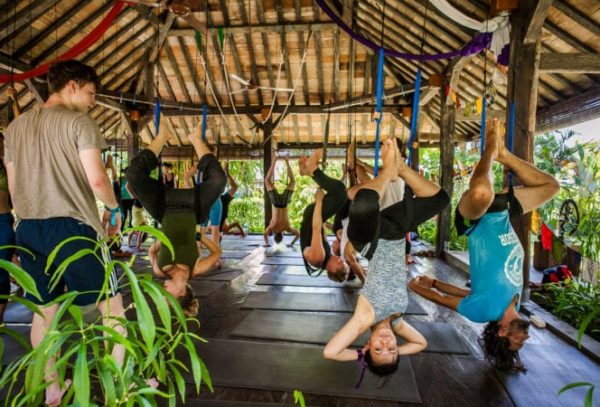 All the students are laughing and giggling as we try to ease ourselves "gracefully" onto to our yoga belts while following the instructions of our teacher, the amazing Angela Perez. After achieving the first pose off the ground, my first thought is how liberating it felt. For a few magical moments my usually ungainly body feels light, elegant and supple. I wonder for half a second if perhaps I've missed my calling as a gymnast… Seriously, your body is able to do things that are usually only achievable when floating in a pool. The inversions really get the blood flowing (extended periods of hanging upside-down will do that), which left me feeling energetic and 10 inches taller after the class.
So, are you ready to try defying gravity and join the yoga circus?
Where: Desa Seni, Jl. Subak Sari No.13, Canggu, Bali
Price: IDR 140,000 for a drop in class. Fly High Yoga classes are limited to 20 students per class so register in advance (call +62 361 8446392) to secure your spot.
Gear: you don't want your chest exposed while inverted and avoid clothes with zippers, drawstrings or anything baggy.
Note: Fly High Yoga is not recommended if you are pregnant, have vertigo, low or high blood pressure, glaucoma, heart conditions. Also, do not eat at least 2 hours before class.