Updated on 11/09/2018
Bali has been named 'The Island of the Gods' or 'Paradise Island' and I know why! This tiny Hindu island, one of the 17,508 islands in Indonesia, is home to an amazingly rich culture, endless rice paddies, jungle-fringed rivers and sacred volcanoes. There are lots of things to see, do and experience here, I'm sure it will keep you coming back for more. We have gathered 10 things you should definitely not miss when you visit Bali:
1. Gaze at the magnificent Sunset
There is a reason why Bali's sunsets are world-famous; they are jaw-droppingly beautiful! As the world around you is gently coloured in a soft enchanting orange glow, the sky turns into any painter's dream, ruled by deep red, yellow and purple. While watching this magnificent show of planet earth, you can sip your sunset cocktail or a cold Bintang beer. Here are 10 best sunset views in Bali.
2. Beach hopping in the southern tip of Bali Island
The island's most beautiful beaches (that you often see in travel magazines) are mostly found in the southern tip of Bali island. Here, the water is azure blue and crystal clear, accompanied by stunning sceneries. It is fun to hop on your motorbike and visit the unspoilt nature, laid-back surf beaches, and villages. Head towards Geger Beach and Pandawa in Nusa Dua or Padang Padang (great for kids) and Dreamland (wonderfully high waves) in Uluwatu for nice and developed beaches, or visit Nyang Nyang Beach if you'd like a quieter spot.  It's hard to see all of the beaches in one day, so you should set aside a few days to explore each location. Have a look at our villa collection in Bukit Peninsula, should you want to spend a few nights in this beautiful part of Bali.
Our team's favourite: Green Bowl Beach! But since it takes quite a bit of effort to get there, we recommend Pandawa Beach which is equally amazing. 🙂
Check out our Bali Beach Guide.
3. Campuhan Ridge Walk in the rice paddies around Ubud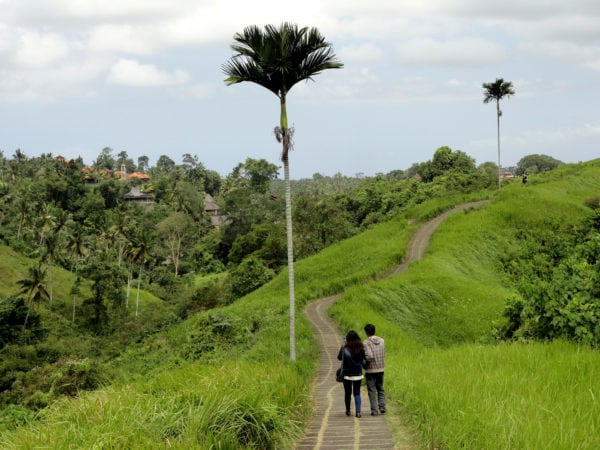 This 9-kilometer nature trek in Ubud is easy and beautiful, encompassed by Bali's pristine emerald rice paddies. It can get quite hot in the day, so it is best to start very early in the morning or in the late afternoon. You can get to enjoy the fresh mountain air and lush green valleys with Mount Agung as the backdrop. On top of that, you will be burning some of those calories too! During the hike, you will pass some art galleries and cafés where you can take a break with some drinks and snacks. Remember to take some beautiful photos!
This map shows the starting and ending point, but note that the actual route takes about 1.5 hours to complete.
4. See the island's holy Hindu temples
Almost every household in Bali has a shrine, and some of the most enchanting temples can be found on this sacred island. Tanah Lot is one of the most famous temples in Bali, sitting at the edge of a cliff in the Tabanan regency of Bali. Next is Uluwatu Temple, located at 70-meters above sea level where the majestic waves crash to the limestone walls, providing visitors with breathtaking views. Lastly, Besakih temple is known as 'the mother temple', found on the slopes of Mount Agung. It is the largest and holiest temple on the island.
Our team's favourite: Tanah Lot Temple hands down! We love visiting this place in the evening to catch the sunset. It's breathtaking!
Related: 10 Must-Visit Temples in Bali
5. Explore the underwater world
Around the island of Bali, especially in the east and the west, a beautiful and colorful underwater world awaits. For the best snorkeling and diving experiences, head over to Amed and Tulamben (you may even see shipwrecks) or drive to Pemuteran, where you can catch the boat to Menjangan Island, part of West Bali National Park. Nusa Lembongan is also an amazing place to be where you will get to meet the magical Manta Rays.
Our team's favourite: Nusa Lembongan if you'd like to experience a different side of Bali.
6. Encounter wildlife
Bali is also home to some amazing wildlife. In Ubud's Monkey Forest you can wander around, feeding bananas to monkeys and taking some funny photos. Be wary of your belongings, though, as they love to take hold of your hats, sunglasses, iPhones, and yes, they can also open bags. Near to Ubud, you visit the Elephant Camp. Meeting these majestic creatures of the land is really something special! You can wash, feed and ride them. Don't worry, the animals are treated well! In Lovina, you can go on a dolphin watching trip. Do note that sometimes, there are more boats than dolphins around. The trick is to go a bit later than the recommended time. This way you will be one of the few boats on the water, surrounded by hundreds of dolphins swimming and jumping into the air.
Our team's favourite: Ubud's Monkey Forest is easy to get to and packed with a lot of fun!
7. Learn to surf
The best place to learn surfing is at Kuta Beach in the south of Bali. Here, the waves roll steadily to shore in a perfectly straight line. You will start with a big surfing board, practicing the movements in the sand before heading into the water. On the beach, there are many surfing instructors happy to give you a lesson for around IDR 150.000 to IDR 200.000. With their help, it is possible to be standing on your surfboard during your first lesson. Afterwards, enjoy a cold Bintang beer or a young coconut, watching your fellow surfers work on their skills out at sea. It is fun, tiring and who knows, you might turn into a pro one day. For the Pro's among us, the places to be are Uluwatu, Canggu or Balian where the waves are much more challenging.
8. Climb Mount Batur
Mount Batur is a sacred, active volcano located in the Kintamani highlands of Bali, 1717m above sea level.  The Mount Batur Sunrise trekking starts at 02.00 in the morning with a pick-up at your private holiday rental. Once at the foot of Mount Batur, the climb starts, leading you up to the summit before the sun rises over the island. The views from up there, over the surrounding landscape and Lake Batur, are out of this world! The trekking is not very difficult and you will be accompanied by a guide. Ask him to slow down if needed. Remember to put on some warm clothes because before for the sun rises it is really cold up there! Check out our detailed guide.
9. See the islands waterfalls
There are many majestic waterfalls to admire in Bali! In the north of Bali, you can visit the 35-meter high GitGit waterfall as well as the beautiful Munduk. For the adrenaline seekers, you can slide down a waterfall and make a 10-meter jump down into a natural pool at The Secret Garden of Sambangan. Not for the faint-hearted and let your guide go first! Another great waterfall for spending a whole day swimming and picnicking is the Tegenungan Waterfall in Ubud. For a complete guide, check out our article here.
Our team's favourite: Aling Aling Waterfall at The Secret Garden. It's a beautiful hike up to the wonderful waterfall!
10. Stay in a private luxury villa
Your own private luxury villa in Bali? Bali island is home to endless amazing villas ranging from intimate 1-bedroom hubs to large luxury mansions. Villas to suit all kinds of travelling groups and holiday budgets. You can go for a sleek contemporary holiday retreat or a traditional wooden house with a high soaring thatched rooftop, embracing the sweet tropical island life. One thing you can be sure of; you will have your own tropical garden with a private glistening swimming pool, awaiting you just steps away from your bed. A place of blissfulness and peace to spend true quality time with your loved ones this holiday!
---
See our villa collection in Bali – Selected and Inspected by Villa-Finder.com