Looking for a vacation getaway that balances a laid back beach lifestyle with a lively community of people and social hubs? As a much less developed region than its neighbors to the south, Canggu (pronounced Chan-goo) is a cool fusion of passionate surfers, good food and rural village life. Though you could easily spend a week, months or even years in this seaside town, here we tell you how to spend one perfect day in Canggu.
Part I: 9am-12pm — Breakfast, Beach and Surf

If you're staying in a villa in Canggu, wake up slowly and enjoy your morning coffee or tea around the pool. Instead of running out the door, treat yourself to breakfast in the comfort of your own private garden. The staff will be happy to prepare a spread of fresh fruit, eggs, toast and whatever else you fancy. Better yet, opt for our favorite French patisserie on the island, Monsieur Spoon (don't worry about having to leave your accommodation, they deliver right to your door!)
Once you're well-fed and fuelled up, it's time to head to the beach for a long stroll or to sun bathe on the warm sand. If you are keen on surfing, you won't be able to pass up the waves rolling in off the Indian Ocean. The main points of access to the surf in Canggu are at Berawa, Batu Bolong and Echo Beach, where all skill levels will be welcome in the water, including beginner and intermediate. Here you can also rent a board or take a surf lesson from one of the many instructors on the beach.
Price for surf rentals: $5/hour | $10/day | $35/board & lesson
Part II: 12pm-4pm — Lunch, Sports & Entertainment Club, Pampering
After a morning spent in the sun, sand and surf, you'll be ready for a hearty and healthy lunchtime meal. Check out Betelnut Café on Jalan Batu Bolong- it's just a minute from the beach, has awesome views of the surrounding rice fields and serves some of the best fresh and organic food in town. Big salads, fish tacos, fruit smoothies, and raspberry cheesecake are just a few menu items that this bustling café is known for.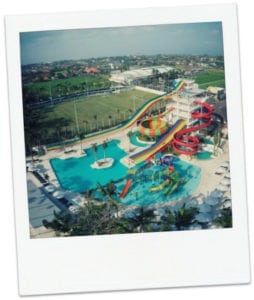 Assuming that you're not in a food coma after lunch (which is very likely), we suggest checking out the newly renovated Canggu Club in the center of town. Some villas in the area offer complimentary guest memberships to this popular sports club, but if that's not the case, it is just as easy to purchase a day pass at the entrance upon arrival. Here you will find a well-equipped fitness and entertainment venue, offering visitors everything from a lap pool and spa to a waterpark, bowling alley, tennis court and trampoline center. A great place to work out solo, hang with friends or bring the whole family, the Canggu Club promises something for everyone.
By this time, you could probably use a little spa and salon pampering. Stay at the Canggu Club and try their Body Temple Spa, or try out the Gold Dust Beauty Lounge located back on Jalan Batu Bolong. Both will provide you with revitalizing treatments and leave you feeling energized for the remainder of your evening.
Part III: 4pm-night— Drinks, Sunset and Seafood Dinner
Located on the southwest coast of Bali, Canggu is graced with some of the most spectacular sunsets on the entire island. Towards the end of day, make your way over to Old Man's on the beach and catch the day's last surfers riding in.  Their happy hour from 5-6pm Monday-Friday attracts a fun loving crowd of people, as does their live music on the weekends. Grab a drink, get comfy on the sofa terrace and make some new friends while watching the sun dip into the ocean.
As for a quintessential Canggu feast, you must try the famous Echo Beach seafood BBQ. After finishing your sunset cocktails, ride the short distance over to the Beach House Restaurant at Echo Beach for a decadent dinner of Jimbaran King Prawns, imported lobsters, an array of freshly caught fish and much more. Casual bench seating in their open-air, beachfront setting makes for a one-of-a-kind atmosphere that you will not soon forget.
---
Anything you would add to a perfect day in Canggu? We'd love to hear from you!