Updated on 13/08/2018
Isn't there something about staying near the beach that makes brunch taste even better? Maybe it's the cooling sea breeze; perhaps you're starving from your morning surfing session, or maybe the reason is just simple – that the food is really delicious! Buzzing with cosy interiors, freshly brewed coffee and a focus on healthy eating, Canggu is one of the best towns, if not the best, in Bali for cruising different cafes and picking the right brunch for you. We have prepared 8 brunch spots that will keep you coming back for more!
1. Milk & Madu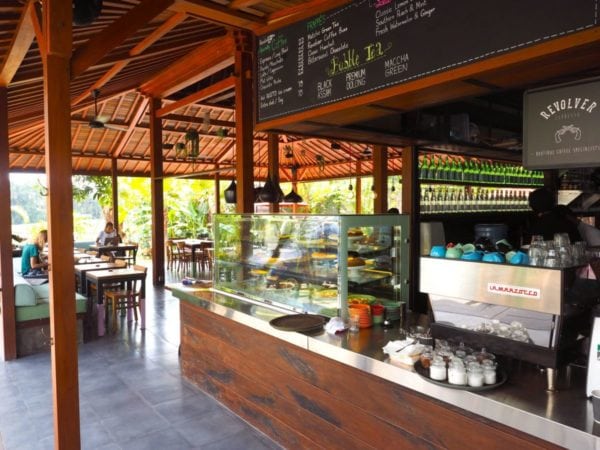 Milk & Madu is a bustling coffeehouse hidden off of Jalan Pantai Berawa, serving all kinds of healthy and fresh breakfast options throughout the day. Come and hang out in this expat locale, where you can sample their smashed avocado on crispy toast, quinoa salad or banana pancakes accompanied by a hot cup of the locally acclaimed Revolver Coffee. Milk & Madu will surely charm you with their open-air Joglo atmosphere and delicious food. For parents, this cafe is a great place to bring your little ones. There are toys and colouring books for your children to entertain themselves while you enjoy your dairy-free piece of cake in sweet bliss.
Opening hours: Daily, 7.30 a.m. – 10.00 p.m.
Contact: 0361 4081872
Related: Family fun in Canggu
2. Monsieur Spoon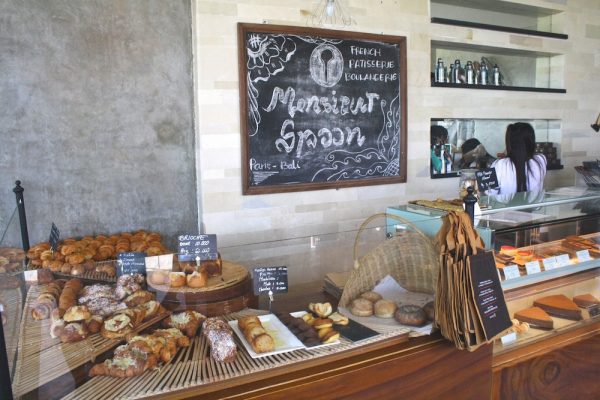 Unequivocally referred to as the best French bakery in Bali, Monsieur Spoon is a must-try for any visitor to Bali. Located in Canggu, Seminyak and Umalas, it is no wonder why the two young French owners of this patisserie are already being forced to open a fourth shop in Ubud just to meet the amazing demand. By going to the counter in one of their shops, you will find all sorts of French pastries staring back at you, including lemon meringue pie, chocolate tarts, macarons, flaky almond croissants and many others. We would be lying if we said we didn't drool dream about Monsieur's creations at least every other day; luckily, they also deliver right to your door for when you wish to indulge in decadent cakes in the comfort of your own home.
3. The Shady Shack
The Shady Shack is opened for breakfast, lunch and dinner, serving vegetarian and vegan food options. Many travellers visit this place for their smoothies and haloumi bowls, and you got to try them! It's tasty, healthy, colourful and fun. It's also nice dining at this place while overlooking the Canggu Rice Fields and enjoying the breeze. Oh, they have recently introduced vegan cheeseburgers to their menu, yums!
Hours: Opens daily, 7.30 a.m. – 10.00 p.m.
Contact: +62 819 1639 5087
Check out villas near The Shady Shack
Related: 12 Private stays that you'll love: Our pick for the Best Canggu Villas
4. Parachute Bali
Nestled within the lush green rice fields, Parachute Bali offers a comfortable outdoor dining experience shaded by a giant vintage parachute ceiling. With some 80's music playing, scenic rice field views, great service and excellent food, the setting is perfect. Give their doughnuts and coffee a try, I guarantee that you'll keep going back for more!
Hours: Opens daily, 8.00 a.m. to 12.00 a.m.
Contact: +62 813 3742 3010
5. Crate Cafe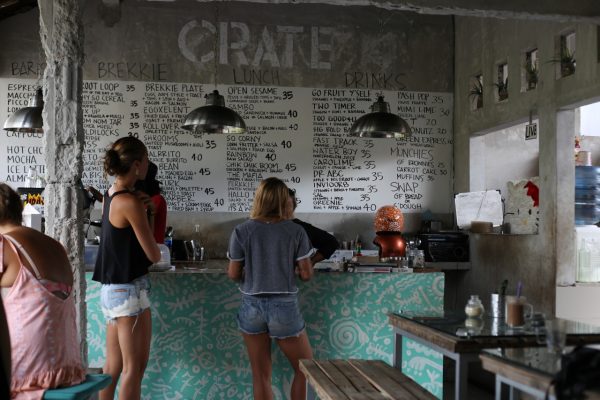 Located on the road that joins Batu Bolong with Echo Beach, you can not miss the colourful and artistic exterior that signifies the famous Crate Cafe. Aussie-style brunch is available until 3 pm, with dishes varying in interesting names from the full 'Brekkie' plate boasting eggs, grilled tomatoes, sauteed spinach, sourdough bread and bacon to 'Nom Nom Jars' – large mason jars full of fresh yoghurt, muesli, ripe fruit and honey. Their food and outstanding coffee are addictive! I can't recommend this spot enough for a friendly and relaxed brunch in Canggu.
Address: No.64 Jl Batu Bolong, Canggu, Bali, Indonesia.
Hours: Daily 7:00 to 4:00 p.m.
Contact: +62 812 3894 3040
6. Betelnut Cafe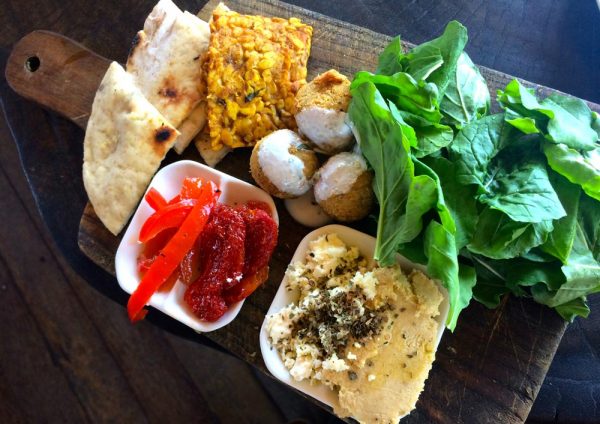 Canggu is home to many stunning cafes that serve healthy and delicious food. One that stands out, in particular, is the popular Betelnut Cafe, a traditional wooden house overlooking the rice fields and only a minute from Echo Beach. Raw salads, beetroot burgers and Mediterranean wraps are the type of plates you can expect at Betelnut Cafe. Among the many options on Betelnut's menus, you must try their famous Naga Bowl, made with dragonfruit, banana, yoghurt, topped with granola, shredded coconut and cashews. This will make you return more than once, we promise!
See our 2-bedroom villas in Canggu.
7. Cinta Cafe
Cinta Cafe is a beautiful cafe with stunning rice fields view in the heart of Canggu. They are dedicated to serving the best food and providing a friendly and positive atmosphere to dine in. Everything just tastes and feel better here, overlooking the rice field with a bowl of delicious granola and a fresh cup of coffee!
Hours: 8.00 a.m. to 10.00 p.m.
Contact: +62 361 3705232
8. Gypsy Kitchen & Bar
Located just 5 minutes from the beach, Gypsy Kitchen & Bar serves fresh cocktails and delicious food. The renowned Canadian chef, Robin Filteau-Boucher, will welcome you with open arms into his culinary world, a casual establishment that aims to serve exceptional food in a non-pretentious manner. If you're coming to this place for dinner, be sure to make a reservation in advance to avoid long waits. Gypsy is a place you will want to visit more than once! And one more thing – don't forget to try their coffee. It's amazing!
Hours: Opens daily, 8.00 a.m. to 10.00 p.m.
Contact: 0812 3067 0056
Related: Vegan Eats in Canggu
Travelling to Canggu? Check out our Canggu Travel Guide!
---
See our villas in Canggu. Inspected and selected by Villa-Finder.com.