This is the second interview in our series of entrepreneur exposés here in Bali: Indonesians as well as expats, first timers as well as veterans, established as well as just launching… Feel free to share with us who or what inspires you as we continue to meet creative minds in the Bali community (and let us know what you think of Utama Spice's natural goodness)!
For those of you who don't already know and use Utama Spice's natural aromatherapy products, get ready. Your skin is about to get a whole lot happier.

---
Founded in Ubud in 1989, Utama Spice is a traditional skin care company that focuses on applying ancient Balinese herbal knowledge to creating products that truly enhance your skin's natural beauty. As the onslaught of modern products containing harmful chemicals became more and more prevalent, Dayu Suci and Melanie Templer saw a need to return to traditional remedies and ingredients for household items. Rediscovering the powerful benefits of essential oils, these two women conce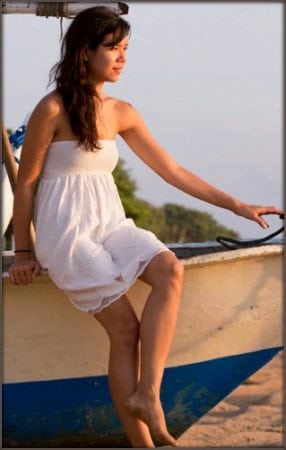 ived the company that is now known as Utama Spice, beginning with the simple production of natural bug sprays and incense.
Born and bred in Bali, Ria Templer is the daughter of Utama Spice founder, Melanie. Ria, along with current co-manager, Skyler Grant, took over the business from her mom just a few years ago and the company has skyrocketed in success since. With a shop in Ubud and a new interactive storefront in Sanur (not to mention their inventory in stores throughout Bali and other regions of Asia), the demand for these natural products only continues to grow as the company has evolved to offer fresh pressed coconut oil, body butters, bath salts, volcanic clay scrubs and more.
Wanting to share with you the secrets of this homegrown Balinese company, we set out to steal a few minutes of Ria's rare spare time and get the scoop on Utama Spice- behind the scenes…
Villa-Bali.com: At what stage was Utama Spice at when you took over from your mom? Did you feel prepared for the responsibility?
Ria: When Skyler and I first took over, the company was more focused on selling bulk to spas such as the Four Seasons, Banyan Tree, etc. What we saw though was a demand for natural products after seeing the positive sales of our private label.
So, we decided to push Utama Spice's own brand at a retail level for the first time and that's when we decided to change the packaging and open a new shop. 

VB: Describe the process of the company growing from just two women to the number of staff and employees that you have now.
R: The company has grown organically from a small team working from a home kitchen to now employing over 40 people. From the beginning, one of our dreams was to support local communities, from house wives to local farmers, and with a demand for Utama Spice products we were able to employ more and more people and support their families.
VB: What has been the best and also the hardest part about being your own boss and running your own business?
R: The best part about being your own boss is that you can create your own dream. The hardest part is balancing everything, making sure things are going in the right direction and trouble shooting problems before they occur while also fixing existing problems.  You have to be very flexible and constantly use the information around you to make informative decisions. I have learned that there is no right or wrong decision, only different outcomes; some have more pros and some have more consequences.
VB: Why do your products make my skin SO smooth? What is the secret ingredient?
R: The secret is using nature to heal and balance your skin without any man made or lab made chemicals. We avoid using chemical additives because in so many cases they actually do the opposite of what they should be doing. For example, when you eat fresh, raw or unprocessed foods, it's healthier for you than eating fast processed food, which is bad for you. Your skin is your biggest organ and whatever you put on it will eventually enter your body. If it's bad, your body will try naturally to detox it out of your system.
VB: Why do you stand apart from your competitors?
R: We are unique because we use 100% natural ingredients with no added chemical additives, binders or colorants.
VB: Do you think your customers are the same demographic as when you first started? How does knowing your audience affect what you produce?
R: We definitely have a new demographic of customers now. As more people become aware of the negative side effects of using harmful chemicals, they opt for natural skin care. Once you start using real and natural products, your skin feels different and looks healthier.
VB: Favorite Utama product?
R: I have so many favorite products. I tend to cycle through them all, but I have to say my staple products are our soaps, Cocoa Love, Virgin Coconut Oil, Begone Bug, Essential oils and lip balm.
VB: Since you grew up in Ubud, can you share with us an Ubud secret spot?
R: Secret spots include:
1. Abangan, which is an area in Ubud where you can climb big grassy mountains and also walk through rice fields.
2. Kokokan, which is a small village a little outside Ubud where the white cranes reside. I recommend taking a bicycle to see the white cranes.
VB: Lastly, which one are you, beach lounger or mountain hiker?
R: I grew up on the spirit of adventure thanks to my mum. She would take us on adventures around the world, so I grew up loving both being by the beach and hiking mountains. I love both activities.
General Information:
Ubud Shop : Jalan Monkey Forest. 130M from the Forest Entrance, Ubud, Bali
Sanur Shop : Gopa Town Center, Jalan Danau Poso #57, Sanur Bali
Phone: +62 (0)361 975 051
Email: info@utamaspicebali.com