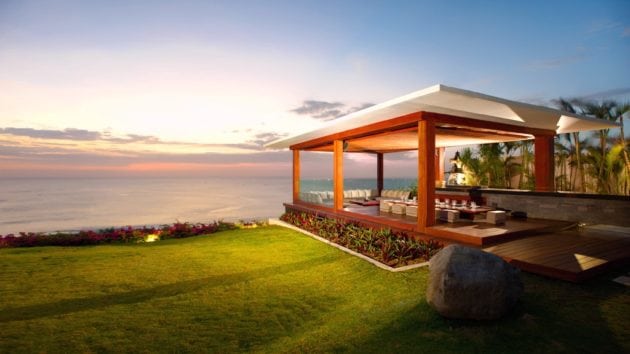 Barack Obama, who was just re-elected as the 44th President of the United States of America (hope you don't find out just now reading my post), just decided to come to Bali to celebrate!
We don't know exactly what he plans to do but let's try to imagine his stay. First of all, he will have to endure a long flight. From Washington, even Air Force One would have to do a stop over (maybe in Singapore to pay us a visit). The commercial airlines all need at least 24 hours to fly the 16500 kilometres separating the two airports, passing over the president's birthplace in Hawaii. An exhausting flight, especially with a 13 hours jet-lag!
Being the president, Mr Obama can only stay in the finest accommodation in Bali. I find The Istana villa to be the perfect match. First of all, because of its name: 'Istana' means 'palace' in Bahasa Indonesia and that sounds appropriate. Second, because of its location: on the top of the cliff in Uluwatu. Overlooking the Indian ocean, it's without a doubt the best place to catch the breathtaking sunsets…
We know that the president attended a local Indonesian school in Jakarta between 6 and 10, thus he'll probably be able to handle the traffic here. Wearing a traditional Balinese costume (see the picture from his last visit in 2011), he could go anywhere in Bali unnoticed, riding a motorcycle like everyone. His destination could be any surf spot such as Padang Padang or Canggu. Probably for a 101 course because even if the Internets want to believe that the president can surf, they are mostly fakes.
Talking about fakes, this post is fake too!  Tada! You didn't see that coming, did you? Anyway, according to the Jakarta Post, the re-election of Obama is a good thing for Bali. So even if he doesn't pay a visit to the island of Gods in the near future, we can still be happy!
---
See our villas in Bali