Updated on 31/05/2018
We all love Bali but when it comes down to food, you may be wondering if there is any halal food around since the most famous Balinese dish is Babi Guling suckling pig. Hmm, how to travel around the island without having to stick to plain white rice? Is there any halal food around at all? No worries, through Hindu's make up most of the island's population, there are also lots of Muslims living on the island, cooking fresh, tasty halal food for you to enjoy. We did a little bit of research and found some great halal warungs (local eating places) as well as some fantastic halal restaurants in Bali, so take your pick from our selection!
17 best Halal restaurants in Bali:
1. Pawon Pasundan
Ever had a taste of authentic Sundanese cuisine – the food from West Java? This is your chance! 100% halal food and a wonderful setting to dine together with loved ones. Though Pawon Pasundan is located in the busy Tuban area of Kuta, once you have entered this restaurant, there is serenity and tranquillity. You can sit down in one of the balé's situated around a peaceful pond with koi fish and rippling fountains. They got set menu's with fish, meat, and vegetarian options. You can also order dishes separately and share everything together like a traditional Indonesian rijsttafel.
Pawon Pasundan
Address: Jl. Raya Kediri, Tuban, Kuta, Bali, Indonesia
Contact: (0361) 755833
Opening hours: daily 11 am – 11 pm
Price range: $$
2. Warung Nikmat
This family restaurant is open for breakfast and lunch, Indonesian style. Home-cooked Javanese food, halal and delicious! The friendly ladies behind the display make your plate for you right before your eyes. Just simply point at the food that looks good to you and off munching you go. Everything is halal, so no need to worry. Warung Nikmat is always packed with locals and you know – where the locals go, the food is great, and it is cheap, too.
Warung Nikmat
Address: Jl. Bakung Sari, Gg. Biduri No.6A, Kuta, Bali, Indonesia
Contact: (0361) 764678
Opening hours: daily 8 am – 8 pm
Price range: $
Related: Villa Finder's Favourite restaurants in Bali
3. The Halal Boys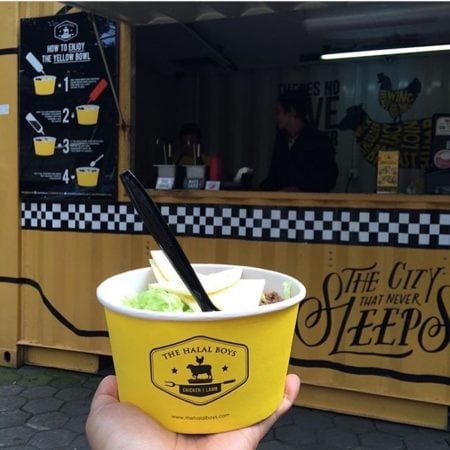 The Halal Boys is a funky, hip food truck, stationed on the trendy Petitenget Road in the most happening part of buzzing Seminyak. It is easy to spot their big yellow bus and the name already reveals that the food is a 100% halal. Serving delicious middle eastern food like lamb and/or chicken (yes, you can do both) over rice, cooked with rich flavours and spices of which the specific recipes remain secret. Not to be missed!
The Halal Boys
Address: Jl. Petitenget, Kerobokan Kelod, Seminyak, Bali, Indonesia
Contact: 0819-1649-1454
Opening hours: daily 10 am – 11.30 pm
Price range: $$
4. Queen's Tandoor
Who is up for some amazingly delicious Indian food? You can wake me up in the middle of the night to get a taste of this! Certainly, not the cheapest restaurant around, but it is good and 100% halal. Queen's Tandoor is located in several places around the island. Kuta, Seminyak, Sanur, Ubud – at all of these towns you track down this restaurant and enjoy a delightful Indian dining feast together with loved ones. Richly spiced curries with meat, fish and vegetarian options served with saffron rice and/or the Indian naan bread. Yummy!
Queen's Tandoor
Address: see their location here
Price range: $$$
5. Nyoman Cafe
One of Bali's most famous places to get fresh seafood is Jimbaran Bay. At Nyoman Cafe, you can sit by the seaside and enjoy a delicious halal seafood meal under the sun or the starry night sky. Grilled fish, prawns, squid, anything good from the ocean you can find here. If you like seafood – this is where the seafood feast starts to share with all of your friends and family members.
Nyoman Cafe
Address: Jalan Pantai Jimbaran 5, Jimbaran, Bali, Indonesia
Contact: (0361) 8553963
Opening hours: daily 11 am – 11 pm
Price range: $$$
Related: Fulfill your wish for fish: seafood restaurants in Bali
6. Bale Udang Mang Engking
This restaurant, located in Ubud and in Kuta, sets the perfect ambience for a long, delightful and delicious dining evening with loved ones. Families can sit all together in one of the traditional bamboo balés surrounding a peaceful koi fish pond. On the menu, you will find traditional Indonesian halal food. Dishes with shrimp, beef, chicken, and duck – all are tender and delicious. The Kuta venue even boasts an on-site playground for kids so they will never get bored and parents can enjoy a long romantic evening together.
Bale Udang Mang Engkin
Address: Nakula 88, Sunset Road, Kuta, Bali, Indonesia / Jl. Raya Goa Gajah, Ubud, Bali, Indonesia
Contact: +62 361 8822000 (Kuta) / +62 361 978 754 (Ubud)
Opening hours: daily 11 am – 10 pm
Price range: $$
Wanna stay in Bali with your family? Check out our family villas!
7. Warung Bunana
Authentic Malay-Indian cuisine, home-cooked by some roti canai master chefs. Cheap, super delicious and halal certified. Warung Bunana is a great little eating hub to go for lunch or dinner. Dip the bread into the mutton, chicken or veggie curry, have a sip of your teh tarik and get some yellow Indian-style rice on the side. For dessert, why not try one of the roti canai sweet treats with chocolate, peanuts, banana, apple & cinnamon and/or condensed milk? They are good!
Warung Bunana
Address: Jl. Sunset Road No.28, Kerobokan Kelod, Seminyak, Bali, Indonesia
Contact: 0812-3993-425
Opening hours: daily 10 am – 10 pm
Price range: $ 
8. Nasi Ayam Kedewatan Ibu Mangku
Nasi Ayam Kedewatan Ibu Mangku is the place to be for those wanting to eat authentic Balinese food that is a 100% halal and with the right amount of chilli. If you want to increase your tolerance for spicy food, go enjoy a couple of meals at this warung. After a while, you can't get enough of those little green and red chilli peppers that will set you on fire at first. You will get a big plate with white rice, shredded chicken, egg, and chilli and it costs only Rp. 35,000.
Nasi Ayam Kedewatan Ibu Mangku
Address: Jl. Raya Kedewatan No.18, Kedewatan, Ubud, Bali, Indonesia
Contact: (0366) 974795
Opening hours: daily 8 am – 9 pm
Price range: $
9. Raja's Balinese Restaurant
High-end Balinese dining is what to expect at Raja's Balinese Restaurant in Nusa Dua. This chic and stylish award-winning restaurant serves mouthwatering, authentic Balinese food and it is presented invitingly in small portions like the Balinese Rijsttafel. Great for a lovely evening eating out with loved ones. All the food is halal and you can also sign up for a Balinese cooking class, should you want to learn all of the tips and tricks of the Balinese cuisine.
Raja's Balinese Restaurant
Address: Nusa Dua Beach Hotel & Spa, Kawasan BTDC Pariwisata Nusa Dua Lot. North 4, Nusa Dua, Bali, Indonesia
Contact: (0361) 771210
Opening hours: Tuesday to Sunday 5.30 pm – 10.30 pm
Price range: $$$
10. Falafel House Bali
Vegetarian, halal and great tasty falafel balls served with garlic dip, hummus and greens, wrapped up in pita bread… Who doesn't want to get a bite of that? This falafel bar is also a great place to go for a late-night snack as they are open until 1 am in the night and it makes a healthy snack, too.

Falafel House Bali
Address: Jl. Legian Kaja No.133, Kuta, Bali, Indonesia
Contact: (0361) 4727439
Opening hours: daily 10 am – 1 am
Price range: $$
11. MasakanPadang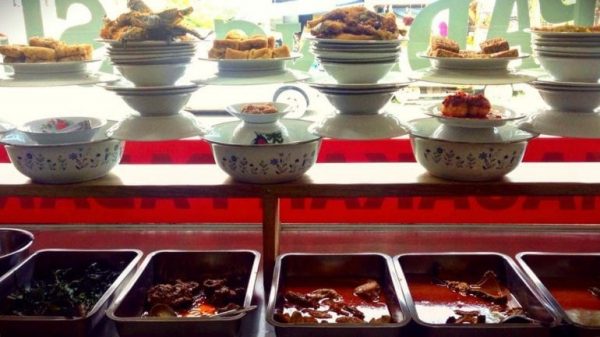 You will see Masakan Padang warungs everywhere, in every town. They are easy to spot as they all have their food displayed in the same way, like in the photo above. Padang is a town in Sumatra that is famous for their super yummy curries. You will get a plate of white rice with fish or chicken curry, cassava leaves, green chilli and whatever else you may like to go with it, all halal. It is the curry that makes Padang food so irresistible. Ask any local!
Masakan Padang
Address: they are everywhere!
Opening hours: generally from morning until late at night
Price range: $
12. Warung Melati
Warung Melati is one of my favorite places to go for lunch. This Javanese warung serves authentic Indonesian food, home-cooked by the lady of the house and it is delicious! Lots of veggies, all fresh and no MSG. – the food here is healthy, traditional, delicious and cheap. This family warung starts cooking very early in the morning to have all the food done by 11 am. The best time to visit is between 12 pm and 1 pm. If you come later than 2 pm, they may have run out of many dishes already for Warung Melati is a popular place among locals and expats. Warung Melati is located on a gangway off Jl. Nakula, the street where Seminyak meets Legian in the south of Bali.
Warung Melati
Address: Jl. Nakula 5 No.5, Legian, Bali
Contact: 0896-6399-3501
Opening hours: 11 am – 8 pm
Price range: $
13. Warung Murah Double Six
This small Balinese warung, halal certified, is always busy. Why? The food is simply delicious and super fresh! You can pick something to eat from the menu, but the best thing is to get a plate of nasi campur. Choose between white, yellow or red rice and start designing your own plate of food to your liking. Vegetarians will be happy to know that there are lots of veggies to choose from as well as corn fritters, sambal eggs, tempeh, and tofu. Meat lovers, try the rendang or the chicken satay and don't forget to add some sambal mata on your plate as the finishing touch. It is the best!
Warung Murah Double Six
Address: Jl. Arjuna No. 99, Seminyak, Bali, Indonesia
Contact: (0361) 732082
Opening hours: 8 am- 10.45 pm
Price range: $
14. Café De Dapoer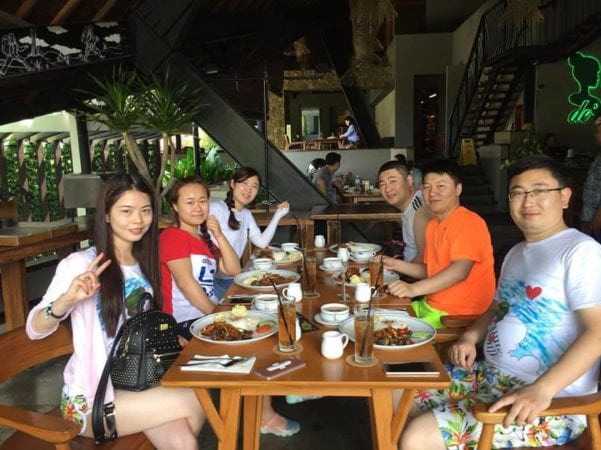 Tucked away in the Rhadana Hotel in Kuta as well as in The Oasis Lagoon in Sanur, Cafe de Dapoer serves authentic home cooked Javanese food and the setting is just lovely with indoor and outdoor seating areas, styled in beautiful Javanese decors. The Kuta venue is open 24 hours every day, never leaving you hungry for even one minute.
Café de Dapoer Kuta & Sanur
Address: Jl. Raya Kuta No.88, Kuta, Bali, Indonesia / Jln. Danau Tamblingan 136, Bali, Indonesia
Contact: (0361) 755264
Opening hours: Daily 24 hours (Kuta) / 6.30 am – 12 am (Sanur)
Price range: $$
Related: 16 Best Organic Cafes in Seminyak
15. Warung Nasi Campur Men Weti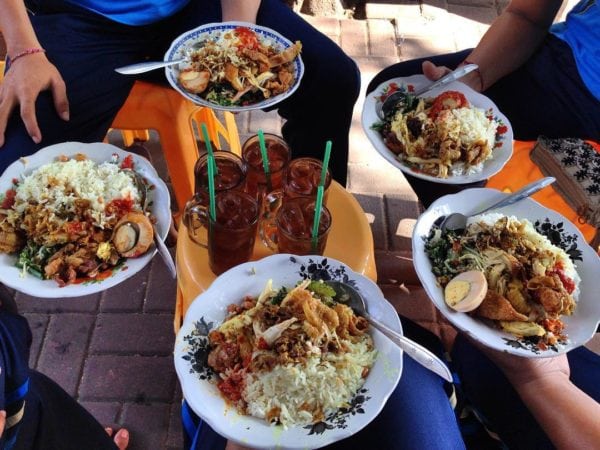 For those of your staying in Sanur, go get your fix of local, halal nasi campur at Warung Nasi Campur Men Weti, located right at the beach. A good plate of Balinese steamed chicken with veggies, a hard-boiled egg and peanuts is served to anyone who gets in line. Oh, and it comes with sambal, of course, a good traditional spicy one, too. This warung has been running for over 30 years so you can be sure that these ladies know how to cook up a good Balinese halal plate of food.
Warung Nasi Campur Men Weti
Address: Jl. Segara Ayu, Sanur, Denpasar Sel., Kota Denpasar, Bali
Contact: 0817-9748-428
Opening hours: open daily 8 am – 11 pm
Price range: $
16. Tamarind Kitchen & Lounge
Located right on the beautiful white sandy beach in chic and sophisticated Nusa Dua, sits Tamarind Kitchen & Lounge. A classy oceanfront dining venue tucked in an impressive and absolutely stunning double-storey bamboo pavilion. This restaurant serves traditional and contemporary Indonesian halal dishes prepared by the master chef with fresh local produce. Sit inside or out on the beach, either way, you get to enjoy the fresh sea breeze and in the evening, as the stars pop out in the sky, candles burn romantically on every table. The perfect intimate dinner for couples spending the evening by the seaside in Bali.
Tamarind Kitchen & Lounge
Address: Nusa Dua Beach Hotel & Spa, Kawasan Pariwisata Nusa Dua North 4, Bali, Indonesia
Contact: 0817-9748-428
Opening hours: open daily 12 pm – 11 pm
Price range: $$$
17. Bali Buda
For those who like to eat healthy, organic food, halal and free for additives and MSG, Bali Buda makes a great place to go for breakfast, lunch or dinner. Complete breakfast sets (the American breakfast comes with beef bacon), salads, soups, Italian, Mexican and Indonesian cuisine all prepared with love and care. The prices are also really affordable and they serve great juices and coffee with sweets as well. Bali Buda is located in Kerobokan, Sanur, Ubud, and Uluwatu and each of them is adjoined by an organic little grocery shop.
Bali Buda
Address: see their locations here
Contact: (0361) 299467
Price range: $$
Going to Bali soon? Pin this for your trip!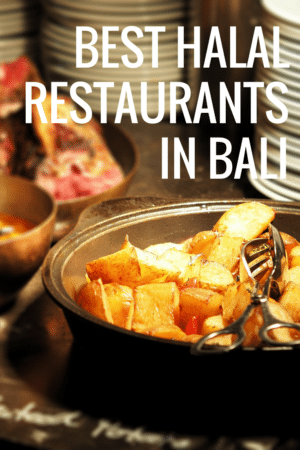 ---
See our villa collection in Bali. Selected and inspected by Villa-Finder.com