It's time to put your yoga pants on! From 31 March to 5 April 2015, the Bali Spirit Festival will make its 8th annual debut to over 6000 attendees, and it's not too late to grab your tickets.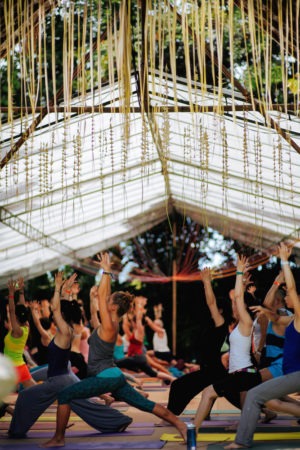 Choose between 1 day or weekend passes and be a part of the energy of musicians, artists, teachers and various other creative talents joining together from all corners of the globe. It is no coincidence that the Bali Spirit Festival takes place in Ubud: the island's cultural, artistic and restorative epicenter. This year's host venues will be Agung Rai Museum of Art (ARMA) and Bali Purnati Centre for the Arts, both of which will feature concert stages, meditative workshop bungalows and beautiful Balinese art and architecture.
To get the most out of your experience at the Bali Spirit Festival, we recommend staying somewhere close by for quick and convenient access; don't worry about searching high and low for accommodation within a 20 km radius, we've already done the heavy lifting for you. Here are 10 of our favorite Ubud villas just minutes from the grounds of the 2015 Bali Spirit Festival.
---
Where to stay?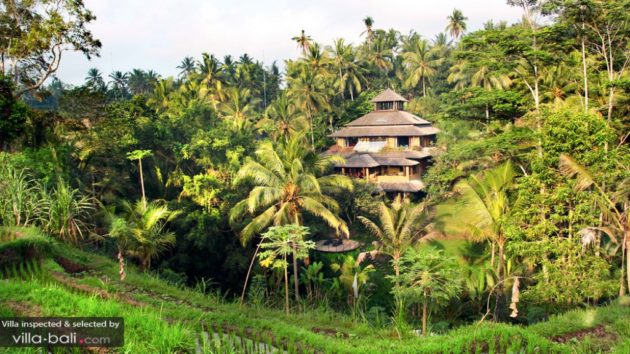 Potentially sleeping up to 17 people, Pelangi Estate is the perfect option for multiple groups of friends and families travelling together. Comprised of 5 separate bungalows and antique Joglos, this 7 bedroom villa rental is set amidst the Wos River Gorge just south of the ARMA festival venue.
• 2.9 km from ARMA
• 8.5 km from the Bali Purnati Centre for the Arts
---
Traditional in style, Villa Omah Padi's bamboo and thatched roof architecture is right in line with the Balinese, close-to-nature theme of the festival. Open to the elements and providing plenty of space to soak up the rice field views, this villa can be rented as either a 2, 3, 4 or 5 bedroom home depending on the size of your party.
• 2.8 km from ARMA
• 8.7 km from the Bali Purnati Centre for the Arts
---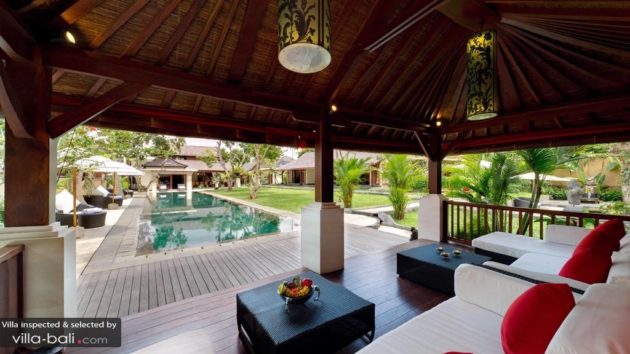 When not participating in the yoga and meditation of the festival, there is always your own private retreat of Villa San. This luxury villa houses 6 en-suite bathrooms and can accommodate up to 12 people at a time. Swim, lounge and get in tune with the spiritual side of Bali in the comfort of your own home.
• 2.7 km from ARMA
• 10.1 km from the Bali Purnati Centre for the Arts
---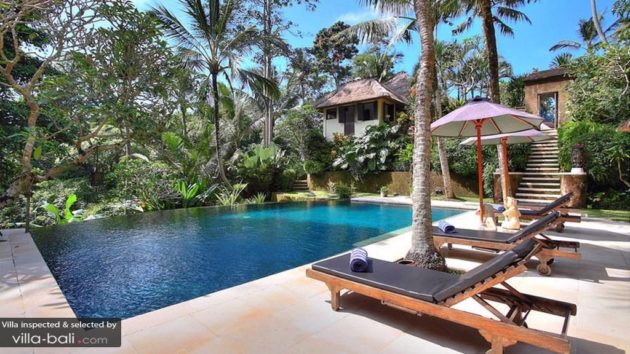 Located on the outskirts of town, Villa Alamanda is a modest vacation getaway where you can appreciate its tranquility after a long day of festival sounds and excitement. The chef's noteworthy dishes, the laid back vibes and reasonable prices of Villa Alamanda rank this 4 bedroom home high on our list of Ubud accommodation.
• 3.2 km from ARMA
• 8.0 km from the Bali Purnati Centre for the Arts
---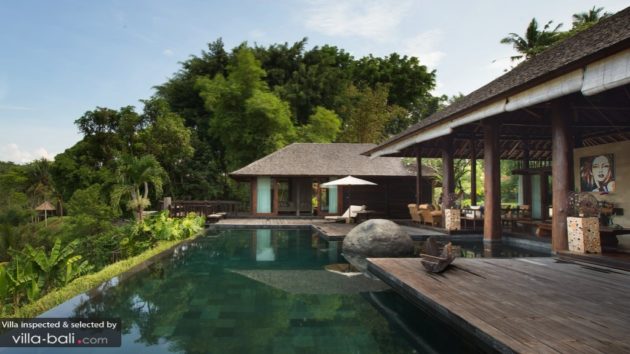 Villa Kamaniiya is close to town but a world away from the tourist bustle. Suited for a party of 10 guests or less, this Sayan Ridge villa is comprised of massage beds, a treehouse lounge and jungle views from each of the 5 bedrooms. Enjoy complimentary breakfast every morning before jetting off for the festival events of that day.
• 6.2 km from ARMA
• 12.2 km from the Bali Purnati Centre for the Arts
---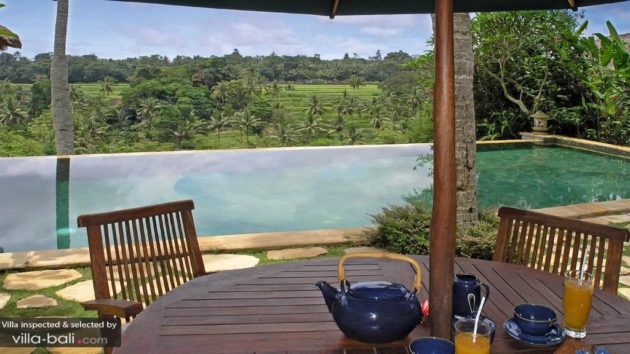 Comfy in layout and charming in style, Villa Ria Sayan is a 2-story bungalow overlooking the Ayung River. The open-air living space consists of plush sofa couches, uninterrupted views and artefacts from all over Indonesia. Chill out in the shaded poolside balé and soak up the scent of the rainforest and the sun setting over the treetops.
• 4.8 km from ARMA
• 11.6 km from the Bali Purnati Centre for the Arts
---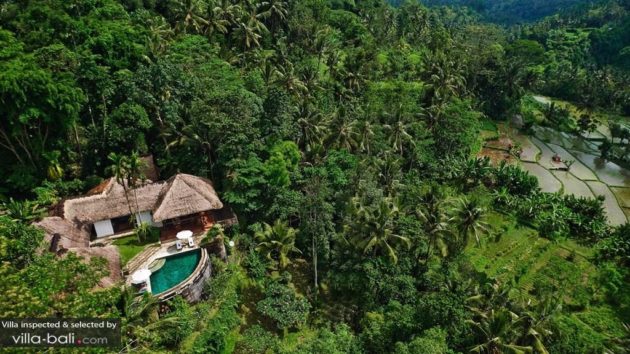 One of our favorite villas in all of Bali, Villa Melati is a sought after destination in and of itself. Truly as picturesque and its images make it out to be, this 2 bedroom villa is perched on the edge of the Sayan Ridge and boasts jaw dropping views of the river and surrounding rainforest. If you are attending the festival with more than 4 people, Villa Melati has a lofted studio and rice barn bedroom which can sleep an extra 4 people.
• 6.5 km from ARMA
• 14.6 km from the Bali Purnati Centre for the Arts
---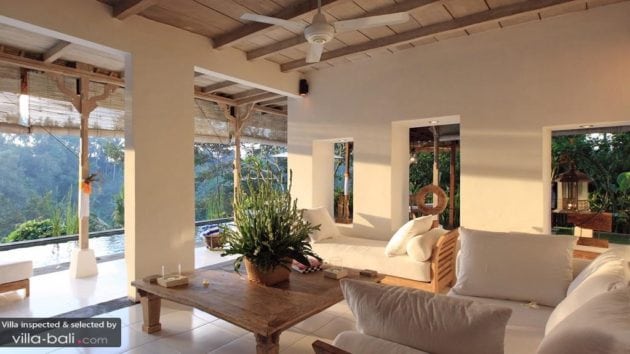 Well-suited for all of our honeymooners out there, Villa Shamballa is an intimate 1 bedroom holiday rental located in the quiet village of Payogan. We guarantee you will sleep like royalty at Villa Shamballa with its 4-poster king size bed, equipped with romantic canopy netting and Egyptian cotton sheets for the ultimate decadence. Off the main grid but still only 20 minutes or less from the festival's host venues, Villa Shamballa is a good choice for couples or small families.
• 6.2 km from ARMA
• 14.1 km from the Bali Purnati Centre for the Arts
---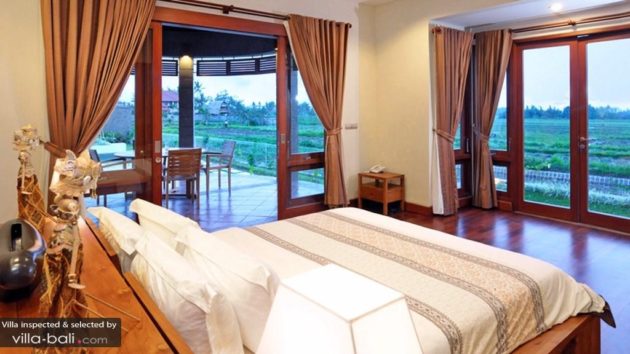 Villa Griya Atma is a modern family home, flush with the rice fields of Tengkulak Kelod village. Inclusive of a driver, baby cot, international channels and a 10 meter swimming pool, this 4 bedroom villa is friendly for large groups and those travelling with small children. A driver is also included in the nightly rate, which will make journeying to and from the festival grounds hassle-free.
• 3.6 km from ARMA
• 11.1 km from the Bali Purnati Centre for the Arts
---
Tucked away on a small village road in the Ubud district of Keliki, Villa Vajra was clearly designed for lovers of nature and seclusion. The living room features high, vaulted ceilings and a semi-circle balcony that overlooks a panoramic jungle vista. A spacious yoga and meditation balé looks out to the untouched greenery, and stone paths are carved into the hill so you can explore the countryside at a whim. If you're lucky, you'll catch the flowers in full bloom and the rice paddies just before harvest.
• 9.0 km from ARMA
• 16.6 km from the Bali Purnati Centre for the Arts
---
How to purchase tickets
Early bird tickets are available until 1 March 2015 here. Enter in the code VillaBali and receive a 10% discount for Bali Spirit Festival full passes (VIP Full Pass and Festival Full Pass).
---
Map to Bali Spirit Festival Venues