Fancy kitesurfing during your holiday in Bali ? Below is your toolkit to get your kite in the Balinese air! If you are lucky and come in the right period of the year (and bring a big kite!) you can have heaps of fun kiting in Bali
What is kitesurfing?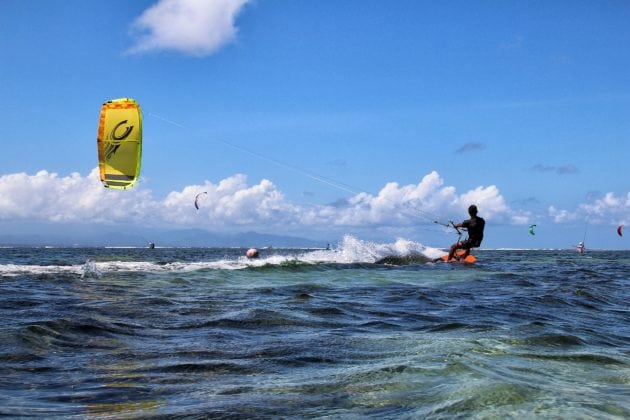 Most people know about surfing in Bali, and Bali is indeed a world renown surf spot. However, have you ever heard of kitesurfing? It has become one of the most popular extreme water sports, and for good reason too. Kitesurfing combines the best experiences of water sports! Experience the speed of surfing, the fun of carving the waves and the jumps that make you soar through the air.
Seasonal Wind variations
There are 2 monsoon seasons in Bali, and the best time to go kiting would be during the summer south-west monsoon, from June through to August, although the windy months last from May through to September.
Wind Statistics in Bali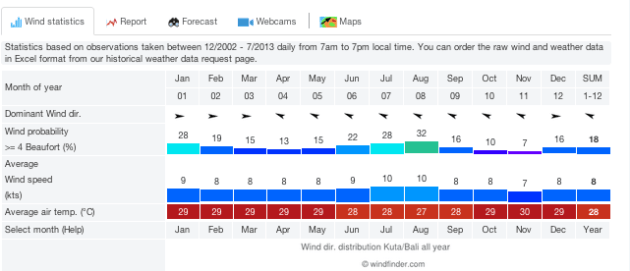 The June-September wind comes from the South East – therefore when it hits  Sanur beach, it is mostly onshore and light to moderate. As it travels through the land it gets usually stronger on the Canggu beaches but is most of the time offshore and gusty so Canggu will be ONLY for the very experienced kiters. An average windy day in Sanur is about 14 knots although it can be better, hence why large kites are recommended. Wind strengths at Seminyak to Canggu can be 15 – 20 knots on good days.
Good Kitesurfing spots in Bali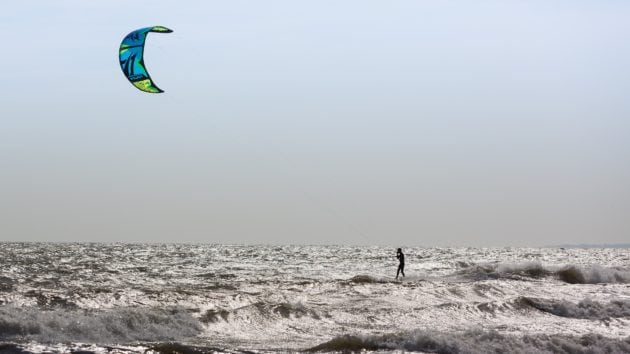 The best spots for kitesurfing would undoubtedly be in Sanur, Nusa Dua, or Canggu for the more experienced kiters.
Sanur has flat water and onshore wind so that's a great place for beginners and experienced kiters alike. The kite beach is right after the Mercure Hotel Sanur; pass the Mercure hotel and take the sandy road to the Beach car-park. You will then find a couple of kiteschools vehicles on the beach – go and talk to them to get some insights on the spot or rent equipment. Within the reef, there is a large area of flat water for the flat water kiters, or you can opt to have a guide take you out to good surf spots outside the reef.
Nusa Dua is a large hotel complex south of Sanur. It is a long way from Sanur to Nusa Dua inland (will take you at least an hour to drive from Nusa Dua to Sanur) but the most experienced kiters can kite back and forth in between Nusa Dua and Sanur … It is a very nice ride.
Canggu is a black sand beach and before all a world-class surf spots so the most experienced kite surfers will enjoy wind & wave in the right season.  However again beware of the offshore wind, the gusty wind and the reef. It is a really challenging spot, never kite alone in Canggu. And please be careful to avoid collisions with surfers, and also take note of the tide, as there are rocks to be careful of.
Where to learn or rent equipment?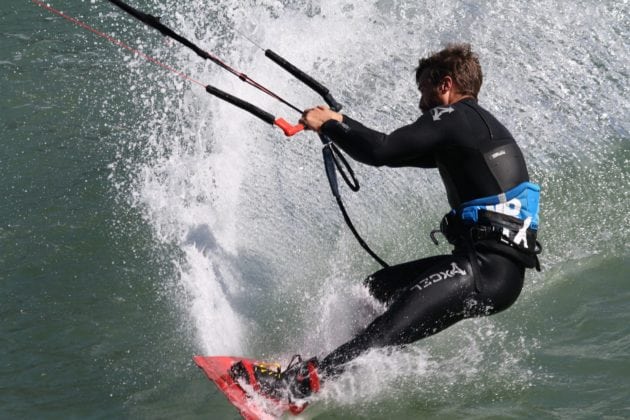 A number of kitesurfing schools operate from Sanur, it is definitely the best spot for taking lessons. I believe it's the only place where you can rent equipment.
To kitesurf in Bali, you'll need big kites most of the time. I usually take a 12 and a 14 when I go kiting in Bali. You can also pick up equipment, and even get lessons at the Kite & Surf Bali proshop in Sanur. Their number is (0361) 284260. Their shop is on Jalan Cemara no.72, about 5 minutes scooter ride from the spot of the Mercure Hotel. Ask for Jankie, he is the shop owner or Kadek who runs the kite school.
Another kite surf shop would be the Bali Kite surf, which we have not personally experienced. If you have, we'd love to hear your feedback! You can also check out our partner, eOasia, who organises activities in Bali.
Enjoy kitesurfing in Bali! If you have any good tips on where to go kitesurfing in Bali, know of any good kitesurf shops, or have any tales about your kitesurfing adventure, do let us know, we'd love to hear from you too!
This is me enjoying the flat waters of Nusa Dua on a beautiful day in Bali. I'm sure you wish you were there too!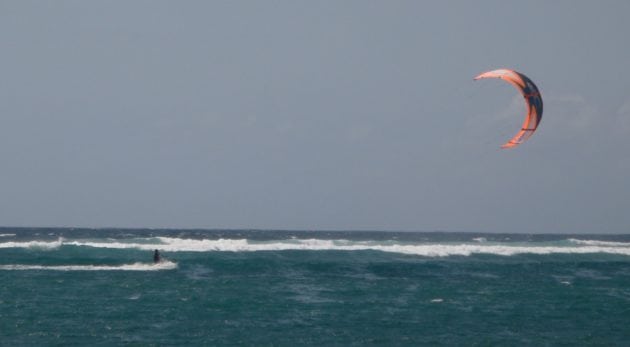 ---
See our villas in Bali. Inspected and selected by Villa-Finder.com.