How does working your way across the globe sound?
Imagine travelling the world, without a fixed work location or office. You're free to explore, working one day from a breezy beachfront cafe in the tropics, and another, from an enviable coworking space set in a bustling metropolitan city.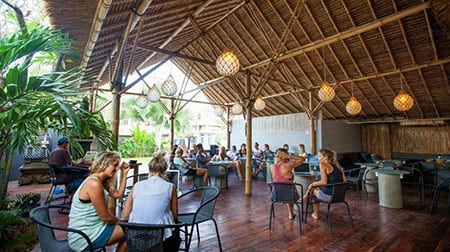 Is this notion liberating, or scary? The concept of remote working may not be everyone's cup of tea, but it will certainly appeal to avid travellers with a sense of adventure. Individuals who roam the world, bringing their work with them to whichever country or city they decide to traverse are known as digital nomads. Need a more specific definition? Here it is:
"Digital nomads are individuals who use telecommunications technologies to earn a living and, more generally, conduct their life in a nomadic manner. They work remotely in locations around the world, performing job roles that traditionally took place in a fixed work location."
Digital nomad-ing at Hubud
Bitten by a bout of wanderlust, I decided to try my hand at being a digital nomad. With my luggage in tow, I chose Bali, and more specifically, Ubud, as my remote working destination. This was a (too) brief stint that lasted a little over two weeks.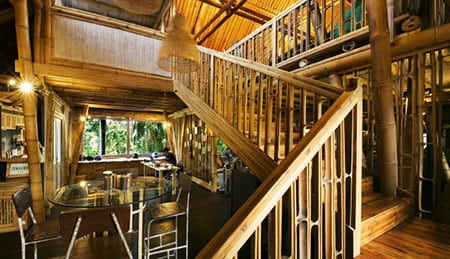 Off I went to Hubud – Bali's Mecca for digital nomads. This beautiful coworking space is crafted out of artisan bamboo, and overlooks expansive emerald rice fields. There're few work spaces like this one; I don't know that many offices that feature a raw food cafe (mid-afternoon munchies are satisfied with a salubrious vegan cheesecake here), or come with unordinary coworkers (we heard that the hairy folks from the Ubud Monkey Forest like chilling out here sometimes).
A flight of steps leads from the main street of Jalan Monkey Forest to the entrance of Hubud. The complex spans over two storeys; the first includes a meeting room, coworking area, cafe and backyard. A staircase leads to the upper storey containing Skype booths and a coworking area.
Members enjoy top-notch amenities here. Working away at your projects will be a breeze as you tap on a reliable internet connection (Hubud uses a fibre optic line) and have a stock of office essentials at hand (printers, scanners, whiteboards, paper cutters and sticky notes are provided).
Got a meeting scheduled? Book the Skype booth if it's a long-distance call, or make a reservation for the air-conditioned meeting room. Since you're working in the tropics, you might decide to do away with either – holding your discussion upon a swinging hammock, or organising a bean bag meeting in the backyard may serve as better options.
Good vibes, a lively buzz and a stream of fascinating events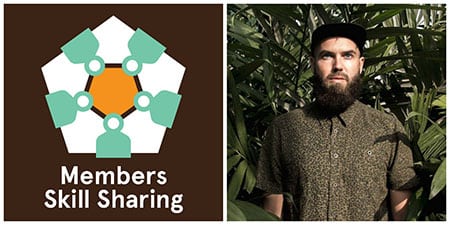 Digital nomads and entrepreneurs have remarked about Hubud's positive energy and lively vibes, both of which I found to be true. Teeming with creative individuals from places all around the world, the coworking space certainly possesses an electric and energetic buzz. One of my favourite aspects of working here was having a variety of intriguing events and workshops to choose from, as Hubud organises its routine Bali Bangkus, Skill Sharing Session and Entrepreneurial Think Thank on a regular basis. During my time there, I've had the opportunity to attend talks relating to project management, advanced SEO strategies and digital analytics.
Having a good mix of freelancers, entrepreneurs and businesses in the coworking space is a huge boon when it comes to collaboration. Need a designer for your website? Looking for tech advice? Want some wicked copy for your content marketing materials? Chances are, you'll meet the right man (or woman) for the job at Hubud, or know someone who could link you up to the talent you seek. Interesting encounters may spring up out of the blue too; I've gotten to meet the faces behind a diverse remote working team, and received handy SEO advice for a project I was involved in. This is a place where meeting new people, sharing ideas, and gaining new perspectives into your project are all in a day's work.
Location: Jalan Monkey Forest 88X, Ubud, Kec. Gianyar, Bali 80571, Indonesia
Phone: +62 361 978073
What's brewing in Bali's coworking scene?
Luckily for digital nomads, there are a good number of coworking spaces sprouting up in various locations on the paradisiacal island. We take a look at what's new:
Dojo Bali
If a perfect day for you involves a good surf, make your way to Dojo Bali. Formerly known as Salty Volt, this is located a stone's throw away from Echo Beach. Apart from the usual coworking essentials (private Skype booths, conference rooms, lockers and accessories rental), you're also provided with some really neat amenities, like surf racks, pool and hot shower facilities. Woohoo!
Events, such as think tanks, skill sharing sessions, art exhibitions and workshops are a great way for members to network, pick up new skills and broaden their perspectives. You'll need plenty of energy to keep up with all that networking, working and surfing, so when the munchies hit, fuel up with sumptuous and wholesome fare dished out from the kitchen of Nalu Bowls. Mmmm.
Location:  No. 88 Jalan Batu Mejan, Canggu, Echo Beach
Phone: +62 812 38 166 144
Hours: 24/7, seven days per week
Outpost

If you're adamant about sticking to the rice fields (pah! who cares about surfing), give Outpost a go. Set in the tranquil village of Nyuh Kuning, Outpost is a hybrid featuring a mix of coworking spaces and shared offices. The spacious grounds of this newly-launched venture houses a workspace and tropical garden. Step inside, and you'll find well-furnished interiors containing desks, standing desks, Skype rooms, group working spaces, as well as a meeting space that can accommodate a total of twenty.
Here's some good new for Outpost members-to-be: the coworking space shares its grounds with Bali Spirit Hotel, so a membership here includes having access to spa treatments at the hotel, as well as usage of its riverside bar and two swimming pools.
Don't forget to check out the events held here. Learn from some of the most accomplished entrepreneurs in Bali in the speaker series 'Lessons Learned', or join in a thought-provoking presentation, interview or panel discussion as part of the Outpost Community Development Program.
Location: Jalan Raya Nyuh Kuning, Ubud, Kab. Gianyar, Bali 80571, Indonesia
Phone: +62 361 9080584
Hours: 8:00 – 20:00 (Monday – Saturday)
Connect at Peppers Sentosa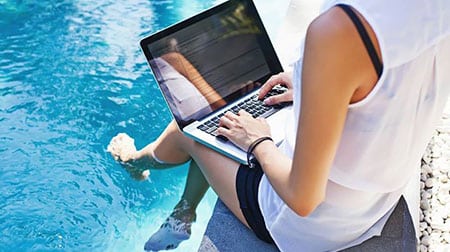 If trendy Seminyak is a place you'd like to call home, a good place to hack away at your projects is Peppers Sentosa. Amenities offered here include high speed Internet, office essentials, printers, scanners, meeting rooms and Skype booths.
But wait, we haven't finished. An enviable list of perks are also included, such as a gym, pool, and discounts for meals The Laneway, as well as massage treatments at the gorgeous SPA at Sentosa. Cooling off from a stressful work project has never been easier; at any moment of the day, you can easily treat yourself to a tasty meal at a chic restaurant, work off the stress by hitting the gym, or indulge in a pampering spa treatment.
Location: Jl. Pura Telaga Waja, Petitenget, Seminyak, Kuta, Kabupaten Badung, Bali 80361, Indonesia
Phone: +62 361 730333
---
P.S. Got a heads up on cool coworking spaces in Bali? Drop a comment below – this roaming nomad would love to pop by for a look!
See our villas in Bali. Selected and inspected by Villa-Finder.com