Updated: 02/07/2018
Sure, you could zip in and out of Ubud's attractions in your air-conditioned car and still have a fantastic day. But if you have some time to spare, cycling may provide a meaningful, multi-sensory experience that you never expected to have. To feel the breeze in your hair, the fresh woodsy smell of Ubud's nature, the sound of birds as they flit through the sky, these are wonderful complementary experiences to the visual beauty of rural Ubud. To put the icing on the cake, cycling in Ubud is eco-friendly and a much cheaper way to explore the town.
Bali Eco Cycling, Banyan Tree Bike Tours, Bali Bike, and Bali Bintang, are some companies that offer great tours. Advantages of going to a bike company are that you don't have to worry about planning your route, and a guide will take you around and offer insightful commentaries. You can read through the list of FAQs to understand the tours better.
If you are game for an adventure, however, you could try planning your own cycling tour around Ubud. It is not difficult to get around, but make sure to rent a sturdy bike with good brakes and helmet, and take along a trusty map.
The team at Villa-Finder.com have tried many different routes, cafés and attractions in Bali, so we have some tips and suggestions that can be helpful. We hope you like them!
Level 1:
For travellers who like leisure cycling and exploring, you'll love this route. It is perfect for a half day trip, and enough to explore Ubud's attractions and its beauty. Estimated: 28 km; 3 hours.
Level 2:
If you would like to venture a little further away from Ubud centre, check this route out. It brings you to D Alas Warung Restaurant near Tegallang Rice Terrace and Gaya Gelato. The food there is really good, approved by most staff in the team! Estimated: 36 km; 5 hours.
Level 3:
If the above two routes are not enough, we have one last course for all the adventurous and fit souls out there. This route is amazing; it brings you to Sangeh Monkey Forest – a sanctuary of grey long-tailed macaques, and Bali Swing, where you can take insta-worthy pictures to conclude your cycling trip! Estimated: 61 km; 7 hours.
Before you embark on your trip, bring along a bike lock and poncho. You'll never know when you need them!
Here are some landmarks and best sights of Ubud that you might like to hit on your cycling trip if you follow the mentioned routes!
Goa Gajah is also known as the elephant cave and was so named because the demon that is carved into the mouth of the cave was previously thought to be an elephant. Whether elephant or demon, the carvings are spectacular and well worth visiting for its beautiful surroundings, fountains, and carvings.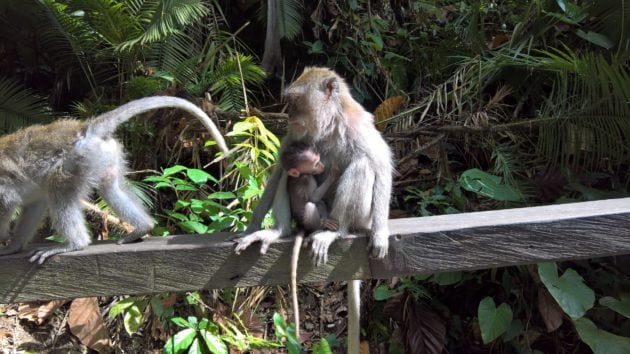 If it's your first trip to Ubud, you surely must not miss the Ubud Monkey Forest. A blend of Crab-eating Macaques, sacred temple complexes and lush tropical jungle, the Ubud Monkey Forest is a scene out of an Indiana Jones adventure movie. Just a tip: Be careful to secure your belongings before you reach, as these monkeys are not quite your shy tree-top dwellers. They'll most certainly not hesitate to snatch what catches their fancy.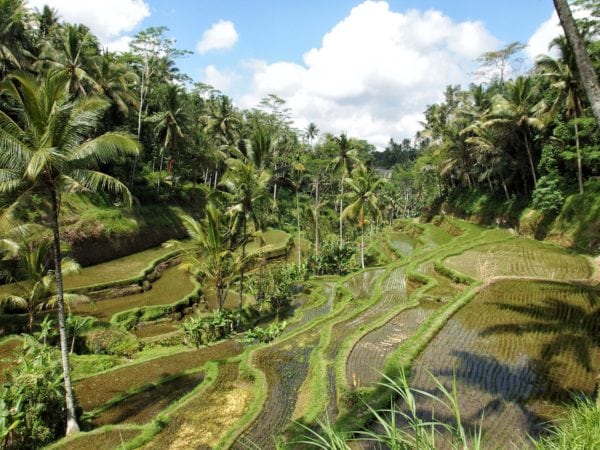 Highly anticipated by all visitors to Ubud are the graceful rice fields that cloak the landscape of Ubud. The lush greenery is a much-appreciated contrast from the concrete jungles that most visitors are used to, and it is just such a treat to be able to enjoy miles and miles of tropical greenery set against perfectly blue skies. The smell of dew drops, the cool breeze and warm sun, as well as the quiet of the rural countryside, make cycling through rice fields the highlight of many a cycling trip through Ubud.
A thousand elegant white cranes descend on their treetop roosts each evening. The quiet evening is broken by a delightful cacophony of these birds vying for the prime spots before settling down for the evening. The Petulu White Heron Park is a great opportunity to view these beautiful birds in such numbers. Cycle at your risk though, you could be pelted by with unwelcome droppings if you are not quick enough!
Want to stay in Ubud and explore this town slowly? Check out our best villas in Ubud article!
---
See our villas in Ubud. Inspected and selected by Villa-Finder.com.