Download our free travel guide: Bali with kids
Bali Family Guide by Bali Villa Finder - Free Download
Download our exclusive Bali Family Guide - 2nd Edition and discover the best accommodations, restaurants and kid-friendly activities for your family holiday in Bali. In this edition, we introduce hottest gathering destinations, popular family activities that we have tried and personally recommended.
On top of that, we have partnered with various businesses to bring you exclusive discounts! You will get to enjoy these offers when you stay at our villas!
And don't hesitate to ask us for all your questions about Bali villas for rent.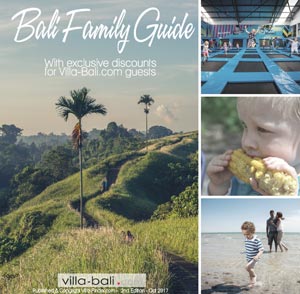 Our offices
Australia

+61 2 9191 7419

France

+33 1 7890 0496

Germany

+49 40 83509075

Indonesia

+62 21 50890816

Hong Kong

+852 5803 5658

Netherlands

+31 2 0532 2441

New Zealand

+64 9801 8597

Singapore

+65 3105 1190

Thailand

+66 77 950 412

USA

+1 415 851 9111

United Kingdom

+44 2 033 933 883
Follow Bali Villa Finder