Most of Indonesia is Muslim and does not eat pork. However, on Hindu majority Bali, the Balinese are crazy about Babi Guling.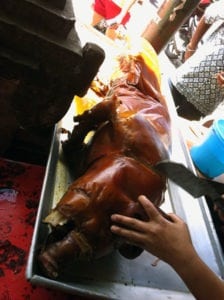 What is Babi Guling, you say? Well, only the most tender, juiciest, crispy way to enjoy pork. Also known as roast pork or suckling pig, Babi Guling is one of the favourite and famous dishes of the Balinese.
Babi Guling is prepared through stuffing the pig and infusing it with spices such as tumeric, lemongrass, pepper, garlic and other secret ingredients. The pig is then roasted on a spit till the skin is crackling and crispy, taking up to 5 hours.
The pig is then chopped up and carved, served with vegetables and rice. Sometimes, it is served with soup on the side as well.
Whilst Babi Guling can be had all over Bali, there is one particular spot that is touted to be the best. It is none other than Ibu Oka, which shot to fame after being recommended by Anthony Bourdain, who declared it the best he ever had. Serious foodies take his words to heart, and the warung has been inundated with curious tourist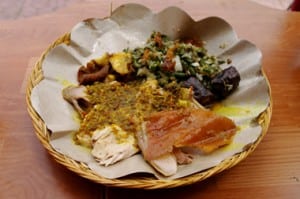 s and die hard Babi Guling fans ever since.
At Ibu Oka, The Nasi Babi Guling special is served with vegetables, sausages, cooked jackfruit and coconut-infused rice. It is so popular that it is only open for lunch in the afternoons, and boy, is it packed! Everyone crowds together to wolf down the tasty chunks of succulent roasted pork, as well as the crispy skin that crackles in your mouth. Prices have gone up since its claim to fame, but at $3-5 US dollars a plate, it can hardly be considered expensive.
Some consider it a tourist trap, others insist that it is the best they have ever had. Yet day after day, plenty of hungry foodies flock there to get their fill of this mouthwatering Balinese dish. Have you tried Babi Guling yet?